My cats are always asking for food, treats, armpit scratches, and non-stop attention. One of them even yells at me anytime I'm anywhere near the kitchen, directing that I turn on the faucet so he can lap up running water straight from the source. Cats make a lot of demands, but I firmly believe that I'm the lucky one.
This Time Magazine article called "Pet Therapy: Science Says Your Pet Is Good for Your Mental Health" states that: People who have pets tend to have lower blood pressure, heart rate and heart-disease risk than those who don't. Those health boons may come from the extra exercise that playing and walking require, and the stress relief of having a steady best friend on hand.
But your physical health isn't the only way you benefit from having pets. The article shares: Scientists are now digging up evidence that animals can also help improve mental health, even for people with challenging disorders.
If you're not lucky enough to have animal best friends, I hope this gif of a pair of cat & dog best friends warms your heart and makes your day.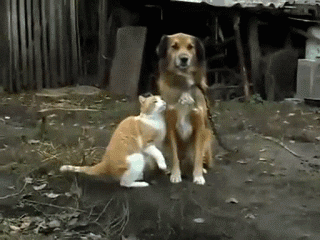 And there's more where these come from. Enjoy!