The Myth of "Freedom" for Slaves in the Reconstruction Era
Group 10

Introduction:
The United States were founded on the principles that "All men are created equal".  However, African Americans have experienced first hand the contradiction of that statement.  The institution of Slavery throughout the Americas caused the massive forced migration of millions of Africans.  In the United States, Africans or African Americans have been "stripped" of their rights as humans and considered property.  However, they are not property, they are humans and they stepped up to fight this concept of property.  They faced many struggles, fought many legal and physical battles to move one step forward to freedom.  African Americans glorified the laws that granted them legal victories, only to have those laws ignored by society.  The Civil War was a struggle for African Americans, and no one predicted that their struggle would not end there. African Americans did not believe that the laws they fought for, would only be on paper, for a new struggle began to get them enforced in society.  Africans fought in the American Revolution, in the Civil War, in the Reconstruction Era and continue to fight for freedom and the principle they came to believe and dream of, that "All [humans] are created equal".(by: Antonio Arias)
American Civil War and the Legality of Freedom:
By: Antonio Arias
Key Terms/People/Places:
Missouri Compromise of 1820
Fugitive Slave Law of 1850
Dred Scott v. Sanford 1857
Emancipation Proclamation
Thirteenth Amendment
Fourteenth Amendment
Fifteenth Amendment
Abraham Lincoln
Anthony Burns
Dred Scott
Harriet Tubman
54th Massachusetts Volunteer Infantry Regiment
Overview:
At the start of the 19th century the United States has been divided between the industrial north and the agricultural south.  Much of the division was influenced by the economics of industry and the slavery based agriculture.  The turn of the century fueled the need for the U.S. to expand west to the Pacific.  The move to the west introduced new territory, and along with the growth of territory, the division over slavery grew as well.  The political debate over slavery began with the Missouri Compromise of 1820.  The Missouri Compromise of 1820 was passed to balance the amount of territory in which slavery could expand too.  The Compromise
allowed territory south of Missouri to establish Slavery, while no slavery could be established north of Missouri.  The Compromise was considered as a victory to the abolitionist, because it was one step forward in containing slavery.  However, the South would gain some ground with the passage of the Fugitive Slave Act of 1850, in which congress allowed white southerners to reclaim runaway slaves who had sought freedom in the northern states.  The North and the South had been in a game of tug-a-war for many years regarding the issue of slavery, and Abraham Lincoln's presidential election was the last pull that the North took, while the South's last pull was seceding from the United States.
The rope which the northern and southern States pulled was slavery.  Millions of African American, freed and enslaved, hung from the rope while the states pulled away.  However, there were many notable African Americans who didn't hang from the rope, but held onto it tightly with their feet firmly on the ground.  They pulled the rope not towards the north or south side, but towards their own direction, the direction of freedom and equality.
Anthony Burns was one of the many African Americans who was pulling the rope of slavery.  Anthony burns was born into slavery to Charles Suttle of Alexandria, Virginia.  Burns was one of the few slaves that were given special privileges to work on his own accounts, with proceeds being directed back to Suttle.  In 1854, "While working in Richmond, Burns boarded a ship heading north, to the city of Boston.  Burns arrived in Boston in March – a fugitive, but free" ("Anthony Burns Captured." PBS: Public Broadcasting Service).  Burns freedom would be cut short, due to the passage of the Fugitive Slave Act of 1850.  Two months after arriving in Boston, Burns was arrested for suspicion of robbery and Suttle had traveled to Boston to "reclaim his property".  White abolitionist and black abolitionist met separately to gather ideas to free Burns.  Both white and black abolitionist gathered at the courtroom to free Burns.  Burns would be convicted a fugitive slave and on June 2, 1854.  That same day, an estimated 50,000 lined the streets of Boston, watching Anthony Burns walk in shackles toward the waterfront and the waiting ship. Burns would obtain his freedom less than a year later for $1300 raised by Bostonian abolitionists.  Anthony Burns' struggle for his freedom showed the town of Boston and many abolitionists the lengths of struggles that an African American faces to achieve freedom and the injustice and obstacles that laws such as the Fugitive slave law set forth.
Dred Scott also fought a legal battle against the Fugitive Slave Law.  Dred Scott was a slave from Missouri.  Scott traveled with his owner to the freed states of Illinois and Wisconsin.  Scott would remain in both Illinois and Wisconsin for many years, until his owner went back to reside in Missouri until his death in 1846.  Abolitionists that knew about Scott's situation helped Scott sue for his freedom in the state of Missouri.  Dred Scott v. Sanford would reach the Supreme Court of the United States and the Supreme Court made a ruling on 1857.  Dred Scott would lose the case.  Chief Justice Roger Taney would state in the case opinion that "no slave or descendant of a slave could be a U.S. citizen, or ever had been a U.S. citizen" ("Abraham Lincoln: Dred Scott Decision." The History Place).  The court ruled that Scott had no right to sue for his freedom because he was not a citizen with rights.  The court decision would not only affect Scott's hopes of freedom but also the hopes of millions of slaves within the U.S. and the African Americans who were declared free.  Dred Scott and the crushed lawsuit asking for his freedom became yet another African American slave story that helped drive the United States into the Civil War.
When the Underground Railroad was in full swing during the 1850's, no one was a better conductor than Harriet Tubman.  Harriet Tubman was born into slavery in 1820.  Much like Anthony Burns, Tubman also had "special privileges" that other slaves didn't have.  Tubman was given duties to watch over a baby indoors.  She would get whipped if the baby were to cry and disturb the mother during her sleep.  In 1849, Tubman and her family were planning to runaway out of fear that their owner was going to sell them.  Tubman ran away with her brothers, only to be left alone when her brothers turned back.  Tubman reached Philadelphia, and quickly joined the abolitionist movement and the struggle for freedom.  In 1850, Tubman joined the Underground Railroad to help other slaves escape to the north.  However with the passage of the Fugitive Slave Act, reaching the North was no longer the ultimate goal.  After the passage of the Fugitive Act, more journeys were conducted to reach British North America. Tubman made an estimated nineteen trips to the south and back north, to free up to three hundred enslaved people.  Harriet Tubman's contribution to the African Americans was not just in the Underground Railroad.  Harriet Tubman served in the Civil War as a nurse, a cook, and a spy for the Union Army.  Her knowledge of the land and routes of the south made her a perfect candidate to aid in the fight against the south.  Harriet Tubman contributed in freeing many slaves during the Fugitive Slave Act era and during the Civil War.
On January 1, 1863 President Lincoln issued the Emancipation Proclamation, which freed all slaves within the rebel southern states.  The Proclamation also allowed black men to enlist into the U.S. Army.  The Proclamation would provide African Americans the first chance to legally take up arms against slavery and fight for their chances of freedom.  The 54th Massachusetts Volunteer Infantry Regiment would be one of the first all black units to form out of the Emancipation.  The 54th Massachusetts Regiment would become the most successful all black regiments during and after the Civil War.  The 54th was organized on March 1863 in the city of Boston.  The recruits came from the areas of Pennsylvania and Massachusetts, primarily from Boston.  Many of the recruits witnessed the struggle of Anthony Burns in 1854.  With the struggles that the African American people faced and their desire to seek freedom for all they went into battle for the first time on
June of 1863.  "On July 18, 1863, the regiment won undying glory by leading the bloody assault on Fort Wagner near Charleston, South Carolina. In the attack nearly half the regiment was killed, wounded or captured." However, the Regiment would gain more recruits and continue to fight up to the end of the Civil War.  During the attack on Fort Wagner, Sergeant William Carney saved the American flag from being captured by the Confederate soldiers and carried the flag back to his commanding officers while being wounded.  Carney would become the first African American to receive the Medal of Honor in the history of the United States.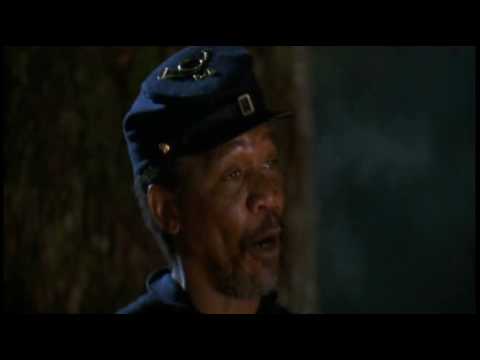 The end of the Civil War in 1865 brought new hopes and dreams to the African American peoples.  Those dreams would grow bigger with the adoption of the Thirteenth, Fourteenth, and Fifteenth Amendments to the U.S. Constitution.  The Thirteenth Amendment, adopted on December 1865, abolished slavery and bondage servitude throughout the United States.  However, with the end of chattel slavery a new form of slavery would develop in sharecropping.  The Fourteenth Amendment, adopted on July 1868, granted citizenship to all persons born in the United States.  Overruling the Dred Scott case and finally granting African Americans the right to be citizens.  However, with time it became evident that African Americans would still be considered sub-citizens due to the unequal rights they had compared to other nonblack citizens.  The Fifteenth Amendment, adopted on February 1870, granted suffrage to all males in the United States and prohibited the right to vote to be taken away from a citizen based on "race, color, or previous condition of servitude".  In much of the South, the Fifteenth Amendment would become an unreachable right.  Laws such as the "Grandfather Clause", which stated that any individual whose grandfather was a slave could not vote, restricted African Americans from voting.  Literacy tests and education requirements would also be applied to limit the right to vote to African Americans.  Slavery and the Civil War was challenged and fought by many African Americans seeking the right to be free, however, as the battle of slavery was finished, a new struggle began, a new rope to pull.
Further Reading/Links:
http://www.historyplace.com/civilwar/
http://www.scribd.com/doc/25805034/The-History-of-Slavery-in-America-A-RBG-Black-History-Month-Multi-media-Special
http://www.archives.gov/education/lessons/blacks-civil-war/
http://www.strawberrylady.com/blackhistory/tubman/Tubman.htm
http://americancivilwar.com/women/harriet_tubman.html
http://www.historyplace.com/lincoln/dred.htm
http://www.pbs.org/wgbh/aia/part4/4p2915.html
Narrative of the Life of Frederick Douglass, an American Slave by Frederick Douglass
Jim Crow and the Re-enslavement of African-Americans
By Arturo Torres
Key Terms/People/Places:
Sharecropping
Black codes
De jure and De facto
Homer Plessy
W.E.B. Dubois
Booker T. Washington
Overview:
Following the end of the civil war there were many uncertainties facing the south.   The Emancipation Proclamation had just freed slaves in the south. Southern white plantation owners were left without a workforce.  Freed African Americans were just getting a taste of what it meant to be a free man in a country where the idea of freedom is praised and often fought for.  Not only were plantation owners left without a workforce but they were also outnumbered.  This created a growing fear of retaliation by the freed slaves.  This led white southerners passing certain laws or ideas in order to control the freed slaves. These came in the form of Sharecropping and Black codes, with these ideas or regulations whites found a way to keep the status quo where they are a top of the social ladder and people of color at the bottom.  Sharecropping was a socioeconomic system that was created after the Civil War, when the slaves in the South were set free by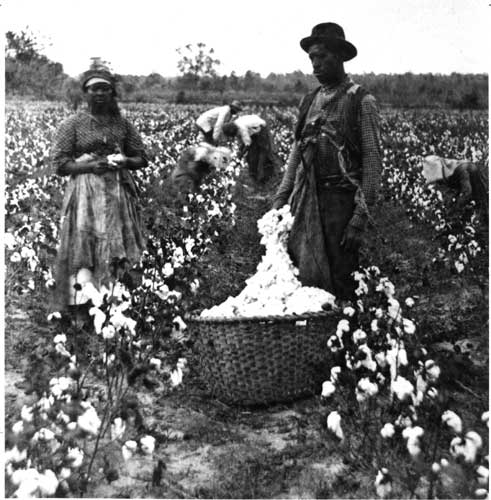 the Thirteenth Amendment.  Sharecropping was another way white southerners exploited the blacks in the south.  It was created with the intention to help both the blacks and whites but in the end it only benefited the Whites. White southerners would find any excuse to place African Americans into the sharecropping system. An example of this was African Americans who were caught or accused of a crime were put into this system to work their time off as punishment.  This system that had been created to help both often left African Americans in consent debt.  This system was much like the slave institution African Americans were subjected to punishment i.e. whippings and the same kinds of conditions when they were in slavery. Conditions that were similar to those to slavery were that blacks had to work from sun rise to sun set (http://www.pbs.org/wgbh/amex/reconstruction/sharecrop/ps_delany2.html). Certain restrictions were placed on them during the tenure of the contract such as having permission leave or have visitors. Free black men were often forced to sign contract with plantation owner as said by Henry Adams whose master told him "The bad white men was mad with the Negreoes because they were free and they would kill you all for fun." (http://www.pbs.org/wgbh/amex/reconstruction/sharecrop/ps_adams.html). Using fear they were told to sign up with their old masters in order to stay where they are living and get protection. Black Codes created soon after the Emancipation Proclamation as a way to control free African Americans.  First states who passed these codes were South Carolina and Mississippi.  Other Southern states soon followed these codes often varied from state to state but their main purpose was to control the free African Americans.  These codes would vary from who African American can or can't marry to and what they can or can't do.  An example of "Sec. 6 No negro shall be permitted to preach, exhort, or otherwise declaim to congregations of colored people, without a special permission in writing from the president of the police jury… "(http://college.cengage.com/history/us/resources/students/primary/blackcode.htm). Not only were these laws created to control freed African Americans socially, they were also created to control them politically.  Rules and requirements were created to control who could vote for fear that Africans Americans would vote and create changes in the south since whites were outnumbered in the south.  The Black Codes would then become Jim Crow laws. Jim
Crow laws were laws that allowed the segregation of public facilities and private business. This would lead to a landmark case that would challenge the
segregation.  This case would be known as Plessy v. Ferguson. Homer Plessy a light skinned man of African descent was arrested for sitting the white section of a Louisiana railroad car in 1896.  Plessy challenged that the Separate Car law, by saying that it was in violation of the 13th and 14th amendment.  The case would go on to become a landmark case in the 1890 which challenged the segregation in the south. Although Plessy went on to lose the case when it reached Supreme Court where it was ruled constitutional to segregate as long as it is "Separate but equal."  The Supreme Court's ruling made segregation legal. Plessy was not the only person who was opposed segregation W.E.B Du Bois.  W.E.B Du Bois was born and raised in Massachusetts.  He was well known and prominent African American leader during his time.  He was against segregation in the south.  He also created Niagara Movement which was a civil rights movement that was advocating rights for African Americans. He also went
on to write a book about his experiences.  The books name is The Souls of Black Folks.    Although these two were against the Jim Crow laws Booker T.Wa shington was not.  Booker T. Washington, who was born into slavery, was accepting of racial subordination. He was accepting of racial segregation.  This would lead to W.E.B Du Bois and Booker speaks out on each other's position since both were prominent and educated men with followers. Du Bois argued that "Washington's strategy kept the black man down rather than freed him" (Jim Crow Stories). Booker went on to write an autobiography Up from Slavery.   With the court's ruling against Plessy a new concept was created, which was the idea of De Jour vs. De Facto.  De jour vs. De facto, this is the idea of social vs. what is written.  An example of De facto are laws like the Jim Crow laws that were passed in the South. Whereas De Jour there are no laws written but it is practiced as social norm. A great example of this was the 13th amendment which formally ended slavery. On paper it was written that there will be no more slavery and involuntary servitude, but there still was sharecropping which had treated the workers as if they were slaves and exploited the workers.   Then we also have the 14th amendment which made people born in the US citizen but freed African Americans were not viewed as citizens by whites, instead they were view as second class citizen and unequal to whites.  This was evident in public places where African Americans were forced to wait outside, on public buses they were forced to sit at the back of the bus. They are also given the right to vote but even that is taken always from them because grandfather clause and reading and writing requirement created.  African Americans were given a small view of what it was to be free but it was soon taken a way as fast as it was given to them.
Further Reading/Links:
To Kill a Mockingbird by Harper Lee
Secret Life of Bee by Sue Monk Kidd
Up From Slavery by Booker T. Washington
http://www.pbs.org/wnet/jimcrow/stories_people_booker.html
http://www.pbs.org/wnet/jimcrow/stories_people_dubois.html
http://www.pbs.org/wnet/jimcrow/stories_events.html
http://www.footnote.com/page/2725_jim_crow_laws/
Jim Crow Continued: Lynching as a form of "protection" and the Fight Back
By: Ashley Hughes
Key terms/People/Places:
Lynching
Emmett Till
Ida B. Wells
White Supremacy
Legal Lynching
NAACP
Overview:
According to the Merriam-Webster's Dictionary, the definition of lynch is, "to put to death (as by hanging) by mob action without legal sanction." It should be of no surprise that the standard definition of lynching eludes the specific role that blackness played in these terroristic acts of violence. To further expand this definition is the four point definition from the National Association for the Advancement of Colored People (NAACP) that was used for determining whether or not an act of violence could be categorized as a lynching:
1) There must be evidence that someone was killed;
2) The killing must have occurred illegally;
3) Three or more persons must have taken part in the killing; and
4) The killers must have claimed to be serving justice or tradition.
However, neither of these definitions speak to the racial makeup and actual purposes recorded for lynchings. By looking at who was being killed and the reasons stated, we can begin to create a more truthful definition that encompasses the role that blackness played.
Lynchings: By State and Race, 1882-1968 *

State
White
Black
Total
Alabama
48
299
347
Arizona
31
0
31
Arkansas
58
226
284
California
41
2
43
Colorado
65
3
68
Delaware
0
1
1
Florida
25
257
282
Georgia
39
492
531
Idaho
20
0
20
Illinois
15
19
34
Indiana
33
14
47
Iowa
17
2
19
Kansas
35
19
54
Kentucky
63
142
205
Louisiana
56
335
391
Maine
1
0
1
Maryland
2
27
29
Michigan
7
1
8
Minnesota
5
4
9
Mississippi
42
539
581
Missouri
53
69
122
Montana
82
2
84
Nebraska
52
5
57
Nevada
6
0
6
New Jersey
1
1
2
New Mexico
33
3
36
New York
1
1
2
North Carolina
15
86
101
North Dakota
13
3
16
Ohio
10
16
26
Oklahoma
82
40
122
Oregon
20
1
21
Pennsylvania
2
6
8
South Carolina
4
156
160
South Dakota
27
0
27
Tennessee
47
204
251
Texas
141
352
493
Utah
6
2
8
Vermont
1
0
1
Virginia
17
83
100
Washington
25
1
26
West Virginia
20
28
48
Wisconsin
6
0
6
Wyoming
30
5
35
Total
1,297
3,446
4,743
*Statistics provided by the Archives at Tuskegee Institute.
The above chart are totals of lynching statistics that were collected by the Tuskegee Institute founded by Booker T. Washington in 1881. Looking at the numbers, there is clearly a disproportionate number of Black deaths, 72.7%, as opposed to the 27.3%  white deaths recorded by this institute; keeping in mind that many of these lynchings went unreported so the true number is most likely a few hundred or thousand times higher. With Blacks making up slightly less than three-fourths of the entire total of lynchings it is more than apparent who the target group of these mobs were. 79% of lynching happened in the South due to the end of the Civil War, and Mississippi had the highest lynchings from 1882-1968 with 581. Given these numbers we can begin to complicate the definition of lynching as being strictly a public hanging. There is a racial impetus behind these violent deaths, and to further understand why lynching has a specific relationship to blackness we must turn to the reasons given for these crimes.
What we learn about Jim Crow early on is that during this period the rape or attempted rape of white women became the standard explanation for why thousands of Black men were lynched, and we believe that reasoning to the absolute truth. Protecting white women was used as a facade for these Black deaths; it was seen as the given excuse, but not in all cases the actual cause. Though the lynchings of black people were prepared and executed in response to various "crimes," these activities were only deemed criminal once carried out by a Black person; their killings became an everyday activity. With help from the Tuskegee Institution and Ida. B Wells-Barnett, we can begin to uncover the true nature of lynchings and their use for domination over the black population.
Causes of Lynchings 1882-1968
| | | |
| --- | --- | --- |
| | Number | Percent |
| Homicides | 1937 | 40.84 |
| All Other Causes | 1084 | 22.85 |
| Rape | 912 | 19.22 |
| Attempted Rape | 288 | 6.07 |
| Robbery and Theft | 232 | 4.89 |
| Felonious Assault | 205 | 4.32 |
| Insult to White Person | 85 | 1.79 |
| Total | 4743 | 100 |
(Provided by the Tuskegee Institution)
Rape and attempted rape come 3rd and 4th, with homicides and all other causes being the top causes. However, the category "all other causes" is extremely vague. To get a better understanding of what the all other causes category includes, in Ida B. Well-Barnett "Lynching" In Civil Rights Since 1787 she gives a partial record of causes for lynchings : -Unknown cause                 – No cause
-Race prejudice                   -Miscegenation
-Informing                            -Making threats
-Keeping saloon                  -Practicing fraud
-Practicing voodooism         -Bad reputation
-Unpopularity                       -Mistaken Identity
-Using improper language   -Violation of contract
-Writing insulting letter         -Eloping
-Poisoning horse                 -Poisoning well
-By white caps                     -Vigilantes
-Indians                                -Moonshining
-Refusing evidence              -Political causes
-Disrupting                           -Writing a letter to a white women
-Having smallpox                  -Self-defense
-Gambling                             -Throwing stones
-Quarreling with white man   – Insulting language to a women
All of these so called explanations show lynchings were clearly more about punishment due to race than punishment do to crime. In other words, a Black person could be found guilty of unintentionally violating the prevailing norms of white supremacy at any time and any place. The driving force behind lynching was this need to sustain the race division between Blacks and whites, which was perceived to be threatened by emancipation. Because blacks were granted their citizenship and due process of law by the 14th amendment, and were also finally able to physically move off the plantations and into white social areas, the fear of amalgamation (race mixture), Black social interaction, and Black progress became rampant among white southerners and thus, as discussed earlier, we saw the creation of the black codes. In order to ensure that these Jim Crow etiquette norms were reinforced, lynchings and terroristic violence became the primary forms of executions to keep Black freedom within its proper parameters.
The nature of lynching was peculiar and sadistic. Lynching could include the act of hanging, shooting, burning at the stake, maiming, dismemberment, castration, as well as other forms of physical torture. While many of them happened at night, with the victim being dragged out of their home and murdered immediately, a majority of them happened during the day with a slower execution process. The maiming of the Black body was used as recreational activity. Lynchings were seen as community events that would get announced in the newspapers, and families would send lynching photography via post cards in order to invite their relatives.
There are many more photos like this that show the carnival-like nature that was created around these lynchings. Vendors would accumulate huge profits by taking pictures of participants with the dead body.  People would come from miles around with all members of their family, including children, to view the lynching. Sometimes schools would even delay the daily routine in order to wait for students to return from the event. In terms of legal ramification or prosecution, the rare times that mobs did come before a jury, they were pardoned due to sympathetic jurors. Not only did the local law enforcement do nothing to protect Black lives, they most often supported lynchings. Police officers and public officials, if not part of the mob themselves, turned a blind eye when it came to lynchings (Litwack, 19-20).
Lastly, a look at Black response to this outbreak of racial violence continues the legacy of rebellion and resistance that was originated in response to slavery from the very moment Africans stepped onto this stolen land. The freedom that was promised mirrored aspects of slavery more than it did actual freedom; Black people realized the ways in which their "freedom" would cost them their lives. As discussed earlier, one driving force behind lynchings was the punishment of any Black person who stepped out of their racial boundaries and violated the prevailing norms of white supremacy. By trying to live out freedom by its most literal means, Black people began to vote, own property, start up businesses, and attempt to gain financial stability. Yet, at every time and at every turn they were struck down with racialized terroristic violence.
In defense of the Black community, prominent figures surfaced during the 19th century, one of which is the well known Ida. B Wells-Barnett. She was a journalist, leading civil rights, anti-lynching, and women's suffrage activist. In 1892, the impetus for her anti-lynching crusade played out. Three men, Thomas Moss, Calvin McDowell, and William Stewart (close friends of Wells-Barnett), were lynched outside of Memphis. The three men ran a successful grocery store that was seen as a threat to other nearby white stores. The tension escalated into violence between the two communities and the three Black men were arrested for starting a riot. While in jail, a mob kidnapped the men and carried out the form of punishment they saw fit—lynching. This event sparked Wells-Barnett to write various editorials condemning the violence against the Black community brought on by violent whites and attacking the vicious mobs, calling out their sadistic nature ("Welcome to the Ida B. Wells Website"). She created a pamphlet entitled, "Southern Horrors: Lynching Law in All its Phases", that spoke to this mystification when it came to lynchings and the preservation of white women (discussed above); she spread knowledge of lynching and that their perceived reason, rape of a white women, only made up one-third of the total reported reasons. Ida B. Wells-Barnett helped uncover the racist implications inherent in lynching practices ("Ida B. Wells: Crusade for Justice") This activism allowed her to travel across the U.S. to England and Scotland to lecture against lynchings. It is work like this that began the conversation amongst the Black community around rallying together to fight for rights that they are entitled to. Ida. B. Wells-Barnett helped found the NAACP, which became the most well know civil rights organization to date ("Welcome to the Ida B. Wells Website).
Another well know name of the pre-Civil Rights era is Emmett Till. His death is seen as a spark for the Civil Rights Movement, given that it was only 100 days after his death that Rosa Parks refused to give up her seat on a bus and thus unfolded the Civil Rights Movement as we know it. Till was a fourteen-year-old boy who on August 21, 1955, took a train down to Money, Mississippi to visit his Uncle Moses Wright at the farm he worked on. It was only three days later that Emmett's death sentence would be written. On August 24th Emmett and a group of teenage boys, one girl, went to a local grocery store owned by a white couple Roy and Carol Bryant known to sell to Black sharecroppers and their families, for some soda after a long day of work. No one knows exactly what happened inside of the store but, when Emmett came out some of the kids will later say that they heard Emmett whistle at Carol Bryant. Four days later on August 28th at 2:30am, Roy and his J.W. Milam, kidnapped Emmett from his uncles home and later confessed to, "brutally beating him, taking him to the edge of the Tallahatchie River, shooting him in the head, fastening a large metal fan used for ginning cotton to his neck with barbed wire, and pushing the body into the river" ("Timeline: The Murder of Emmett Till).  As the story unfolds, Emmett's mother Mammie Till decided to have an open casket viewing for the funeral so that everyone could see what the racist power structure did to her innocent son. This became a world-known case and on September 15, 1955, Jet magazine published photos of Emmett's corpse in their issues that set off an outrage in Black communities nationwide.
Mammie Till's strong drive to make the world confront what happened to her son is another form of resistance that both needs and deserves more notice. Her courageous actions brought global attention to the plight of Blacks in the U.S. Another courageous individual from this case is Moses Wright, Emmett's uncle. Wright, in open court accused the men, Milam and Bryant, of kidnapping Emmett from his home. Even with eye witness accounts and substantial evidence in favor of the Till family, Milam and Bryant were acquitted of the murder charges after only sixty-seven minutes of jury deliberation ("Timeline: The Murder of Emmett Till). Though the case did not bring about justice for Emmett Till, it did show a spirit of resistance that is an ever-present part of the Black community. Rights and material gains are what freedom supposedly granted to Blacks during the reconstruction era but, as we have seen, the text of the amendments does not reflect the actual realities of society. Without it being reflected, words in a law are just that, letters on a page, which leaves the people that these laws affect to ban together and demand justice for the human rights they are entitled to.
Further Reading & Links:
http://www.pbs.org/wnet/jimcrow/jimcrowguide.pdf
http://www.jimcrowhistory.org/history/history.htm
http://withoutsanctuary.org/main.html
http://www.youtube.com/watch?v=gUs750cnrbw&feature=related
http://www.scribd.com/doc/25805034/The-History-of-Slavery-in-America-A-RBG-Black-History-Month-Multi-media-Special
http://www.yale.edu/ynhti/curriculum/units/1979/2/79.02.04.x.html
http://www.pbs.org/wgbh/amex/scottsboro/
Origins of U.S Reparations
By: David Cao
Key terms/People/Places:
Reparations – the making of amends for wrong or injury done
Pension – a fixed amount of money paid regularly to somebody during retirement by the government, a former employer, or an insurance company
Callie House – born in 1861 in Rutherford County, Tennessee, African American woman who fought for pensions and founded the Ex-Slave Association
National Ex-Slave Mutual Relief, Bounty and Pension Association – 1898 in Nashville, Tennessee, organization that aimed for government pensions for African Americans
Mason Ex-Slave Pension Bill – proposed bill that would give pension to ex-slaves
Overview:
Since slavery was abolished in the United States, African Americans have been pushing for appropriate reparations for the many years of unpaid labor.  Some African Americans today are still supportive of slave reparations for their ancestors, but the idea is highly controversial.  There has not been an agreement as to how reparations should be implemented because it is tough to assign who receives the reparations, who pays them, and in what amounts.  The United States Census doesn't track slave descendants or slave owners so if reparations were to be implemented, the government would have to rely on self-reported racial categories.
In 1865, after the Civil War ended, General William Tecumseh Sherman issued Special Field Orders, No. 15, which was the first kind of reparations that African Americans received.  The order called for each freed family to receive forty acres of tillable land and a mule.  However, after Abraham Lincoln was assassinated, President Andrew Johnson reversed the order the land was given back to its original owners.  In 1867, Republican leader Thaddeus Stevens attempted to pass a bill that would redistribute that land to African Americans, but the bill failed to pass.
Callie House, born in 1861 in Rutherford County, Tennessee, was a slave woman who supported reparations for ex-slaves.  She grew up in a household with her widowed mother, sister, and her sister's husband and only received some primary school education.  When she was 22, she married a man named William House and moved to Nashville where she raised five children.  She became a washwoman, meaning she would take clients' laundry into her home and hand-wash them for a salary of about two dollars a week.  At the time, mortgage payments cost about five to twelve dollars a month, so she barely made enough to support her family.
Despite her struggles, in 1898 along with Isiah Dickerson, she founded the National Ex-Slave Mutual Relief, Bounty and Pension Association, which received excitement and enthusiasm from African Americans.  The goal of the association was to gain pensions from the United States government for the ex-slaves.  House had the members sign petitions that she would send to Congress in hopes of getting a pension bill to pass.  She also had the members donate at least ten cents a month to the association.  She explained that these fees paid "expenses of the movement in printing literature and postage on literature sent out to notify our conventions and meeting for speaking and to pay traveling expences [expenses] and support of men and women who are giving their whole time to the movement," and to "send men to Congress as delegates to present out petition when Congress meet[s] the first Monday in December" (Berry 79).
The association relied on self-help and mutual assistance, since African Americans were poor and could barely support themselves.  The elderly ex-slaves made up a considerable amount of the membership, and their bodies were broken down from all the years of physical labor.  They had bad diets and no health care, so they eagerly supported the association.  The association was also supported by local preachers who helped spread news about it.  House believed that a single, powerful association would have a bigger impact than weak, small, and disconnected organizations, and declared unity as a goal of the association.  She stated, "Let us consolidate all ex-slave organizations and bring to bear upon the lawmakers of the country which we labored so long to develop every degree of influence within our power" (Berry 60).  She explained to the members that submitting various petitions from ex-slaves, repeatedly introducing legislation, and engaging lobbyists would eventually gain victory in Congress for their efforts.  She explained to them that the process would not be easy, but the long struggle would be worth it and the fight should never be abandoned.
The association wanted to pass the Mason Ex-Slave Pension Bill, which called for "a pension of $15 per month and a bounty of $500 for each ex-slave seventy years and solder.  Those under seventy would receive $300 as a bounty and $12 per month until they reached the age of seventy.  Those less than sixty years old would receive a $100 bounty and $8 a month until they reached age sixty.  Those less than fifty years of age would receive $4 per month and then, at age fifty, $8 per month" (Berry 75).  The people who were eligible for these pensions were ex-slaves and people who took care of those who could not care for themselves.  The bill was never passed and by the time World War I began, the ex-slave generation began to accept the fact that Congress wasn't interested in providing pensions and for the most part, the movement came to an end.
Further Reading/Links:
http://www.blackpast.org/?q=aah/callie-house-c-1861-1928
http://www.duke.edu/~ldbaker/classes/AAIH/caaih/ibwells/ibwbkgrd.html
http://www.afrigeneas.com/library/hillarticle.html
Conclusion:
A constant theme that African Americans had to live through for many years was the reality of De Jure v. De Facto.  After the Civil War, the Constitution was ratified to include the Reconstruction Amendments which were intended to provide the rights and freedom that African Americans had fought for.  Unfortunately, the written law is not always the acting law.   Jim Crow laws would ignore the Constitutional laws and undermine the rights of African Americans.  African Americans continued to fight for justice, seeking for proper enforcement of their rights and reparations for their extortion in slavery.  In 2008, Congress "issued an unprecedented apology to black Americans for the institution of slavery, and the subsequent Jim Crow laws that for years discriminated against blacks as second-class citizens in American society" (Cohen).  The Civil Rights Era in the 1970's has given a new ray of hope that the laws issued one hundred years ago would finally be enforced.  However, there is still one more struggle on the minds of many African Americans, the right of reparations.
Discussion Questions:
1. During Anthony Burns arrest a huge mob of both white and black abolitionist marched to the doors of the courtroom.  On the day of his conviction, 50,000 people gathered to watch him march back into slavery.  Why didn't the bigger mob of 50,000 do anything that day when a smaller mob was willing to fight for his liberation on the day of his arrest?
2. If in the Dred Scott decision, Chief Justice Taney would have granted Scott his freedom and considered him a citizen, how would that decision impacted Slavery, the Civil War, and the Fugitive Slave Act?
3. Have Harriet Tubman's contributions to the Underground Railroad and the Civil War been under-glorified because she is a female?
4. Do you believe that the 54th Massachusetts Regiment fought with Anthony Burns on their minds given that there connection to Boston, Massachusetts?
5. How can we talk about Jim Crow as an extension of slavery? Can we talk about the ghetto and mass imprisonment in those same terms?
6. What sorts of images of black people do we get in today's media? Can we categorize these as controlling images? Are they similar or different than images talked about in Ethnic Notions?
7. Can we put present day crime and blackness in conversation with each other by recognizing the origins of this relationship in Jim Crow?
8. Given that white femininity is valued as worthy of protection, how do we then begin to talk about the rape of black women by both black and white men?
9. If you were apart of the reparations movement, would you have been in support of pensions or civil/political rights?
10. Should there still be discussions on issuing reparations for ex-slaves or should the conversation change course?
11. What is the best way to go about handling reparations?
12. Do you think reparations will ever be issued in the United States?
13. Is De facto v. De Jure, a thing of the past in the United States, or is it still applicable in our society with some of our laws?
14. Can Plessey's be considered the Rosa Parks of his time?? (Challenging the status quo)
15. Did the 13th amendment help or worsen conditions for African Americans?
16. Would it be fair to say that the passage of black codes and sharecropping was based more on race or the idea of people of color being inferior?
Bibliography
"Abraham Lincoln: Dred Scott Decision." The History Place. 1996. Web. 15 Mar. 2011.             <http://www.historyplace.com/lincoln/dred.htm>.
"American Experience | Reconstruction: The Second Civil War | Slave to Sharecropper |    PBS." PBS: Public Broadcasting Service. Web. 15 Mar. 2011.             <http://www.pbs.org/wgbh/amex/reconstruction/sharecrop/ps_adams.html>.
"American Experience. The Murder of Emmett Till. Timeline | PBS." PBS: Public Broadcasting Service. Web. 09 Mar. 2011.       <http://www.pbs.org/wgbh/amex/till/timeline/timeline2.html>.
"Anthony Burns Captured." PBS: Public Broadcasting Service. Web. 15 Mar. 2011.             <http://www.pbs.org/wgbh/aia/part4/4p2915.html>.
Berry, Mary Frances, My  Face Is Black Is True: Callie House and the Struggle for Ex Slave Reparations (New York: Knopf, 2005)
Chen, By Michelle. "Bill to Study Slavery Reparations Still Facing Resistance." The          NewStandard. Web. 15 Mar. 2011.       <http://newstandardnews.net/content/index.cfm/items/4449>.
Cohen, Steve. Congress Apologizes for Slavery, Jim Crow. Washington,DC.
National Public Radio. 29 July 2008. Print. Transcript.
"The Ex-Slave Pension Movement by Walter B. Hill, Jr." AfriGeneas ~ African American & African Ancestored Genealogy. Web. 15 Mar. 2011.         <http://www.afrigeneas.com/library/hillarticle.html>.
Family of Ida B. Wells-Barnett. "Time Line of Important Dates." Welcome to the Ida B.    Wells Website. Web. 09 Mar. 2011. <http://www.idabwells.org/index.php?    option=com_content&view=article&id=48&Itemid=55>.
"54th Massachusetts Regement." Black Hawk Design. Web. 15 Mar. 2011.             <http://www.black-hawk-design.net/wildwest/54Regement/page10.htm>.
Hines, Elizabeth, and Eliza Steelwater. "Project HAL." UNCW Faculty and Staff. Web.     09 Mar. 2011. <http://people.uncw.edu/hinese/HAL/HAL%20Web %20Page.htm#DEFINITION%20OF%20LYNCHING>.
Linder, Douglass. "Lynching Statistics." UMKC School of Law. 2000. Web. 09 Mar.         2011. <http://law2.umkc.edu/faculty/projects/ftrials/shipp/lynchstats.html>.
Litwack, Leon F. "Hellhounds." Without Sanctuary:Lynching Photography in America.     Santa Fe, New Mexico: Twin Palms, 2008. 8-35. Print.
McBride, Jennifer. "Ida B. Wells: Crusade for Justice." Webster University. Web. 14          Mar. 2011. <http://www.webster.edu/~woolflm/idabwells.html>.
Painter, Nell Irvin. "Black migration to Kansas after Reconstruction."
Exodusters [New York]      Jan.-Feb. 1977: n. pag. Reconstruct the Second
Civil War. Web. 14 Mar. 2011.
"Primary Sources." Redirection to Equivalent @ Cengage. Web. 15 Mar. 2011. <http://college.cengage.com/history/us/resources/students/primary/blackcode.htm>
Strawberry. "Harriet Tubman – Underground Railroad." A Strawberry Patch –         Strawberry's Home on the Web. 30 Mar. 1997. Web. 15 Mar. 2011.     <http://www.strawberrylady.com/blackhistory/tubman/Tubman.htm>.
"U.S. Civil War 1861-1865." The History Place. 1996. Web. 15 Mar. 2011.             <http://www.historyplace.com/civilwar/>.
Waquant, Loic. "From Slavery to Mass Incarceration: Rethinking the 'race Question' in      the US." New Left Review 13.Jan-Feb (2002): 41-60. Web. 06 Mar. 2011.
Wells-Barnett, Ida B. "Lynching." A Historical Perspective of African Americans. Ed.       Bridget R. Cooks. San Diego, CA: University Readers, 2009. 207-11. Print.