2 Midterms and a paper this week
, needless to say I was exhausted and had a thoroughly restful and good weekend!
Recap:
I lost the charity poker game by the eventual winner
.  I was doing pretty well but the blinds started increasing to about 1/20th of the original stack and i pushed in with my pocket 9′s against an a/j suited.  Still a little sad my luck gave him a jack but oh well. The tournament was hosted by Mesa Court and the prizes were a $75, $50, and $25 gift card to the bookstore, respectively, to the winners.
Midterms were pretty good.  Not amazing, but not bad at all. I don't think I've had so many all-nighters in a week yet.  Caffeine is wooonderful!
I missed the Circle K meeting this week because I was busy with midterms but I went to Think Together again this week.  I helped grade a few of the papers that the kids were doing and I came to the realization that not all schools are the same.  I was pretty surprised at the overall scores that these kids were getting in some basic algebra problems.  The class had a literal curve which averaged around 60% and this was 7th grade.  It wasn't really the scores that surprised me, but more the lack of effort that some of the kids put into their test.
I'm hoping to look into an Education minor or some sort of path towards teaching right now and it's something that really bothers me about teaching.  Why is it that people seem to have no motivation to do well sometimes?  The school has a 98% average daily attendance and is in an average middle-class area, so why isn't it doing better?  Questions like these really make me want to become something of a school administrator, and I'm really starting to learn a lot from this community service.
The upcoming week is hopefully one where I can get my feet back on the path and catch up on researching for writing.  Hopefully, everyone has gotten their acceptances and submitted their SIRs so congratulations
.
Feel free to leave a comment!  If you have any questions about the appeals process feel free to let me know since it's something I know fairly well.

Take a look at this picture.  Notice anything?  The Lakers are too smiley, put your game faces on please! 110-89??? REALLY?  That's not championship caliber in my opinion… I mean, look at how serious Nenad Krstic compared to Bynum.  Lakers talk anyone?
As UC Irvine recognizes April as Sexual Assault Awareness Month, there were a couple of events on campus that were held this week. UCI's Campus Assault Resources and Education (CARE) worked with several organizations on campus to raise awareness about the issue of sexual violence. I was truly touched that the campus made an effort to dedicate this week to a topic that is so sensitive. It introduced me to different resources on campus that I didn't know about before. Most importantly, it opened my eyes to my own peers.
On Monday, The Clothesline Project was exhibited in the Gateway Commons. The display featured t-shirts that were designed by women that were victims of sexual violence. Walking through the clotheslines and reading the shirts was difficult, but it was definitely an experience I'll never forget. Many of the shirts had a lot of messages that were very painful to read. Others were inspiring and thought-provoking. I can't begin to imagine what those women have been through and this project was an expression of simultaneous horrible pain and healing.
Wednesday was Denim Day, which is a Los Angeles-based effort to draw attention to a rape trial in Italy in 1992 that had been dismissed as consensual sex because "the victim wore very, very tight jeans, she had to help him remove them, and by removing the jeans it was no longer rape but consensual sex." The verdict was followed by a protest in which women wore jeans to work. I saw A LOT more jeans than usual on campus, even on professors. I was so inspired by the solidarity!
That same night, UCI had it's 13th annual Take Back the Night event. It was a vigil followed by a march and a lot of events such as music and dance performances as well as speakers. The candlelit march was a truly moving experience. It opened my eyes to a side of UCI I really hadn't noticed before. Students came together to support one another, and it was one of the most beautiful experiences I've had this year.
This week's campus events were definitely ones I'm glad I attended. I learned a lot about different resources dedicated to safety, support, and wellness on campus. I looked into UCI Campus Safety , which features the zotAlert system as well as the UCI Safety Escorts. I also found out about a lot of clubs with similar goals. The Feminist Majority Foundation and Challenging All Men to Prevent Sexism (CHAMPS) are two of the many organizations on campus that seek to fight sexual violence and promote campus safety.
I can't begin to say how touching this entire week has been. I have to write a huge research paper for Humcore soon, and I've been inspired by my Religious Studies class (which I LOVE) as well as this week's events. I think I might just write it on religion and women!
Wish me luck on my huge assignments and midterms! I'll need it. :c
Also feel free to ask any questions or comment on anything ever, I promise to respond! c:
Hello readers and Happy Sunday! Gahh…I've been studying all weekend for my psych midterm tomorrow. My brain is exhausted!! I'm trying to do super well in all my classes so I could stay on the Deans Honor list. I believe you have to maintain a 3.5 GPA for that. I got it last quarter, but this quarter I have a lot of more work to do in less time. I'm currently taking Chemistry 1B, Chem 1LB (lab), Writing 39B, Classical Mythology 45C, Psychology Fundamentals 9A and MCLI. That's 20.6 units!! Honestly though, I think I'll be okay. I got 100% on my first mythology midterm *yay!!!!*, a "passing grade" for the first chemistry midterm (not so much yay for this one), and tomorrow I think I'll do fine for my psych midterm. Hopefully all goes well.
I did some reflecting this past week about what I want for my future, and it lead me to decide on what I want to major in. When I first came to UCI, I wasn't sure what I wanted to major in (which is why I'm undecided/undeclared), but my main interests were nursing, psychology, music, and business. In my University Studies 2 class (a mandatory class for u/u students) we had to do this project where we were assigned to do research on one major, based on our interest. I got business as my major and after doing my research, I decided that it wasn't for me.
Then since I had an interest in psychology, I decided to take a psychology class last quarter and see how much I liked it. I'm considering minoring in psychology and social behavior, but I know that I don't want to major in it anymore. Majoring in music just kind of lost appeal to me, so that leaves me with nursing. Since nursing and biology majors take pretty much the same classes the first year, and also because I am surrounded by biology majors in my hall, I kind of thought about biology as a major. I really enjoyed the bio classes I took… and I'm considering about going to med school, but I decided that nursing is what I really want to major in. And if I later on decide that I want to continue on to med school and become a doctor, I'll just take some extra pre-med classes. Oh boy. I need to schedule an appointment with my advisor and get some opinions and advice!
Honestly, I love being an u/u student. No joke. I love having the opportunity to check out other majors and not be committed to one. We'll see where I go from here.
-Daisy
Hello again!
I wanted to briefly discuss my living situation in Palo (Mesa Court) and three reasons why I love living here.
1. The apartment-like atmosphere. The buildings in Mesa are very spaced out, and no dorm exceeds three stories. This is to ensure that people are not distant from each other and yet each building has its own unique community. Palo currently has 64 residents and there are approximately 6 rooms to a suite (each floor has two suites, and there are three stories.) I am very happy with my living condition because I live on the second floor. Since Palo is built on a slope, 2nd floor can actually be the ground floor depending on where you enter. My room is located on the far end of my suite, so we are furthest from the noise that may be present in the common room, etc. We are also right across from the bathroom, very close to the kitchen/laundry room, and right beside the side exit door.
2. Nature. I have really enjoyed how there is a great abundance of greenery. Because Mesa is so spaced out, you will find many pathways connecting buildings and the sidewalks are usually bordered by plants. There are a lot of squirrels, bunnies, and birds, as well as a family of raccoons and a pair of ducks that my roommate and I have affectionately named: Mr. and Mrs. Quackers. When I look outside my window, I see our roof, trees, and the sky. I consider myself pretty lucky with my living situation because I know people from other dorms whose window faces an adjacent dorm room's window.
3. The large rooms. I don't know about the earlier dorms (Phase 1 and 2) because they are smaller, but I am very comfortable in my room in Palo (Phase 3). I have 4 drawers under my bed, a wardrobe closet, two shelves, and three more drawers next to the closet. One cool thing that I see in Mesa dorms that are not in Middle is the push-pin wall. Each side of the room has a push-pin board where you can hang pictures, posters, etc, without having to poke a hole into the wall (you'll be fined if you do!).
I will go into detail about the different resources and facilities offered in Mesa later. Right now I have to get back to writing my humanities core essay :[
Cheers,
Faye
PS – What's black and white and red?
A newspaper!
Currently playing: Airplanes by B.o.B. ft. Hayley Williams
Can we pretend that airplanes in the night sky are like shooting stars? I could really use a wish right now (wish right now, wish right now)
-closes eyes- I wish that this philosophy paper would write itself. -opens eyes- Shoot it didn't work. My open Word document is still blank. It's too bad I can't grant wishes, only the wishes of others! (get it? Jeannie=Genie) Just kidding. I can't grant anyone's wishes, let alone mine. Though if I could, this paper would complete itself!
I think I need to find a place to study and just have a paper marathon. One whole day.
I currently live in Otero in Mesa Court and I've recently discovered a small hidden jewel within Mesa Court! I couldn't believe that I've only recently found out about using this place to study. It's the Mesa Academic Center also known as The MAC. It's open Monday through Sunday 11 am to midnight. I always came here only to pick up mail or packages but I never realized that I could study here and get so much work done.There are:
group study booths, comfortable study chairs with tables that swivel, private cubicles and power sources for your laptop
free WiFi!
free peer writing and research tutors that are available to look over your papers. I've come here a couple times to have my writing 39C papers read over because I've been struggling a bit in this class.
Incoming freshmen, take my advice. Use and abuse this resource. I never knew how useful this place was until now, in my last quarter of freshman year! ): I wish i had known about this place soon because then I wouldn't have to walk ten minutes to Langson or the Science Library so late at night!
If you instead don't live at Mesa Court, Middle Earth (the other dorming area) has Buckleberry and Arkenstone where residents can study. Both are across Pipping Commons (FOOD!). Buckleberry has study tables, couches, chairs, and tables for studying or meetings.  Arkenstone is below Buckleberry and adjacent to Gandalf's Classroom. It is a 24/7 academic resource and study center.  There is academic advising and peer tutoring for writing and research just like the MAC in Mesa Court. I don't really know too much about either of these places, but I have been to Buckleberry once to study with friends. I love laying on the couches, but beware! The couches are comfy but vicious. You fall asleep after a long day of studying and cramming!
All of these places are the ideal for those who are too lazy or scared to walk to the UCI libraries or study centers near the Student Center late at night. The time it take to walk from Langson to Mesa Court at 2 am are the scariest ten minutes of my life, especially when I walk alone. Just in case anything ever does happen, thank goodness for those blue light emergency centers around campus!
Abracadabra, paper write itself!
-A sad procrastinating Jeannie
As the end of the year is approaching, many of the clubs on campus are putting together one last, big event. This spring season means Culture Night season for a lot of the cultural clubs at universities across the nation. Here at UCI, culture is something we have a lot of pride in. Culture Night is usually a play put on each club that involves a lot of cultural dances, singing, and plotlines. Kababayan, the Pilipino organization here at UCI just had their 2010 Pilipino Culture Night. It was titled "Speak", and from what I heard, it was a great success! Tomo No Kai, a Japanese/Japanese American social club hosted "A Moment In Time" yesterday night, and I heard that was a lot of fun too! Chinese Association (CAUCI) is putting on ""The Eternal Prisoner: Legend of Lady White Snake" pretty soon, and VSA, Vietnamese Student Association, has ours coming in about a month!


Not only are these performances a good way for the audience to learn more about the culture of the organization putting on the event, but it's fun for the club members participating as well! Being active in club events gives the opportunity for students to be a part of something other than schoolwork. It's a great way to meet new people and be involved on campus. For more information about the cultural clubs at UCI and their upcoming events, visit the UCI Campus Organizations Home. You can even take it a step further and attend one of the Culture Night events!
I start practices for VSA's traditional dance performances and choir this week, and I'm so excited! I've been watching videos of past Culture Nights and they're all so amazing. This is a clip of a traditional dance performed at VSAUCI's Culture Night in 2007. It's so pretty!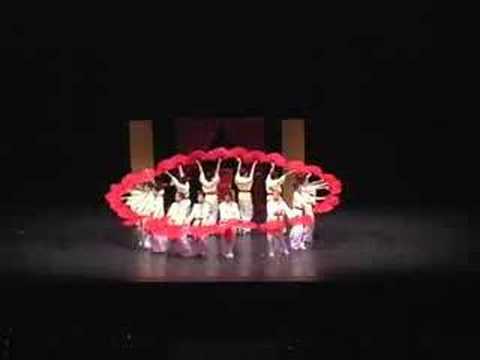 I'm excited about all the comments that have been coming in. Don't forget about the ASUCI Spirit Pack Giveaway and be sure to spread the word too! Have a good week everyone, and keep the questions and comments coming!
-Cecilia
Okay, not really…
This week I went with Circle K to tutor kids at Think Together.  It's not that I don't like kids or anything like that, I just find kids that are in between the ages of 10-13 (or the preteen age) completely obnoxious.  I think the Think Together program, which was being hosted at MacArthur Fundamental Intermediate School, is a really good program for underprivileged students and families.  The concept behind it is that the after-school care would be a free day care as well as tutoring provided by grant money.
It was really an interesting day, considering the fact that I'm interested in pursuing a career in education, particularly administration.  The teachers and program coordinators really put a lot of time and effort into trying to get the students to succeed, and it's hard to bite the fact that sometimes some students just don't want to try no matter how hard you try to motivate them. Regardless, you're obligated to try your best and that's just what we did
.
The great thing I really like about Circle K is the fact that there's always something to do.  In high school, there wasn't always something almost everyday, but in college there's always an event almost everyday gives you a lot of choices.
Let's see, other than Circle K, this week was my birthday
!  I'm not really the biggest birthday person but I had a really nice dinner with a few friends from the hall at a all-you can eat sushi restaurant. MMMmmmmMmmmm. sushi. sooo gooood.  I wish I had pictures from it but people are slow to post it on Facebook, so i'll put up pictures next time.
Also this week, Mesa Court is taking registration to a charity poker event.  All that is required is four canned goods to be donated to the Orange County Food Bank.  I'm pretty excited for that since I absolutely love poker and the concepts of the game, I'll let you guys know how I do when the time comes.
Who I'll be come charity poker time! If you know who this is then you're in the know!
HELLO EVERYBODY!!!
So lately I've been seeing a lot of tours going on around campus and around Mesa Court. I'm so excited for all you incoming freshman!! You are all going to love it here! It's okay to be nervous. Transitioning from high school to college is definitely nerve racking…but all really exciting at the same time.  This is why us zot bloggers are here to help you with any questions or concerns you all have about going to UCI!
This last Wednesday, students from an organization called Green Campus Program came to my hall and made a presentation about going green in dorms. They gave us some pretty useful information about how to keep the environment cleaner while we are living in the dorms…and I thought it would be useful to share some of these things with you current/future anteaters that are living, or going to live in the dorms.
So some ways to go green in dorms (or anywhere in general) include:
- Turning off lights when not in use
-Instead of using water bottles, get one of those brita waterfilters
-Take shorter, and colder showers
-Use CFL bulbs.
-Unplug things that are not in use (fans, chargers)
-Use the sunlight instead of room light during the day time
-When doing laundry, try to use cold water only
-Turn of sinks when not in using while brushing your teeth or washing your face
-Print on both sides of paper
-Recycle
So these are definitely some things that you could do to help keep the environment cleaner and healthier…and of course, there are tons more things that you could add to this list.
At the end of the presentation, our hall and another hall who was also there, made a pledge about things we would change to make the environment a better place. Maybe you could make one too!
If interested in checking out UCI's Green Campus Program… click here. Thanks for reading, and as always, if you have any questions or comments, go ahead and ask away!!
Currently listening to: Gives You Hell by Glee
I have got to admit that this weather makes me super happy. So happy that I want to jump into a pool with all my clothes on. The weather right now in Cerritos is about 75 degrees and I've been lounging around in my shorts all day long. I can't help but feel overjoyed to have the sun shine brightly through my window and onto my arm (no matter how hot my arm gets from the sun's rays).
Now that the sun is out, I feel like I should go nap in Aldrich Park one of these days while the weather is perfect….(as long as the wind doesn't blow and pollen floats through the air) Too bad I've got to study for midterms. ALREADY. My first midterms for Bio Sci 37 and Econ 20B are Wednesday and Thursday respectively. I guess its time to head back to Langson Library to get my study on. Langson Library is one of the four libraries at UCI, the other three are the Science Library, Law Library and Grunigen Medical Library (all of which I will mention in latter posts).
Langson (pronounced LAY-ANG SON without a T since alas, there is no T in the word!) Library was named after Jack Langson, a Newport Beach resident who donated money to the  UCI library.   Situated on Ring Road near the flagpoles and across Gateway Study Center , Langson opens from 8 am to 11 pm  during the weekdays and 1 pm to 5 pm during the weekends. However during finals week, Langson opens until 2 am. This library offers books and research on the Arts, Humanities, Education, Social Sciences, Social Ecology, and Business & Management, whereas the other libraries focus on science, law, medical, and computer science related resources. Students are allowed to access ANTPAC catalog online to look up the call number for books and downloadable articles through databases such as JSTOR.
Most of the time, I tend to head toward the Science Library instead of Langson to study, only because Langson tends to be a bit loud. But if you go to the 3rd,4th or 5th floor, these levels are more quiet for studying. The good thing about living in Mesa Court is that it is situated directly between Langson and the Science Library, so I can choose which library I want to go to depending on my mood. Oh yeah! Everyone is allowed to bring in drinks into the libraries which is not limited to bottle water. Starbucks and Jamba Juice are allow as long as the cups have lids! Most people are pretty diligent not to spill anything, so everyone can sip on some cold Strawberry Surf Rider while panicking over their midterms and papers!
Here's a virtual tour of Langson in case you were just wondering how Langson looks. Check it out!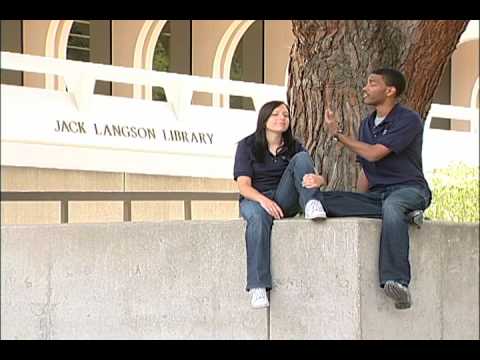 If you have any questions, let me know!
-Jeannie
Hello everyone!
I'm so excited to see that there are readers commenting our posts! Thanks so much for your questions :]
Okay, let's get down to business! (to defeat the Huns..) As I've mentioned before in my bio, (ignore my ridiculous picture), there are many perks to being an undecided student. To name one, there are several courses that are exclusive to undecided students. First off, University Studies 2 (more affectionately known as Uni Studies) is a required class that I took in the Fall. It is a great way to start off the year GPA-wise, because the course is worth 2 units and a letter grade, what "A" great course! All you really have to do is complete the journal entries and light assignments on time. The aim of this class is to familiarize students with campus resources/facilities (we're paying for them anyway, might as well know about them and take advantage of them!) and help students explore major options with panels, discussions, surveys, etc.
Each lecture specifically discusses basic info about a certain major/school (Business, Engineering, Arts, etc.) and not all of them are mandatory. My discussion was small and everyone was friendly and inviting. At the end of the course, there is campus resource project where groups are required to provide the class with information about a specific UCI facility. Mine was the Health Education Center (you can find out more info about this on my other posts on the old blog), and I still visit it to sit in the massage chair and take some free room air fresheners!
More recently, I enrolled in a Bio Seminar class called "The Food We Eat" where I've learned about nutrition and genetically modified food. (Jeannie is in my class!) There is a long list of Bio Seminars available (worth 1.3 Pass/No Pass credit) that are required during Spring quarter for regular bio majors. However, although these seminars are Bio specific, they are also open to undecided students! There were some interesting ones that caught my eye, including one titled "The Bio of Harry Potter" — how cool is that?!
*Quick tip for prospective undecided students: if you're even slightly interested in biology, humanities, engineering, etc. (any of the hardcore subjects that have prereq's), I'd suggest that even though you are able to "weigh your options", you should definitely take the introductory courses that a declared student would take for that major to avoid falling behind. This way, if you realize that you really want to be a bio major, for example, you would have already taken Bio 93 your Fall quarter and be on track. (Likewise, take Humanities Core or Math, etc.) If this is confusing, just ask and I can explain it more :]
In other news, this quarter is turning out to be extremely busy for me. I'm a volunteer at the Cross-Cultural Center, taking the MCLI (Mesa Court Leadership Institute) course about global leadership, and taking my three academic courses: Humanities 1C, Psychology 9C, and Sociology 3. Aside from academics, I am also performing in Culture Night (May 15th) in a tradition Chinese all-girls dance with my Chinese Association club. There are also all-guys and co-ed performances under CA and they look really intense! Check it out!
Keep coming with the comments
Cheers,
Faye
PS — A neutron walks into a bar and asks the bartender, "Hey, how much for a drink?" The bartender looks at him and says:
"For you, no charge!"
Hello hello hello and welcome to the new home of the Undecided / Undeclared Zotblog! I'm Cecilia, and you can find out more about me and my experience as a U/U freshman at Irvine here and here. I'm on my last quarter as a freshman, and the journey has been incredible. A year ago from now, I would have never dreamed that I would be where I am now.
As a senior in high school, I was very involved with clubs and organizations. One of the rumors I heard about UCI was that the club life on campus wasn't very strong. I must have been listening to the wrong person though, because UCI organizations are now one of my favorite things about college. UCI has a lot of opportunities for someone looking to be active on campus! UCI Campus Organizations has a handy search tool for browsing through clubs by category. Academic, athletic, service, political, entertainment, religious, and interest are only a few of the many types of clubs that exist on campus. There's a club for everyone! Best of all, if it doesn't already exist, it's easy to start your own club!
I truly believe that a college experience is what you make of it, so I challenged myself to start getting involved my very first year. I'm involved in three clubs on campus: Hat Cai (Mustard Seeds), Vietnamese Student Association, and Medical, Educational Missions Outreach (MEMO). I picked clubs according to my interests (spirituality, culture, and service), and it has definitely made all the difference. I've met amazing people through these clubs and some of my best memories this year have been with them. All three organizations have different upcoming events and I'm very excited to be a part of it all. I'll be sure to update as they come around!

EXCITING NEWS! As some of you might already know, I applied at the beginning of the year to be an intern for MEMO and I got the position. A few months ago, I applied and interviewed to be a part of the team that goes on the service mission to Vietnam this September, and I GOT IT! Words cannot describe how thrilled I am about this.
Here's a happy photo of some of the MEMO members and I at our after-event at Chipotle last week!


As always, if there is a ever a question, comment, or concern, don't hesitate to hit the "comment" button below! I'd be more than happy to respond!
-Cecilia
I hope you guys all had (or are having, soon to have) a good Spring Break
.  I had an amazingly comfy, relaxing, and somewhat busy time with friends and family so all in all it wasn't too bad.
Okay, so since this is a new website I guess I should introduce myself first.  I'm Anthony, I'm a first-year Undecided/Undeclared student here at UC Irvine.  If you want to get to know me a little better, feel free to post a comment and I'll get back to you or just read our previous blogs on the old website or the bios
.  So one of the things I want to focus on and really talk about this quarter is involvement.  I recently joined Circle K, which is basically Key Club from high school evolved into a college level.
I really enjoy doing service and volunteer projects for others and lately I've been going with Circle K on Friday afternoons to volunteer at a Soup Kitchen in Costa Mesa.  It's a really good experience to be able to learn a bit of humility when helping others because as my roommate and I were asked to clean out the sinks…. well, we'll leave it at that.  Thankfully since I'm Undecided/Undeclared I have a bit of extra time to devote to other things like Circle K haha.  In case you were wondering which soup kitchen I'm volunteering at, it is Someone Cares Soup Kitchen.
I feel fairly involved on campus, but I'm not sure if it's enough.  My grades are hanging alright and I'm pretty happy, but I'll see about what else I can start doing and getting involved in.  Oh yeah, throw in basketball into my mix of involvement at UCI.  I literally play basketball everyday and if I don't I start getting a little antsy and have basketball withdrawals.  I'm also really excited for playoffs for the Lakers… I'm actually avoiding watching any games in the regular season right now because the Lakers are just doing horrible leading up to the playoffs.
I want summer to come sooner! Beeaaaacccchhhh.  Ironic because it's raining in Irvine right now…