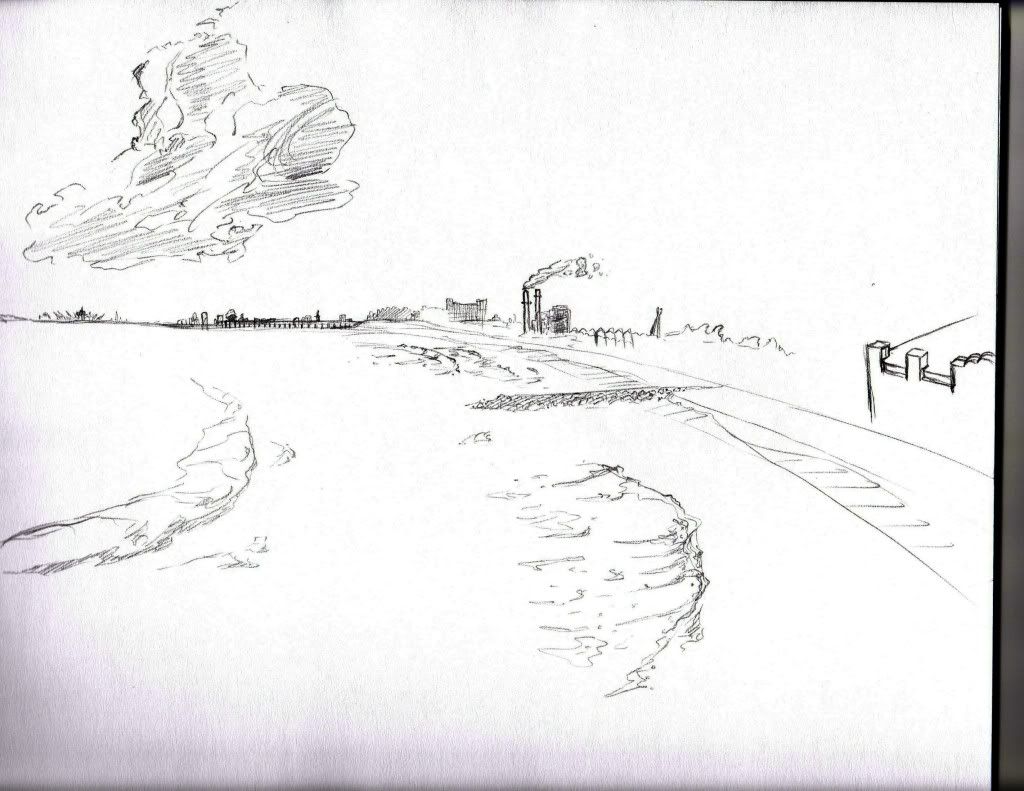 Okay, so here we are in week 8/9, and I and others have lived at the dorm for just about 20 weeks. That means we've had more than enough time to explore Irvine and get tired of it. Which, probably happened around the 15th week. Don't get me wrong–there's lots to do here, and it's all really fun in it's own aspect. But after having little to no access to a car, and small funds for going out, it gets hard to find stuff to do.
This is, at least, the position I found myself in this weekend. What was I going to do? I went to the Spectrum probably 8-15 times already, I've watched all the good movies to watch, I've gone to everything around Irvine (bowling, Disneyland, other shopping centers, Sky High, etc.). What else was there to do?
The Beach! Irvine is a simple 15 minute drive to Newport, provided you have a car or know a friend who has one.  So, despite the winderly blistery wind tearing up for the closest 100 acres or so, I traveled with a friend to Newport, not to swim (please. I'm not crazy), but rather, to sketch. Yes, draw. Granted, we were only there for 40ish minutes (the wind plus the cold plus the parking meter which we had few quarters for), but it was a nice relaxing 40 minutes where I was able to enjoy not only my favorite hobby, but also the BEAUTIFUL scenery. Okay, the area of Newport we were in may have been a little reminiscent of some areas in LA, but the sunset and clouds and waves and EVERYTHING (we could see to Long Beach CLEARLY. No haziness) really made me happy that we braved the cold and did something spontaneous for a change. It made me glad I was at a college so close to the beach and Pacific Coast Highway (PCH for those who don't know), where I could just get in a car, and drive to any beach I wanted to.
This reminds me that UCI is close to (not exactly 15 minutes away, but less than 40 minutes away) Laguna Beach, where the annual Pageant of the Masters is held. I went to this show for the first time this past summer, and boy was it impressive. The event is basically an exhibit of different forms of art that have gained respect and recognition over the past year, and many people come to look at this art and enjoy the food and activities that this exhibit holds. However, the main event is the Pageant of the Masters event (yes, what the whole thing is named after), where annual volunteers don costumes and position themselves to reproduce art. Basically, real people recreate the scenes of famous pieces of art. SOUNDS dumb, but trust me, it's actually really impressive to see in real life. Other art shows are held annually at Laguna Beach (it's a very art-oriented city–most of the exhibits at Pageant of the Masters were provided by people who resided in Laguna Beach permanently), but I've never gone or experienced them.
Just another look at my art and communities of art around UCI!
PS, the sketch you see is what I did. I got lazy halfway with the buildings, so I kind of gave up, did some waves, and then a cloud. By then we had to go, but it was good practice so I was happy.
3 Responses to "Some weekends were just meant for solidarity"