I recently read the sports section of our school newspaper, New University, and was surprised to find that three players, including star forward Eric Wise, are all transferring next year to a different Division I school. From watching most of the games this past season, I can definitely tell you that losing Wise is a huge blow to the team's front court. He provided size, rebounding, and an offensive spark in the starting lineup that fused the Anteaters most nights. Not only was I surprised, but so was Head Coach Russell Turner who stated the following after finding out about the news: "The fact that Eric was not happy enough to continue bothers me, and I want to make sure that we are fielding a program that guys are proud to be a part of." Although he will be missed, the program and its coaches did not hesitate to move on and continue to improve the team. It was announced this past week that the team has officially recruited Aaron Wright of Cerritos High School. Wright, a junior, is a 6'2 starting point guard who earned All-CIF 3A honors after averaging 19.3 points, 6.6 rebounds, 5.8 assists and 2.4 steals for the Dons under Coach Jonathan Watanabe this past season. Here are highlights of him and his games:
[youtube]http://www.youtube.com/watch?v=PlZncvb6oa8[/youtube]
From ESPN.com:
Wright has an ideal frame with nice length and a he possesses a solid amount of quickness and bounce. He has a good feel for the point guard position and he changes speeds very well while breaking down the defense. He can finish with either hand off the dribble and his jump shot has improved in the past year.
This, folks, is just one of many upcoming recruits. Although the team next year will have no seniors, I believe that the program is building the team very well and balanced. Under Head Coach Russell Turner, I say the team's future is definitely bright.
eee.uci.edu :This will be one of your most visited sites during your time here at UCI. EEE, or Triple E, stands for Electronic Educational Environment. Sounds fancy, right? It actually really is. Triple E takes a webpage and tries to include as much useful information and easy link systems as possible to create  exactly what its name depicts, an electronic environment that is helpful to our education. The site allows you to sign in with your UCInetID (you'll receive that soon enough if you haven't already) and access class websites, your student email, your calender and task list, all of which you can manage through Triple E. The site provides students with a compiled source for whatever school related task they need to accomplish online. They list class websites next to the Professor, and even show your schedule and highlight what day it is to show which classes you need to attend. Triple E is basically your own customized online organizer.
The thing I find hard about working online is that each Professor has a separate website with their information, worksheets, and other helpful things, as well as Discussion leaders and Tutors. Adding all of these sites up provides a hefty list of websites to remember, all of which change every quarter. Of course I could always bookmark the websites, but Triple E provides a visually pleasing and simple way for me to see the websites and choose quickly which I need to visit. What's even better is that I don't have to do anything to organize these websites. All I have to do to set up my Triple E account is sign up for classes, and Triple E does the rest.

Another thing I find great about this resource is that it lists emails sent to my UCI email account from professors, discussion leaders, and tutors at the bottom of the page. This way, I can view the important and academic related emails without the clutter of club information and spam that I would have to deal with when actually visiting my email account.
Triple E is a resource that helps to organize the UCI student's life. And honestly, I need all the help I can get to be organized so these little things really do help tremendously. That's all for today, until next week all.
Who is this lady? Her name sounds stuffy and old, like my grandmother's' nose.  Why is outhat? Our lack of rainbows (or double ones?)?
Well, I did some checking up on Ms. Claire Trevor, and it shows up that she wasn't such a no-namer that I had expected. She was born in NY, went to Columbia University, and worked in stage theater, moving up to black and white films soon after. She always played the "bad girl" role, gaining the nickname of "Queen of Film Noir," which, for those who don't know, basically means she loved and excelled at playing the nitty gritty parts, rather than the damsel in distress roles. She got nominated for Academy Awards and Oscars from several films out of her 60+ repetoire, but only won one of each.
She married 3 times, her last one being to a Mr. Milton Bren, who, as fate would have it, was the father of DONALD BREN, whom the Donald Bren Events Center, The Donald Bren School of Information and Computer Sciences, and Donald Bren Hall are named after. Guess it runs in the family. Claire Trevor, however, was not the mother of Donald Bren. Sadness. That would have been so epic.
Anyhoo, after marrying Bren, Trevor moved to Newport Beach, where she stayed until her death in 2000. She was 90 years and a month old, having been born March 8 1910, and dying April 8 2000. Nice and even. I always hate it when they miss their birthday by like a month or two. It's so sad when they can't get that extra year. 😛
I don't know WHY exactly we named a whole school after her, but I'm guessing it has to do with her relation to Donald Bren, and also her extensive contribution to the arts in general. If you're curious to take a look at her Oscar and Academy Award, apparently they're located next to the Claire Trevor Theatre. I need to go find these now.
In other news, I was watching On The Red Carpet today, and I heard a bunch of stars were hosting a Golf tournament to raise money for melanoma cancer (cancer of the skin), the funds going to UCI'S DERMATOLOGY SCHOOL. Needless to say, I was pleasantly surprised.

Hey guys!
If you guys are into Latin dancing, or would like to learn how to dance, I am sure you will be interested in Salseros at UCI! Salseros at UCI is a dancing club on campus open to anyone who wants to learn how to move those hips and just have plain fun! 😀 From its name, all year long I've thought that this club was only dedicated to teaching Salsa, and maybe you thought so, too, but actually, Salseros at UCI is a very well-rounded group in teaching many types of dances. A couple of the dance genres they cover are Bachata, Cha Cha, Merengue, Cumbia, Rumba, Afro-Cuban, and Salsa, of course!! So you can't go wrong by trying it out!
Not only do you learn how to dance well, but you have many chances to perform, also! Salseros at UCI has many events all throughout the year where you get to perform and show off the skills and moves you've learned. This is one of the things that I like best about this club because I love performing and having fun on stage, and this is also a great way of getting to know the group better because it is something that almost forces you to meet everyone and make friends. Besides the performances, though, there are also many other socials meant to enjoy yourself and make great friends. All of the members and officers are extremely friendly, so don't feel intimidated in showing up to a club's meeting. You are very welcome to stop by to try it out, if only once, and of course, more than welcome to stay for the whole year. 😀
The meetings for this club are Tuesdays from 7-8pm in Engineering Tower 204, so come on in and join the Latin fun! 😀
~ Ivonne
Fun fact #1: Mesa Court holds numerous outdoor exercise stations all over the housing community for all residents.
Fun fact #2: Unfortunately, the notorious "Freshman Fifteen" is real!
Coming into college, I heard stories about how much college students actually eat and eat and eat! And here I am now, living the story. However, I've found some opportunities to burn some calories through the year so far. One of them include these outdoor exercise stations. My friends and I have been using these exercise stations throughout the year to help with the Freshmen Fifteen situation. I mean, not only do the exercises provide some convenience with its close location on housing premises, but there are a couple of stations located near Mesa Commons Dining Hall. So, after all of us college students eat, we all have the opportunity to sort of burn some of that off by doing some exercises which include pull-ups, arm-walks, stretching, and all sorts of other unique ones. Mesa Court is also designed to have a circular formation similar to Aldrich Park. Instead of a park in the middle, Mesa Court has a nice, big lawn next to a sand volleyball court. Many residents jog around Mesa Court every morning to get some exercise in as well. With the numerous stations around as well as the opportunity to jog around the circular housing complex, there is no doubt in my mind that Mesa Court Housing is literally a standing outdoor gym waiting to be used every single day of the year.
C.A.R.E, which stands for Campus Assault Resource and Education, is a resource on campus that deals with educating the students of UCI about sexual harassment, relationship health, personal safety, and other such issues. They also provide support and direct victim services to anyone who needs them. C.A.R.E can help you define what exactly harassment is, be it verbal or physical. Their goal is to educate students so that they know when something is wrong instead of brushing something off as trivial.
C.A.R.E hosts various annual events throughout the year, such as Take Back the Night, Denim Day, and the Clothesline Project, which is shown in the pictures. As you can see, there are a bunch of t shirts being hung on clotheslines in the photos. This is because the Clothesline Project gives those affected by assault a t shirt to decorate. On those T shirts, many write the stories of what happened to them, or how it made them feel, or empowering words for others to read. Hundreds of shirts with these messages are hung on clotheslines in front of our library for everyone to see and walk by and read. The shirts are all kinds of colors and have some very moving messages, and are a beautiful addition to the spring weather as walking through campus.
C.A.R.E also has two clubs that relate directly, CHAMPS (Challenging All Men to Prevent Sexism), which is a male group that teaches men how to have a healthy relationship and how to stand up to assault, and their sister club, Right to KNOW, which is a female group dedicated to the same issues.
What I find interesting about this resource is the way they raise awareness for their cause. Their annual events are simple yet effective and meaningful, and get the message across while still being an event. C.A.R.E does not just put up facts or statistics around school, or create a powerpoint presentation, they create a giant and bright piece of art like the Clothesline Project, and it catches peoples' attention.

I don't know about you guys, but I could sure use some time in a swimming pool. UCI has been having the most perfect weather anyone can ask for. So, what else can one do other than swim?! Really, though, what most people don't realize is that the campus offers two humungous swimming pools–each on opposite ends of each other on the campus map. One of them is located at Crawford Hall, right next to the Bren Events Center. Although this facility is mostly used by school athletes, The school offers numerous swimming camps there for the summer. The purpose of this swimming people is to provide service to "an intercollegiate Water Polo program, a Men's & Women's Swimming team, a Diving team, Student/Faculty/Staff recreational swimmers, a Master's swim program, and a youth swim club." When I first saw it, it was last summer, and let me tell you that it was downright beautiful! I could tell that it was highly maintained and clean.
The other pool located at the ARC (which is basically on the other end) is just as gorgeous as the one located at Crawford Hall. This one is mostly used by the students and guests, and offers a basketball hoop in the pool! (I guess that's why I love this pool more than the other one!) Here are some facts and information about the pool that comes straight out of their official website:
Our 25 yard by 25-meter recreational lap pool is the main attraction of the Aquatics Plaza. The depth of the pool starts at 3 feet in the shallow end to 7 feet in the deep end, and has eight pool lane lines.
The pool is always at a comfortable 80 degrees year long, and kickboards, pull buoys, and other equipment is provided.
The pool is open for lap swimming and some scheduled programming, such as swim lessons, children's swim lessons during the summer, aqua fitness, and various activities like inner tube water polo, and the occasional special event.
Lounge chairs and landscaping make this outdoor facility enjoyable both inside and outside the water
This actually wants me to stop typing and take the shuttle to the ARC to get some relaxation in their pool… If you think the descriptions from the website sound good, wait until you see it up close and personal.
Here are the websites for the pools:
http://www.ucirvinesports.com/facilities/aquatics.html
http://www.campusrec.uci.edu/arc/aquatics.asp
Until next time 'Eaters!
Hello Zot Blog Readers!
I hope you are all enjoying the warm weather this weekend! 🙂
I am sure you have all heard about or have been involved with Key Club in high school at some point and time. Key Club offers endless opportunities to volunteer everywhere around you area and looks spectacular in your resume and applications.
Thankfully, there is something exactly like Key Club here at UCI. Circle K UCI, the "college version" of Key Club, if you will, is the spotlight of the week! Circle K is popular and very well-known here on campus. It is one of hundreds of other chapters around the country, and from my calculations, it must also have that many members here.
If you have been involved with Key Club before, you must know how often events and volunteer opportunities come along, but that is nothing compared to Circle K! I was just looking at Circle K's calendar on their website, and it seems like they have something going on every day! I am not kidding! These events range from helping literacy programs organize books to distribute, volunteering at soup kitchens around the area, assisting THINK Together (an academic tutoring resource), and planting trees around campus to make it greener than ever! These events, though, have a limit of volunteers they can accept, so if you are really interested in joining any of them in particular, you need to hurry and sign up fast! That, however, can be easily done through the club's calendar on their website.
Oh, and talking about the website, I don't know if this may sound odd, but I have to comment that Circle K has the greatest club website I've visited this year!! It is so bright and colorful, very easy to navigate, and has a cool "chatting" box on the side; plus, I love their theme! This year's theme is The Lion King, and I say this year because apparently they change the theme and setup of the webpage annually, so make sure to stop by their page soon and come back next year to see their new one. 😀 http://clubs.uci.edu/circlek/index.html
Another quick thing I recommend is looking at their bulletins/newsletters. You can find this on their main page on the slide named "Anteater Review". They are the first club I know of that has their own newsletter, and just like everything else of theirs, they are very colorful, creative, and fun to look at! They cover all of the events in which they volunteer and have pictures of them, so if you want to see how it all goes, I really really suggest you go there because it will give you a way better idea of it all.
The meetings for this spring quarter are on Tuesdays at 6pm, in Doheny Beach A, located in the Student Center. Refer to their website first in case the location changes.
Have a great one!
~ Ivonne 🙂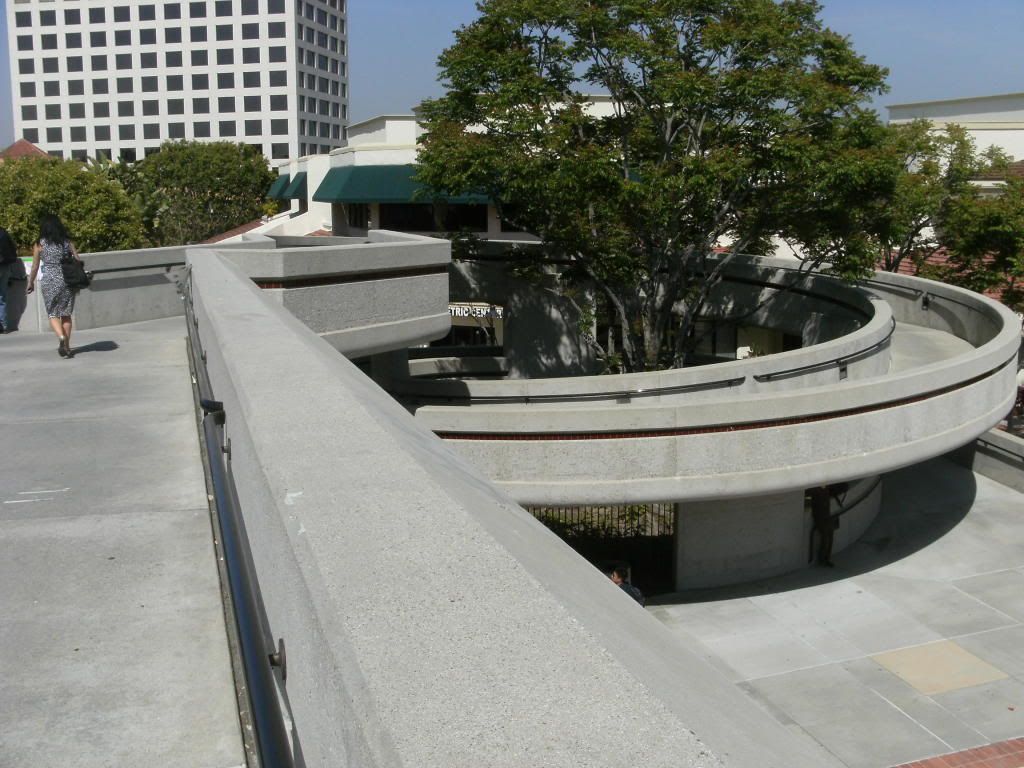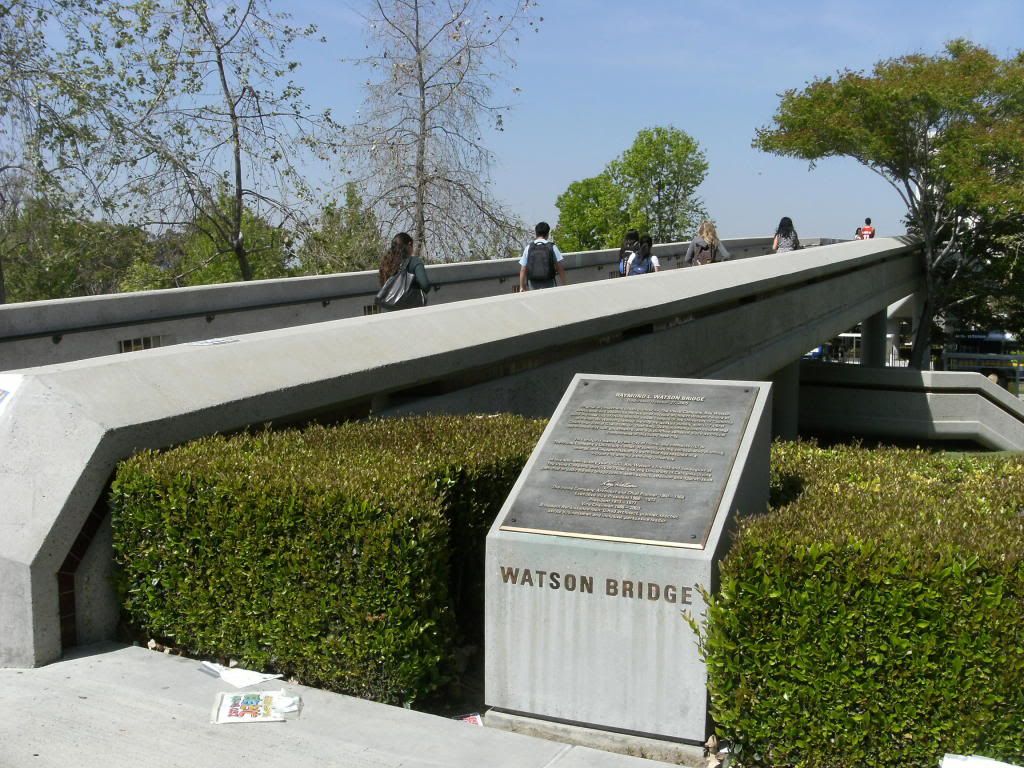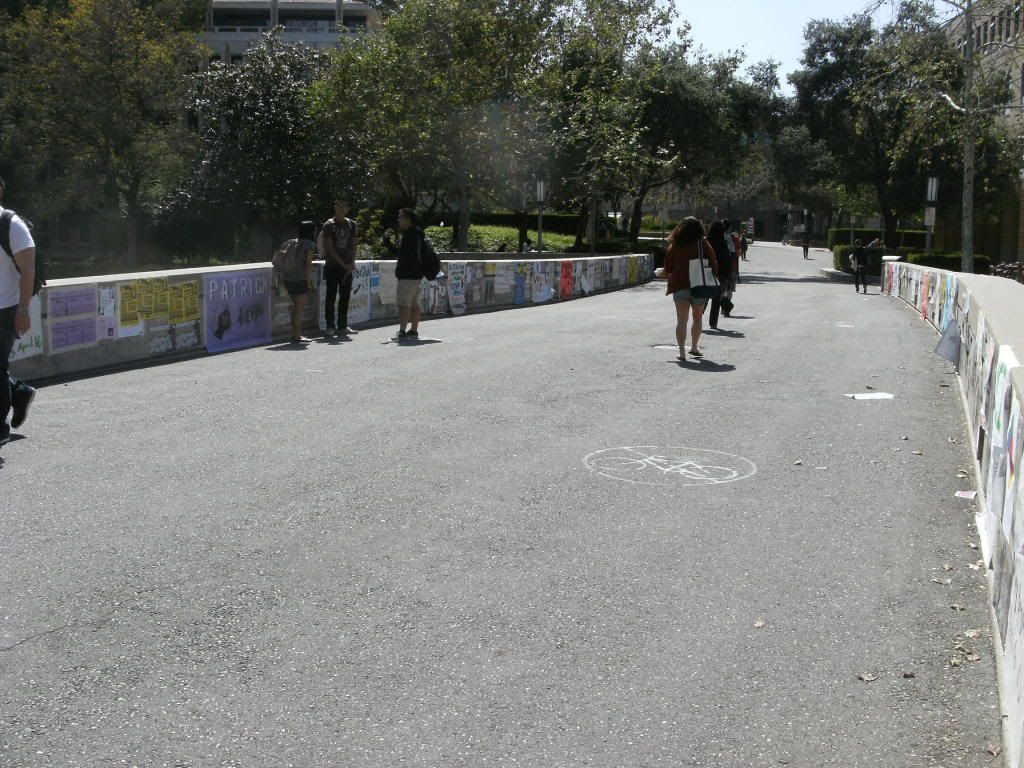 No, I'm not making some obscure indie reference to a song lyric or anything, but what I am referencing, is the slang names for the iconic 3 bridges at UCI.  If you've visited you've definitely crossed these at some point in time, but probably didn't get the low down on all of them.
"Bounce" Bridge: This bridge does exactly what it says–bounce.  If you go out to the middle of it with a couple of friends, or you're crossing it with a number of people at some point in time, you may feel it bounce up and down.  A lot of people get freaked out, but just about the same number of people find it really cool and neat.  So why is that? Well, it's because we're in good ol' earthquake country.  So the bridge was made with this fact in mind, so, in the case of an earthquake, those on the bridge and the bridge itself would not fall onto the street beneath.  Pretty cool engineering and architecture, huh?  If you're wondering where exactly this bridge is, it connects the Humanities Gateway to the Claire Trevor Arts facilities and Mesa Court.  It's really cool and fun to walk across every morning. It's also the top left two pictures.
"Bike" Bridge: This bridge is neat because it allows you to ride your bike onto it. Yea, you can ride your bike on any bridge, but this one is special.  First some quick explaining: The UTC (In N Out, Lee's Sandwiches, Taco Bell) sits across UCI, but was built so that it's essentially a whole one-story building beneath the ground floor of UCI.  It's hard to explain not in person.  Anyways, just know that to cross this bridge, you have to walk up one level of stairs from the UTC to get to UCI.  So what the bridge allows you to do, instead of pedaling across the street and around obstacles or climbing the bike up the stairs, is ride up this circular ramp to get to the top.  It's actually really handy, saving you probably 5 minutes of biking, which, in college, is precious study/sleep time.  This is located directly in front of the flag poles, and crosses the street Campus. It's the upper rightmost picture and the lower leftmost picture.
"Suicide" Bridge:  Or "Cannot Suicide" Bridge as someone told me it should be called.  Basically, this bridge looks like any regular bridge that, if you jumped off of, you could injury or kill yourself on. HOWEVER, it is impossible to do so on this bridge.  It's a neat optical illusion: anywhere on the bridge it seems as if jumping off the edge would be disastorous/foolish, but, in reality, when you look over the edge (you have to actually LOOK over, not just go close to the edge) you'll see that there is a flowery/grassy hill connected to the bridge, just 1 foot below the edge.  Lots of upperclassmen will, during the first few weeks, walk on the edge and pretend to jump off to scare the incoming first years, only to pop up a second later, completely fine, and seemingly floating in the air.  Look for me "jumping" off next year. ;D It's the last two pictures.
And there are a lot of other bridges (we at Irvine LOVE bridges, almost as much as we love circles), but I don't really think they're that special. I think one connects to the infamous Tunnels of UCI lore…but I don't know that for a fact. What are the tunnels you ask? well…we'll have to wait for next week, won't we?
Hi, everyone! Today's campus resource is definitely different than all of the others that I've talked about. As shown in the title, today, I'll be talking about UCI's radio station, KUCI. I've been seeing the station's name written around campus and decided to check it out. KUCI was created in 1969, originating in one of the closets of the physical science buildings at school. The station is
the only public radio station in Orange County, and one of the oldest stations as well. The station prides itself in being, "the voice of freedom for all the independent music that gets snubbed by the major labels". They play music ranging from jazz to old school hip hop to electronica, they even include sports scores and recaps from UCI teams and reminders of events to watch out for on campus. And of course, as with almost all public radio stations, they have a talk segment, named KUCI Talk. Topics range from "Activism for Amateurs" with tips on how to be an activist or just involved in the community to "Food for Thought", a segment about, well, food.
The reason I consider this to be a great resource for students is that it embodies the community of Irvine. Because it is a public station, it does not have to worry about commercialism and stating arguments that are against the public opinion. The station is pure and representative of the general ideas, food spots, and, of course, music taste, of Orange County, and mainly, UCI itself.  KUCI is a resource that embodies the community as a whole. You can tune in to learn about the various opinions on a political issue, or to hear the review of the best food spot around the Orange County, or to hear music you never knew was out there. Although this resource isn't like all the other resources I've spoken about, it is still something to be considered when looking at what is great about our school, because I like having a station run by students who can play what they like, discuss what they like, invite guest speakers who they like. I like that these students are sharing what matters to them with the rest of us, as I believe those things will resonate with at least one other listener.
All in all, KUCI is our public radio station that provides great music, great discussion topics, and is a great way to become more connected to the place you're going to school at. To learn more about them, or to check out their schedule, go to : http://www.kuci.org/
Until next time everyone.
Hello!
So this is for all you "brainiacs" out there!! In other words, the ones crazy about dealing with the brain! Hah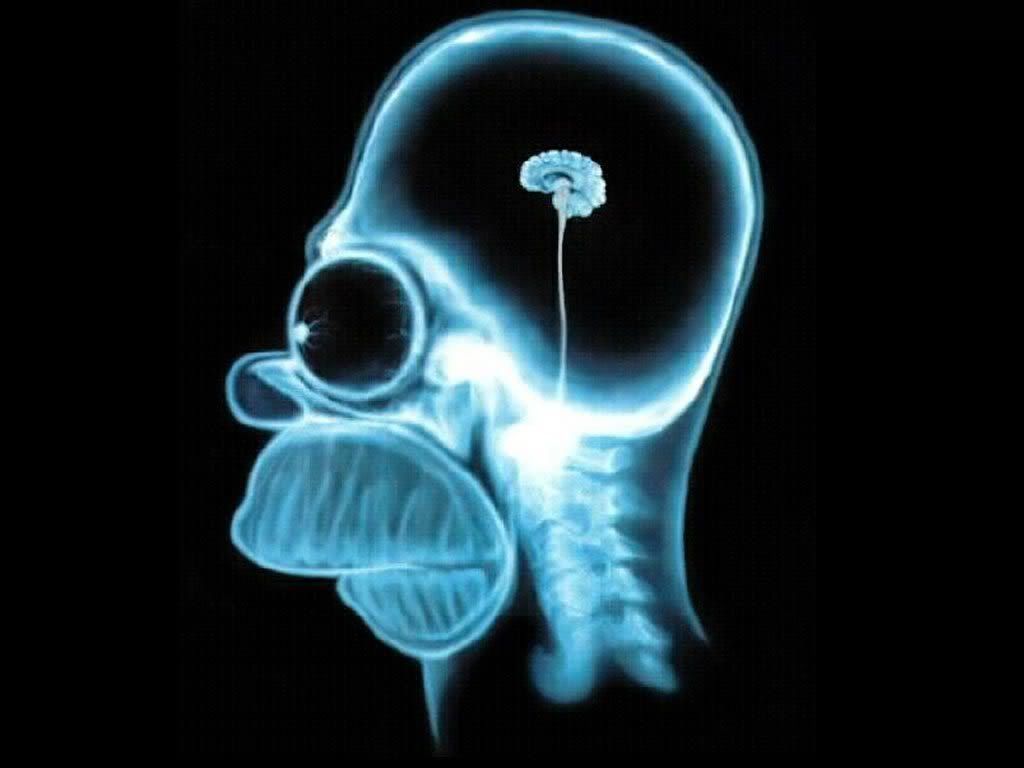 aa! 😀 If you are interested in studying the brain and possibly becoming a physician, medical practitioner, or anything else related to the subject or field, then you should know there is a club for you on campus – COSIGN (College Student Interest Group in Neurology)! Their purpose is to introduce students to the study of neurology, which deals with the central nervous system, through discussions with neurologists, presentations, and possibly even shadowing a neurologist at work!!     
I was actually not planning on going to this club's meeting, but I was invited to go by my friend Montsy, who was going for the first time also, so I went along with her. This was their first meeting of the quarter so much of what we did were introductions and ice-breakers to get to know everyone. The officers of the club were welcoming, especially because they saw so many new people attend their first meeting, other than my friends and me. An event they are having soon is Relay for Life (http://www.relayforlife.org/relay/). The purpose of the event is to fundraise and walk for a cause, just like a marathon. This will be April 30th, and people will be walking around Aldrich Park for 24 hours, some for different causes,  and as would be expected, COSIGN is walking to help in the efforts against brain cancer and similar illnesses.  
COSIGN's meetings this quarter are every other week (week 2, 4, 6, and 8 ) in Rowland Hall room 190, Thursdays at 5pm. If you want to contact them directly, their e-mail is cosignuci@gmail.com. If for some reason it doesn't work out, you can also ask me and I will gladly get their info for you! 🙂
As a side note, I know it's getting to that time around where many of you need to decide what college or university you want to attend, so if I can be of any help in that and you want to learn more about UCI and it's clubs and organizations, or just UCI in general, also feel free to let me know! 🙂
That's it for now! Till next time!! 😀
~ Ivonne
I remember my first time touring the campus as a prospective freshman, my eyes wide and startled by the fact that I would finally have to live by myself and away from my family for the first time in my life. It certainly was a scary thought to think about, but when I accepted it and took the challenge of finally becoming independent,the first thing that came to my mind was where exactly was I going to live–Middle Earth or Mesa Court?
Being the sports geek that I am, let me tell you the difference in terms of "sporty" facilities in each of the two housing options for prospective freshmen. Let me start first with Middle Earth housing, which honestly has everything a person like myself would want to have: a nice basketball court, a sand volleyball court, a game room for  pool and badminton, and even a media room for video games! Not to mention they also have  their very own mini workout gym called Helm's Deep where students can come in anytime and run on a treadmill, use some weight machines to get buff, or run on a stationary bike. Middle Earth housing is also much closer to the ARC. In fact, it's so close that residents can walk to and from the ARC using a bridge located on Middle Earth housing territory! Mesa Court housing, on the other hand, is rather far from the ARC, but does offer shuttles to the ARC at night for free! Mesa Court actually has many similar facilities Middle Earth offers which include 3 outdoor basketball courts (twice as many courts than Middle Earth) plus a sand volleyball court as well. Mesa Court also has a huge lawn in the middle of the housing complexes in which many residents play frisbee, football, baseball, you name it! A Recreational Center is also offered in which residents can rent movies, play some Wii, battle ping pong players, or simply just chill while playing some relaxing billiards.
I guess all I'm trying to say is that you can't go wrong with either housing option! There are so many unique opportunities and facilities both of them provide to its residents!