Archive for January, 2012
Homecoming, the big event for the alumni of the past from UC Irvine, and for our senior king and queen to be chosen. The basketball game brought everyone together for a rival game against UC Riverside, while the Homecoming Olympics caused our homecoming court to show their skills in a variety of games. As I attended both, I did not have much expectations for the Homecoming Olympics not being sure what exactly it would be like. Let me give you some insight to how Homecoming goes.
Homecoming is based on our senior king and queen, and bringing back the graduates of the past. Throughout the week there were different events for our homecoming court such as a talent show, some Olympic games, and a parade. I had the honor of attending the Homecoming Olympics which turned out somewhat like party games, yet were bundles of fun either way. The candidates had to pin the ancient leaf head ornament of the Greek on Peter the Anteater, throw grapes into their partner's bucket using their mouth, do balloon popping using only their own and each others' bodies to get pieces for a puzzle to complete, and finally try to throw and stick lifesaver candies onto their partner who had whip cream over their face! They were some pretty epic games actually, and you could tell the contestants were having a blast. A few of the contestants even wore togas as a costume! I am sure each member of the homecoming court put enthusiasm into all the events they participated in.
Now onto the big day, the day of the homecoming game was where the magic happened. There was a street fair with Peter the Anteater there in the flesh while various stands were selling food and promoting school related topics such as majors offered. I actually bought a smoothie, and it was delicious! I was able to hang out with members of Rotaract (service organization) and go to the game, for free! The game turned out great bringing an intense battle against UC Riverside, both teams going back and forth all game! It came down to the last two minutes after many missed opportunities and a bunch of highlight plays. UC Irvine brought it home though with a score of 65-57. Go UCI!!!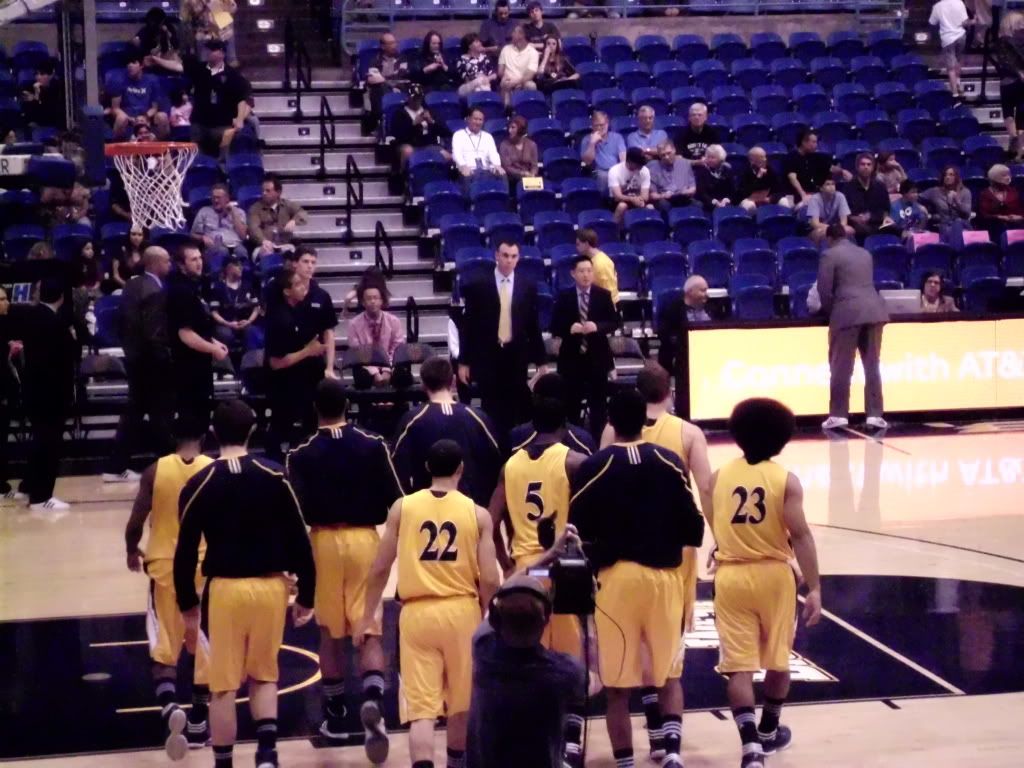 - Your Zot Blogger Carlos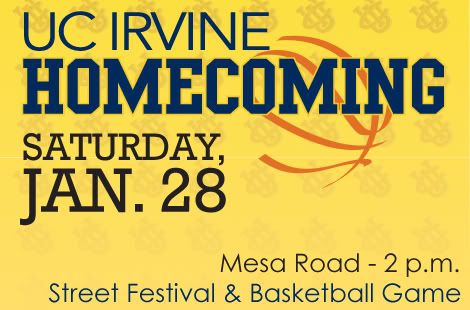 What's cookin', Anteaters! I hope y'all had a lovely Homecoming Weekend.  What a week! Good, fun festivties lined up for the entire week, Homecoming royalty, and the sheer energy humming in the air was more than enough to pump some more Irvine lovin' into my system.
Hopefully you all had an excellent week, partaking in these festivities. The event line-up seemed very exciting: A royalty parade with decorated floats, "Manteater vs. Food" (I bet I could have won something like that…), Anteater Olympics, a poetry and story contest, and a alent show for royalty rejects (okay, not really rejects!), a street fair, all topped off with an adrenaline pumping basketball game again UCR and a dance (covered by Dennis) as the cherry on top.
Unfortunately for me, I didn't get a chance to participate as much as I would've liked.  Yet knowing about these activities made me think back on how homecomings were in high school. As far as I can recall, homecomings at high school typically consist of a football game followed up by a dance the next night. At my high school, homecoming is a pretty big deal. Everybody shows up at the game, the marching band works extra hard as a result for the halftime show and prepares an extra performance as the background music for the homecoming royalty that are announced, finished off with a small showing of fireworks. And of course, everybody looks forward to the first formal dance of the school year. Overall though, the homecoming "festivities" in high school last a grand total of approximately…. Two days.
As you can tell, homecoming at UCI is a completely different story. Rather than two brief days of barely-there spirit, UCI offered an entire week of reasons to love our campus. The school spirit this week, despite upcoming midterms, as well as the energy and atmosphere that I mentioned earlier, induced a strange sort of satisfaction that I haven't experienced in a while. It was a kind of bittersweet satisfaction that told me that… I belonged.
Cheesiness aside, here's a hilarious video posted by homecoming royalty, Julian Walker, entitled "Sh*t Anteaters Say". Enjoy, and tough out the next week for midterms!
- Angela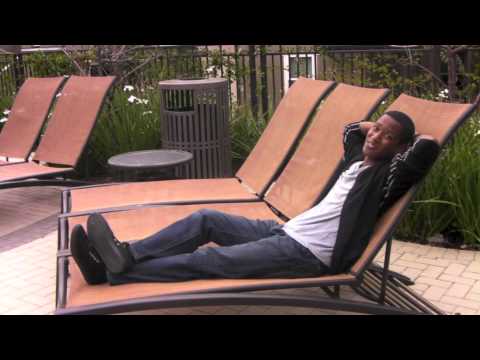 Hello fellow anteaters!!! This week has honestly gone by way too fast. I need it to slow down so that I can catch up on all my work. Procrastination + ADHD = Wasted Time. Procrastination is a drug. It frees your mind every day your work is not due. The effects diminish as each due date comes. Side effects include depression, sleepless nights, no hope, average grades unless you're a beast. I encourage you to go to rehab (Langson library, The Science Library, or Gateway Study Center) if you are dependent on this drug.
Homecoming was great last week. As Saba mentioned, many of our homecoming king/queen nominees were able to showcase their talents. In addition, UCI sent UC Riverside flying back home with a final score of 65-57. It was an awesome game with lots of cheering and support from our fellow Anteater fans. After the game there was a dance party outside on Mesa Road featuring DJ GEO-D who was a pretty bomb DJ. Students danced the night away, feeling very blessed to be Anteaters.
Thanks to ASUCI, we had a wonderful homecoming week. All the events from Monday until Saturday of last week were put together and organized by ASUSCI so give them a pat on the back. I hope to be a part of ASUCI next year so that I can help plan out all these awesome events they do for us.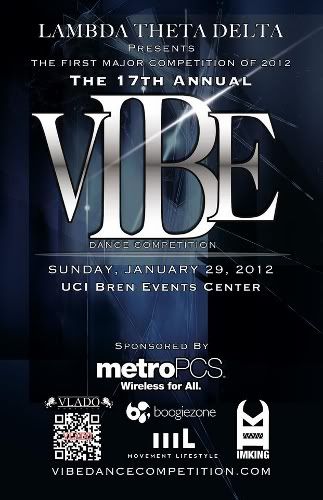 Oh yeah! Did you know that today was VIBE!?!? VIBE is a dance competition Lambda Theta Delta (Greek Fraternity) puts on every year at our very own UCI Bren Events Center. It features the top hip-hop dance crews all over the southern California area including our very own Chinese Association Dance Crew (CADC) and Kaba- Modern. It is a big deal and I encourage everyone that missed it to go next year which is including me because I didn't end up going.
Well, it's already week 4 and good luck to everyone who has midterms! Study hard, eat right, exercise, and get sleep.
See you next week on the U/U blog.
Peace.
-          Dennis Han A.K.A. Denny Han
Hello, everyone! How are you? Homecoming Week 2012 at UCI has passed and it was rather exciting, don't you think? Did you go participate and watch the activities/events that were featured for the week? Or did classes and upcoming midterms keep you too occupied to go? The entire week was packed and full with various fun events, including a talent show, Olympics event,  and parade! Hopefully you were able to enjoy it all with your friends.
Now, the most important thing that everyone should have focused on was definitely the Homecoming Court! All the typical questions were asked: Who is going to be the king? Who is going to be the queen? Who will you vote for? Did or do you even know who was running? Well now that Homecoming has come to an end–the court has been established! First off, here are all five girls that were on the ballot for you to vote for:
And here are the gentlemen who ran for the king:
The results for the king…
Congratulations go to Jordan Chen, the homecoming king!!
Followed by Phillip Chow, Jose Alamilla, Julian Walker, and Matt Edwards!!
As for the results for the queen…
Congratulations to Kala Gabler, who came in as number one!!
Followed by Sydney Torres, Stephani Chen, Wendy Guzman, and Charlene Poderoso!!
Check out the official site for more information on the girls: http://www.asuci.uci.edu/homecoming/2012/. If you click on their name a drop box will open and it will tell you information on them including their majors and hobbies.
If you see these girls and guys while walking around campus don't forget to say congratulations to them!! So, tell me, who did you vote for and why? Have you ever won Homecoming Queen during high school? Do you want to try out for the court next year? Leave a comment!
Hi everyone, and welcome back to the U/U Zot Blog!  I hope you all enjoyed Homecoming Week. As I mentioned in last week's blog post, the Zot Bloggers and I are discussing our various experiences during Homecoming. For my blog this week, I'll be talking about the Talent Show this past Friday.
So, the Talent Show is pretty much one of the best ways to see the homecoming court shine through, well, talent. It was held at the Student Terrance, so even curious passersby could check it out.  There were 6 judges who were officials from different organizations on campus.
First up was Kala Gabler who impressed the crowd with her soccer ball juggling skills. Not only did she keep the ball between her feet, but she also used her head and chest! Next up was Matt Edwards who performed some interesting ribbon dancing. The crowd could totally sense his passion for it as he performed.
After that stunning act, Jose Alamilla showed off his comedy skills by doing some pick up lines. While some were actually hilarious, others were a bit crude in my opinion. Still, he managed to erupt chuckles and giggles from many people.
Then, Charlene Poderoso took the stage with her personal rendition of Drake's hit "Best I ever had" along with some backup singers. I have to say that she did a great job revising the lyrics!
After Charlene, Sydney Torres awed the crowd by her balloon figures. She made two balloon flowers with the assistance of fellow Homecoming Court nominee Julian Walker. Apparently, she had only been doing it for just two weeks before! She definitely spent lots of time practicing.
After that, the show had its first musical act with Jordan Chen on the ukulele.  He performed his own original piece, and it was surprising to hear that he hadn't been playing the instrument for that long! He did an amazing job, and his act was met with loud cheers.
Stephanie Chen was up next, and her act was definitely one of the highlights of the show. Her talent was being only to lick her elbow (yes, she managed to do it). Did you know that only 1% of the world's population can accomplish that feat? Well, I didn't until she revealed that fact.
The next act was Julian Walker's rap. He did a UCI version of "The Fresh Prince of Bel Air" theme about he came to the university. It was catchy, funny, and hip, so it's no surprise that it blew the crowd away!
Last but not least, Wendy Guzman- Rangel showed off some Latino dancing skills with her dancing partner. They definitely swept the crowd away by their dance!
At the end, the runner-ups were Charlene and Jordan, and the winners were Wendy and Julian. However, I enjoyed all the acts, and they gave some insight to the homecoming court.
Well, that about wraps up my recap of the Homecoming Talent Show!
Hope you all have a wonderful week, and good luck with midterms!
Zot zot zot!
Sabaa
Hey there, y'all! Happy Chinese New Year, and may good fortune follow you in this, as Dennis put it, beautiful new year!
You know what else is beautiful around here in Irvine though? The flawless, sunny Socal weather.
Even though I was raised here in Socal, not an hour away from Irvine, I am not any less appreciative of the fine weather that we seem to be blessed with all year round. Autumn is delightfully (albeit at times, frustratingly) inconsistent throughout the day, signaling Mother Nature's slow desire to shift seasons. Winter follows suit, bringing rain and somewhat sadly, no snow, and the weather remains perfect for steaming hot beverages that soothe the soul (at night, mostly). Personally, rain is always welcome in my book. Springtime is still something that I have yet to experience in Irvine, but I know that spring will make her shy appearance through the budding leaves of the maple trees that I see everyday on Watson Bridge. Last but not least, summer never fails to disappoint in Irvine: slightly-cool mornings that gradually heat up to appropriate beach-outing temperature as the sun rolls high into the pristine blue sky that we Anteaters get to see nearly every day. Thankfully, because Irvine is conveniently situated close to the ocean, the temperature here is noticeably lower than that of where I live! (And if it does get to unbearable temperatures, the beaches can always provide much  needed relief!)
I could go on and on about how each season at UC Irvine is perfect in its own unique way. But I won't because I personally believe that it's the individual days that make waking up to go to class that much more enjoyable. Practically every morning is a brisk morning — a literal fresh start to the day; the chilly and fresh air invigorates me and jump-starts my system. Right about noontime, I make it a habit to bask in the sun to soak up some of that Vitamin D. Nighttime is just as exciting My favorite part however, is in the late afternoon when all the world turns golden, and the light reaching through the foliage of our huge trees is the most dazzling and breathtaking.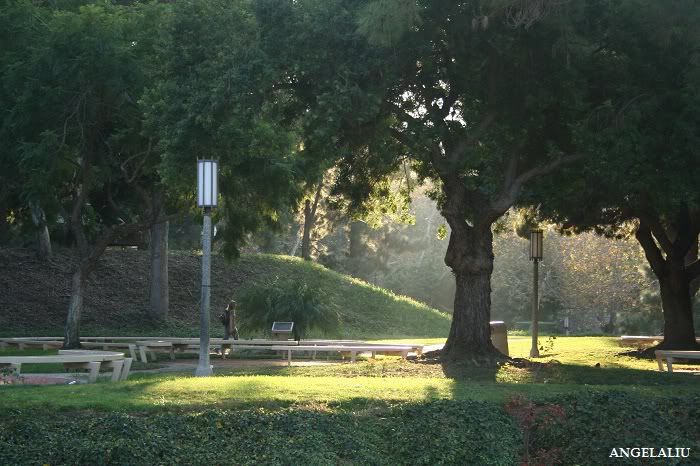 If you haven't been taking the time to notice the beautiful climate that we at UCI are blessed with, take a look around you. Trust me, your day will most likely be better simply by observing the day.
- Angela
In one of my earlier posts concerning quiet hours, I have given advice on how to deal with loud individuals on your floor. Mainly how to block the noise or tell your RA. Now, I think I should go into detail on what I said last time.
Ask the person(s) to keep it down.
A natural response. If a person is playing their music, laughing, or talking too loudly it is only logical to think that one would go out and ask them to lower their volume, right? Keep in mind, however, to be polite with your words and body language so you don't instigate any unnecessary conflict.
I have included some little scenarios along with solutions to each one and how you should handle it if you do not want to go to your RA for help. If you have anymore suggestions for the solutions, or any other types of problematic scenarios, please feel free to share in the comments!
Music.
This is a common one. Usually the person is either blasting the music from their room, but sometimes there is the rare occurrence where they are sitting in the lounge area of your floor and playing their music from there as well. If this happens, perhaps you could do this:

If the person is blasting music from their room, go and knock on their door. POLITELY. Do not bang on it because that would give off an aggressive impression, and plenty of arguments have oddly started because people would interpret it that way even if you weren't being aggressive at all. Anyway, once they open the door, kindly ask them to turn the music down. You don't have to be so formal if you know the person. Something like this would work:

"Hi, [Insert Name]! Can you turn your music down a bit? It's really loud, I can actually hear it in my room." [Insert (fake) laughter it will help you feel less awkward or rude]
"Hey, man, could you put some headphones in for that? I can hear it from across the hallway and it's like 2 in the morning!"
Laughter/Talking.
Another common one. Normally I would hear laughter and talking from the lounge room down the hall, and in this case I would categorise this as inconsiderate. If the person/people are in their rooms with their doors close they may not know that they are being so loud. I've had that happen to me before. The next morning just out of sudden curiousity I asked my next door neighbour if she heard me or not, and she said that she occasionally did.

If the person is being loud from their room, simply knock on their door and tell them that you can hear them, afterall, like said, they might not realise just how loud they are being.
If they are sitting out in the lounge room or in the hallway, walk over and tell them the same. Be sure to keep your body language in check and have a friendly aura…
Screaming/Yelling.
I've only had this happen to me a couple of times, and it was only for a short period of time. I suggest waiting this one out, because it usually ends after a few minutes. However if you feel compelled to tell the persons doing the screaming to hush, go on right ahead especially if you want to prevent it from happening again. Although I believe this is a rare feat.
Running around in the hallway.
I haven't had this happen to me that often, but whenever it does I automatically become irritated. You know, it's 11pm and it's quiet. You're either getting ready to go to bed or you're relaxing in your room, trying to study or enjoy a nice book when suddenly you hear obnoxious heavy footsteps that zip by and then back again. It's even worse if it's more than one person. :'D

Whatever you do, do not lose your cool. Sometimes it's hard, but unless you're willing to go through in an argument and maybe even risk the person becoming angry and purposely being loud later on–it's not such a good idea. What I suggest for this is to open your door and stick your head out, if the person is in the hallway then…

Put a finger up to your lips and go "shh". Make sure you're not hissing at the person. It's a simple gesture that will tell them that they're being loud (though it should be obvious to them).
Say, "Guys, what's going on? It's midnight!" <–that alone should hint and maybe remind them that other people are trying to sleep and that they're being loud.
Hello everyone! Now as we go off to college, many of us may fear we will lose contact with our friends of the past. It can happen, but you don't have to let it! I have for you how to overcome the fear of losing your good friends over time. Long distance, and time consuming work doesn't have to stop you from keeping in touch with the people you were closest with. If you think "That can't be possible…" trust me, it can be if you get caught up with everything college puts on your plate. I have ways to keep you in touch, and sure many of you would think "I can just text them, or talk to them on Facebook" but that is not entirely true.
I have found that college takes quite a bit of your time(depending on classes and how involved you are with clubs or new friends) and I find myself incapable to stay in touch with nearly any of my friends from high school. Most times, unless they actually text me, I go a week or more without a word. I feel bad for it because of how close I was with some friends, but college and everything you have can do that sometimes. There are solutions though, and I am unsure if people would think of them but I have actual solutions that, if you commit yourself, can work to keep you in touch with those whom you bonded with throughout life.
It may be a bit more work than just a text or a social networking site like facebook, but I know these methods can work.
Go old fashioned with letters!!! -They are still used people! Take the time to write something nice, put some thought into what you say, I know most of us don't get letters from friends, and I personally have realized it feels great to get a letter. Maybe it's just me, or maybe several of you use this, but for those who don't trust me, it is special.
Make a to do list of when and who to send an email or message that you take time to write- Put some time aside for that buddy you knew for four years! It may be a bit more time consuming but you can do it!
Pick a day to meet up!- It may be more convenient during vacation, but some people go home other times throughout the year. Find a time when more than one of you can go back and go hang out at one of your favorite places!
Do a group video chat! – I am sure many people already do this, but take full advantage of it, make a time for the old gang to meet up on video. It is always nice to see those you had so many great memories with.
Visit each other's colleges!- I realize this may be hard for long distance, but anything can be possible, find a trip with the family if you are close, save up for that best friend, trust me this one is probably one of the most special things you can do for someone.
A gift works too! – Mail doesn't have to be a letter, it can be something memorable such as a picture, a birthday gift, or something hand made! This will definitely cause your friend to take notice and contact you back.
These are just some creative ideas, and I am sure there are many more ideas you can make from these. Hopefully these help though because I personally would not to drift away from my friends in high school, many of them are still the some of the greatest people I know. Take into account schedule does matter, but never worry that you will lose touch because there is always a way to keep a connection strong!
-Your Zot Blogger Carlos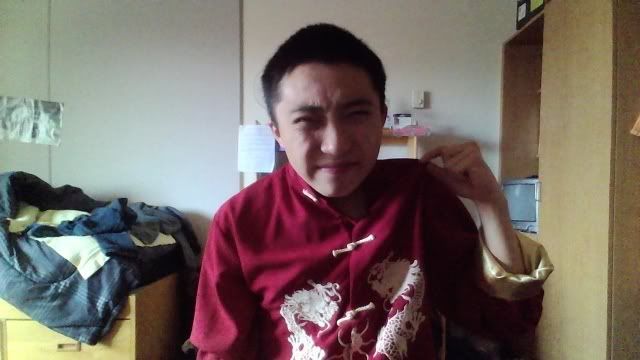 Zot Zot Zot! What's up anteater fans! Homecoming week starts tomorrow and as a proud anteater at UCI, I am ready to go all out with my school spirit. For the homecoming king and queen nominees, may the best King and Queen win.
On an even bigger note, CHINESE NEW YEAR IS TOMORROW!!!!!!!!!!! Fire crackers, dragon dancing, and festivals!!!!!  As an American born Chinese, I am very prideful of my culture and hope to celebrate with others on campus. Unfortunately, I was not able to go home this weekend which was kind of a burn because I couldn't receive any "red pocket lucky money". "Red pocket lucky money" is a Chinese New Year tradition of giving money in small red envelopes to children of all ages. While I talked to my mom this morning, I asked her if she could send me the lucky money to my mesa court address but she refused. Such a burn… Hahaha, I'm just kidding. 2012 is the year of the dragon, so anyone born in 2000, 1988, 1976, etc. enjoy a beautiful new year! Make this year a special one!
This week I'll be talking to you all about doing your laundry in the dorms and how simple it really is. I will run through the whole step by step process, breaking down every component necessary to being successful in your laundry endeavors.  The materials you will need for this procedure include: 2 baskets, laundry detergent, a laundry card, cash, and of course some grimy clothing. In case you are wondering where to purchase any of these items, there are a variety of stores you may choose from such as Target, Bed Bath and Beyond, and even the 99 Cents Store. The laundry cash card is given to you by your RA on move in day so if you lost it, good luck.
Step one: During the week, throw your filthy clothing into one of the baskets. This includes t-shirts, jeans, sweaters, jackets, thongs, underwear, socks, homework, coins, and candy. Exclude the last three. Jeans and jackets don't have to be washed after being worn once. Usually, after wearing them around 3-4 times it is more appropriate, but don't be one of those people who wait until a month to wash them. "Oh if I wash it too much it might fade too quickly". Bro, clothes are meant to fade! Don't be inconsiderate and force people to cope with your ghastly odors.
Step two: Once the basket of grimy clothing is full, carry the basket along with your detergent and laundry cash card to wherever the laundry room is located in your dorm. Every dorm has around 2 laundry rooms. I have to walk down a flight of stairs to get to mine which I find annoying but no pain no game. Try to pick a day other than Saturday/Sunday or you will be racing to the laundry room, risking injury and getting angry at other hall mates (Koty Wong I haven't forgiven you yet… JK).
Step 3: Insert the laundry cash card into the slot of the washer. It should tell you how much money is on the card. If there is zero balance, then walk over to the machines by the Commons or Mesa Academic Center and refill the balance. If you want to be a boss like myself, then simply deposit $100 on the laundry card. That way you won't find your balance running out anytime soon. Also, if you ever do find yourself at zero balance, make some new friends and ask to borrow their card.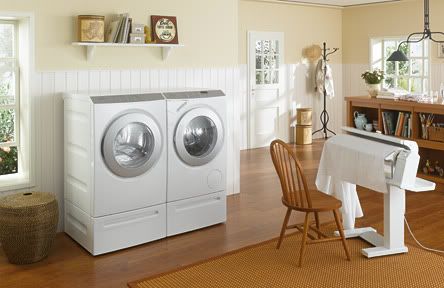 Step 4: Washing clothes costs $1.00. Fill up the detergent cup to about an eighth of the cup. It varies, depending on the size of the cup. Don't pour too much though because if you over do it, your clothes may end up super faded.  The detergent I have is from Costco and I would definitely recommend it. Judging by the size, it should last me a good five more years. Next, lift open the flap on the top of the machine and pour it into the correct compartment. There are also compartments for fabric softener and bleach.
Step 5: Open the door of the washing machine and load the clothes. When finished loading, shut the door and press the whites or colors button on the top depending on your assortment of clothing. Figure it out, it's self-explanatory. Take out your card and wait 38 minutes. Make sure you don't forget to take your clothes out after the cycle is done. Your clothes will begin to mold if you leave them in the washing machine too long. Also, you pose the risk of some self-centered individual dumping your clothes on top of the machine. So set an alarm, that's probably the best way to go about it. It'll save you stress and unnecessary hatred.
Step 6: After 38 minutes has gone by, go back to the laundry room with your laundry cash card. Insert it into the slot of the dryer machine which is almost always next to the washer. Drying clothes cost $0.75.  Open the door of the dryer and pull out the filter. Clean the filter by clearing any dust and lint off of it. If you forget to do this, your clothes will not dry properly. Put the filter back in place.
Step 7: Next, take the clothes out of the washer and put them into the dryer. Press the whites or colors button again and the cycle will begin. The drying cycle takes 45 minutes. At least for the machines in my hall they are. I'd recommend setting an alarm again.
Step 8: 45 minutes later go back down to the laundry room with the other basket. Load the freshly new crisp clothes into the clean basket. Take it back to your room. Remember to differentiate which basket is the one for the filthy clothes and which one is for the crisp clothes. If you mix them up, just flip a coin or BUY DIFFERENT ONES SO YOU NEVER GET CONFUSED.
Hope you all found this helpful for those of you who don't do your laundry. The main message of this week's blog is to teach you how simple the laundry process is. Once you get to college, mom and dad or housekeeper is not there anymore to do it for you. I mean, unless you hire one of your hall mates. $3/ hour is fair I'd say.  So pick your lazy butt up and get to work hiring someone or DO IT YOURSELF!
See you all next week broodlings. Love you all.
-          Dennis A.K.A. Denny Han
Hi everyone! I hope you are all well and enjoyed the week. For this week's blog, I'll be talking about the local bowling alley, Irvine Lanes.
Now, bowling is one of my favorite activities even though I am terrible at it. Nonetheless, when my RA decided to take us there for a hall excursion, I couldn't pass down the opportunity to check out the bowling alley.
Irvine Lanes is pretty much your typical bowling alley. There are the usual arcade games including DDR, pinball machines, and shooting games. As for the food, the cafe offers soft drinks, nachos, pretzels, etc which cost very little. They also provide food trucks on Wednesday nights behind the place from 5-9 pm during certain weeks if you don't care much for the food in the cafe. One interesting aspect is that there is a bar (for those over 21 of course) with a nice selection of drinks including $2.25 for draft beer.
But, wait! It gets even better;  one of the appealing traits of Irvine Lanes is that they charge 2 dollars per game and 3 dollars for shoes Monday through Thursday nights after 5 p.m.! That's a pretty good deal for what the place has to offer if I say so myself.
Irvine Lanes holds leagues quite frequently for all ages; in fact, it's common for UCI students or clubs to form their own teams to compete. One other cool thing is the cosmic bowling they host every Friday and Saturday night from 11pm to 2 am. The cost is simply $16 per person for unlimited games and shoe rental. For those who are not aware, cosmic bowling is basically bowling in the dark with music pumping in the background, colorful lights flashing, and glow in the dark bowling pins! If you have never done it before, I highly recommend you try it out; it really makes bowling so much fun!
So, I had a fun night with my hall mates even though I pretty much got a low score each game.  However, no matter how skilled you are at the game, bowling is always fun and exciting.
If you want more information on Irvine Lanes, check out their website by clicking on this link. http://www.irvinelanes.com/
Thanks for reading my blog post for the week! Be sure to come back next week when the Zot Bloggers and I cover one of UCI's major events of the year: Homecoming Week which happens during week 3 of winter quarter. Be sure to participate whether you watch the Homecoming Court Parade on Monday, see the Talent Show on Friday, or check out the Homecoming Street Festival before the UCI's Men Basketball match against UCR on Saturday. Even better, you can participate in all these events as well as the other ones happening. Here's a link to the full schedule as well as the complete list of candidates for Homecoming King and Queen: http://www.asuci.uci.edu/homecoming/2012/
Take care everyone, and have a wonderful, fun Homecoming Week!
Zot zot zot!
Sabaa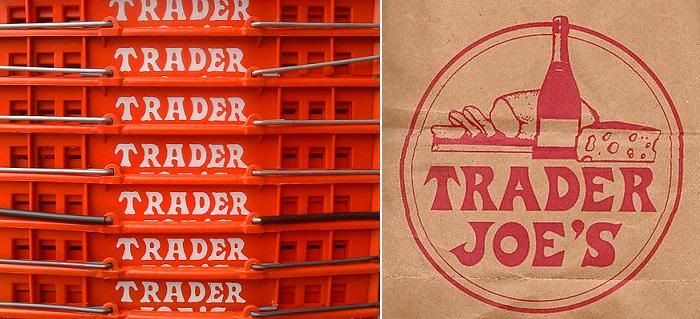 Hello, everybody, and welcome back to school! New year, new quarter, eh? I hope you've all had a memorable and relaxing Winter Break. However, now that that's done and over with, it's time to shift our brain-gears back to where they belong at school: work.
But what's getting back into the daily grind of school without the help of some tasty snacks and good eats? Upon moving back to campus, my fear of living away from healthy home-cooked meals sprinkled with bits of loving from my momma was nearly immediately remedied by one solution: Trader Joe's.
Ah yes, good ol' Joe to the rescue! Not only are they stocked with all the regular essentials a college student could ever hope for (my personal favorites include $0.99 mac n' cheese, croissants, and the huge bottles of water that are just $0.50), they're also stocked up with other stranger, delicious delicacies. Whenever I take my weekly trips to Trader Joe's, I always catch myself eyeing the hummus shelf and the cheese aisle. Unfortunately, my already expanding waistline and my ever-thinning wallet lead me away from these delicacies that are sold exclusively at this little grocery store.
Perhaps this sentiment isn't too odd to relate to, but I feel that grocery shopping at Trader Joe's is one of my few mundane experiences that are surprisingly therapeutic: wandering about the aisles, dreaming up recipes to test, taking lovely food samples, breathing in the unique scent of the store, and of course, ridding yourself of the fear of not having anything yummy to munch on. What more, the atmosphere of this store is so cozy thanks to the warm colors of the store, beautiful artwork on chalkboard signs, and the delightfully pleasant cashiers. Having a Trader Joe's so close to our campus as opposed to having any old Ralphs truly is a perk of being at Irvine that I will never tire of.
Until next week, folks, and happy eating!
- Angela
Hello, guys! Welcome back, it's now Quarter 2 as well as a new year!!! : D For this quarter I will be covering more on hallmates, as well as hall hauntings (oooh!), and the differences between Mesa and Middle.
First up, let's talk about one of the most important people in all halls: the RA.
Fully known as the Resident Advisors, they are "trained peer leaders" who supervise the hall that they are assigned to. They are like the big sister and big brother figures to the residents.
As I have mentioned before that it was good to build relationships with your hallmates, it is just as important to have a nice relationship with your RA.
Your RA is the person who organises the group activities, makes sure that you're doing okay with your academics, makes sure that you are safe and happy, etc! Their duties extend to more than that though. They must also comply to the regulations of the school and make sure you do as well.  They must make sure everything is in check, being sure to fill in reports and such to say that nothing is going wrong (or if something bad happened).
The Pros of the RA?
You have an automatic buddy. It's in their job to make sure you're happy and comfortable. You can go to them for anything. Study help, social advice, etc. Their door is always open to you. Just think of them as the perfect big sister~.
The Cons?
Well, you have to follow the rules. Which means no parties. But that's not a big deal, right? I mean, we're all good kids who will not vandalise, scream during quiet hours, and bring drugs and alcohol to a party in our rooms, right? : D
 It's only logical to at least try and have a good relationship with your RA, after all they are looking out for you. I personally love my RA, I think she's the best! Especially with her openly social and bubbly personality. She's always trying to get everyone involved with all the activities she makes. And of course you should always use those activities to your advantage, since they help with the friend making process!
Next time you see your RA, say hello or thank you. : )