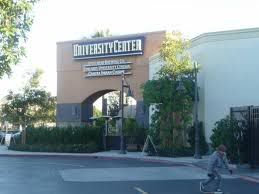 Hello everyone, and welcome back to the Zot Blog! Wow, are we already at the last week of classes?! I know, it's unbelievable. Anyways, for this week's blog, I'll be discussing one of the most popular hang out spots for UCI students: University Town Center.
It's a fact that you will find yourself in the University Town Center (commonly called UTC) at least once during your time at UCI. Whether it is strolling through the stalls at the Saturday Farmer's Market, eating at one of the various restaurants, or shopping at the unique shops, there is something for everyone in the shopping center.
I could go on all day about the UTC, but it would be quite tedious to read this post (plus, my fingers wouldn't appreciate all the typing). Instead, I'll do my best to cover the highlights.
Arguably the most popular place for UCI students, Cha for Tea is renowned for its boba drinks. However, the food is also nice as well as its other beverages. It is a tradition for UCI students to head over to Cha late at night to buy boba to help them study. If you've never had boba, you should try Cha's to get an idea of it.
Next up is Trader's Joe, the center's primary shopping store. From vegetables to canned goods, this is where many students who dorm get their groceries. If you want more info on TJ, check out Angela's post on it from January.
There are also a bunch of fast food places that include Taco Bell, In N Out (another place Angela wrote about last quarter), and Jack in the Box. Cheap and fast, they are quite suited for college students, but remember to moderate yourselves!
There are a bunch of other places that I didn't mention, so be sure to head over to UTC to fully see what it offers. Since it is right across the street from the campus, every UCI student should take the opportunity to visit it and see what it offers.
Well, that's about it for this week's blog! What is your favorite place in UTC? Feel free to answer or make suggestions in a comment!
Take care, everyone, and best of luck studying for finals. Show them who's boss!
Zot zot zot!
Sabaa