Quick It's Raining, Build a Biofilter!
An interactive presentation to elementary school students about the importance of sustainable water management and the research this practice involves. Graduate students of UCI-Water-PIRE(Partnership for International Research and Education) present hands-on experience of building biofilters to 3rd, 4th, and 5th-grade students This took place at the annual OC Children's Water Education Festival? Click here for more details.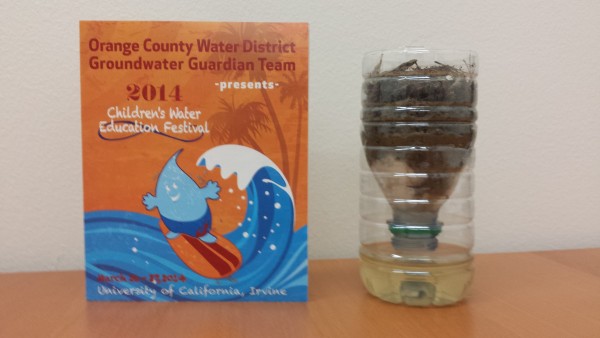 Water filters were built using water bottles and simple filter media: cotton, sand, gravel, and wood chips
High School Tutoring and Mentoring
In collaboration with The Samueli Academy in Santa Ana, H2Outreach members volunteer as after-school tutors/mentors once a week. This program allows high school students to connect with and learn from college and graduate students, while the tutors gain valuable teaching and volunteer experience. If you are interested in tutoring high school students with H2Outreach, please contact us at h2outreach@uci.edu.
Global Water Crisis
In conjunction with Global Connect at UCI, H2Outreach members developed high school lectures and activities focusing on the global water crisis. H2Outreach members gave presentations on the material in introductory globalization classes at three local high schools.
Edible Biofilters
At our first meeting of the year, H2Outreach welcomed new members with edible biofilters! These yummy treats were made with chocolate rocks, oreos, graham crackers, ice cream, and of course, gummy worms! Try making your own at home!