Med AIJam Winners Announced
Since 2012, the School of Medicine has partnered with the Donald Bren School of Information and Computer Sciences (ICS) to host an inter-professional student-to-student competition to develop mobile health apps called the MedAppJam. For the 2019 event, SOM and ICS partnered with the Center for Artificial Intelligence in Diagnostic Medicine (CAIDM) and focused on a new them of artificial intelligence (AI) in healthcare. This year's event took on the name "MedAIJam".
The competition kicked-off on Feb. 11 followed by a Machine Learning Workshop led by Dr. Peter Chang on Feb. 12. The Judging and Awards Ceremony was held on Feb. 22. Five teams presented their projects in front of a panel of judges from ICS (Dr. Rick Lathrop, Dr. Alexander Ihler and Dr. Sameer Singh) and SOM/CAIDM (Dr. Peter Chang and Dr. Daniel Chow).
At the Judging Event, each team was required to present their projects and answer questions from the judging panel. The dedicated work by each team during the 11-days of the competition was evident in the innovative and functionally viable applications of artificial intelligence in healthcare in the submitted projects.
The final awards presented at the Awards Ceremony last week were as follows: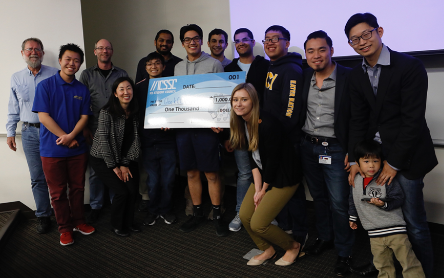 Grand Prize/First Overall ($1000)
GlockCOMA: a mobile application to calculate Cup to Disc ratios
ICS: Andrew Truong, Amitesh Arora, Harrison Huang, Cameron Sherry, Brian Chu, Armen Mouradyan
SOM: Rami Gabriel, MS3; Gabrielle Stetz, MS3
Second Overall ($500)
AICD-10: using natural language processing and machine learning to translate clinical text into ICD-10 codes that are suggested to the user automatically
ICS: Akash Idnani, Amy Yee, Theja Krishna
SOM: Inbal Epstein, MS3
Most Ready to Launch ($100)
Cardiomegaly Detector: app that uses machine learning to detect cardiomegaly
ICS: Kurtis Chow, Carlos Flores, Duy Nyugen
SOM: Charles Lin, MS4; Scott Refugio, MS3
Most Innovative Use of AI – Tie ($100)
vAItal Signs: an app that applies computer learning to predict when a patient with a brain bleed or head trauma in the critical care setting is going to have a subsequent brain bleed from a set of clinically relevant vitals
ICS: Shiyu Qiu, Shiqi Wu, Aiyuan Li, Qian Zhao, Ryan Dang, Sing Wong
SOM: Christina Tse, MS4; Jon Lee, MS4
ToothieBooth (Team Molar Bears): platform to integrate artificial intelligence and machine learning in the identification of dental disease
ICS: Xinxin Xie, Li Yian, Qingchuan Yang
SOM: Will Minteer, MS4; Justin Devera, MS3
Please join us in congratulating these teams for their hard work and innovative ideas!