Week 9, May 30, 2010
Currently playing: California Gurls by Katy Perry ft. Snoop Dog
[youtube]http://www.youtube.com/watch?v=CTVJTt-Gfx8[/youtube]
This song totally reminds me of summer. This weekend, I was in Rowland Heights and Los Angeles this past weekend where the weather was reminiscent of summer.  Since Rowland Heights is more inland than Irvine, it was about 85 degrees instead of 75. I felt like I was barbecuing outside. I had to reapply sunblock three times today! On Saturday, I went to LA for the Asian Pacific American Heritage Month Concert featuring two Chinese singers, JJ Lin and Evonne Hsu.  I had so much fun at the concert with my friend, singing along to songs and touching the singer's hands. I'd say it was a weekend well spent for Memorial Day weekend instead of chilling at my dorm studying!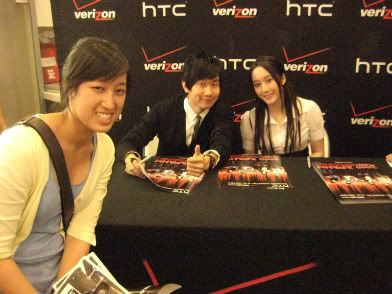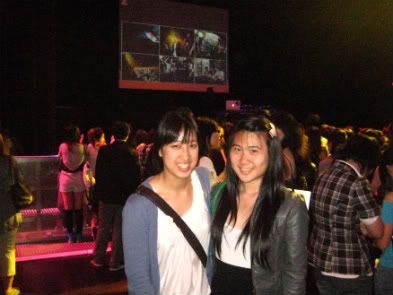 Recently, I've been trying to relieve my incoming finals stress by going to the ARC. The ARC, also known as the Anteater Recreation Center, is the best place to workout! I've been going to the ARC every week at least twice a week because I'm taking Jiu Jiutsu and Yoga classes. There is an endless amount of classes you can take such as kickboxing, pilates, taekwondo and kendo! I loved taking Yoga once a week since I had to set aside a hour every week to stretch and relax. Jiu Jitsu, on the other hand, was very stress relieving as it was very physically demanding and extremely active.  I enjoyed learning self defense tactics that would be helpful in dangerous situations such as popping a predator's kneecap and throwing people over my shoulder. I highly recommend these classes for anyone who wants to learn self defense  or relieve some stress!
Located right next to Arroyo Vista, Vista Del Campo and Vista Del Campo Norte, The ARC is open Monday-Thursday from 6 am until 1 am and 6 am until 12 am on Fridays. During the weekends, it is open from 8 am until 9 pm Saturday and 8 am until 12 am Sunday. You can take the shuttle from the flagpoles to the ARC, which is what I do since I don't want to walk across campus. The ARC has a sports field, aquatics plaza, fitness lab, gear up, outdoor basketball courts, outdoor roller rink, play station for babysitting, racquetball courts, table tennis, wellness lab and pool.  On top of all this, there are cooking and dance classes as well as  rock climbing! Most cooking classes cost $20 and dance classes include ballroom dance, belly dance, hip hop, salsa and samba. A couple times, I saw people dancing during class and I definitely want to try taking ballroom dance sometime in college as it will be useful in the future! There are also times when anyone can drop in an play a game of basketball, badminton, volleyball, and soccer.  If classes or sports aren't your thing, you can just work out at the any labs that they have. There are treadmills, ellipticals, weights and machines that anyone can use while watching widescreen HD television! UCI students get in for free since the fee is included in tuition but anyone can workout here for $5! Kobe Bryant has been spotted here occasionally since comes here to workout so you may even see him!
Good Luck on Finals everyone! I can just taste summer vacation.
Jeannie
Completely Irrelevant, but consider this my preparation for the World Cup.
Random #2: How bout them Lakers???
So I applied and had an interview to become  Circle K Co-Big.  Basically, there are many executives in Circle K…. ranging from Secretary to K-Fam to Membership Development.  Executives arrange 10 different families that will be assigned to every Circle K member at the beginning of the year.  Families are ways of networking more closely with those in your family and getting to know them.  Families take trips to Big Bear or go hiking and camping.
I don't know whether or not I got accepted for the position but as a Co-Big I'd be helping out whomever is in charge of the family and organizing events and getting people to go to Circle K Events.  Hopefully I can be your big  next year :D.
Here is a direct link of Circle K's Families: zot
Lately I've been seeing everyone's hall banquet pictures.  Unfortunately mines isn't until later on this week, so hopefully I can get some of those pictures up but if not just know I had a good year haha





Some of the pictures from Culture Night came out, and they make us look so legit!
Photo Courtesy of Oanh Natalie Tran









I can't even begin to describe how much I love hanging out with the friends I've met in clubs. Just this week, VSA choir hung out not once, but TWICE,  just because we missed each other. It's only been a week or two since we last saw each other, but we couldn't go on without a reunion, so we had one! On Wednesday, we went out for dinner, karaoke, and boba. Nothing feels better than singing (or screaming) your heart out to 90s music, except maybe singing Vietnamese love ballads, which we did plenty of. The following day, we went out for lunner (lunch+dinner) right at Thai Spice right before the VSA meeting. Choir is a relatively new part of VSA that usually comes to play only around Culture Night season, but I think they're talking about making it a year-round group! This is exciting news to me for two reasons. 1. I love singing, and 2. I love people who love singing! I'm incredibly glad I got over my initial shyness and decided to join clubs relevant to my interests because it has really made all the difference in how much fun I have being a part of it all.
It makes me really sad to think that this year is over because it means that some of the friends I've met this year are graduating. Luckily, I'll have one last chance to say goodbye to them when VSA Choir sings the anthems at the opening of V-grad. As amazing as this year has been it's all quickly coming to an end. :c
What's better than the weekend?
One that lasts three days! Luckily for me, I'll be spending Memorial Weekend working on my essay for Humanities Core. For those of you interested in this course, your last essay in Spring is a 8 to10-page research paper. Dun dun dun! The good news is that you have the freedom to choose any topic that interests you, so such a paper isn't all that bad if you're discussing something that you want to research! My topic is on the 2008 Beijing Olympics, and I have about a week to finish writing. Wish me luck!
What is really helping me get through the next few weeks is the fact that summer is coming along. My RA in Palo has already begun taking down hall decorations, and the donation bin is sitting in the common room just waiting for us to begin moving out. I've been asking around to my hall-mates about their academic major, and it seems like every has found their niche, or has narrowed down their areas of interest. Living with other undecided students has really made my undecided experience more enriching. I have been in close contact with many fellow classmates who also share my interests, and others who have introduced me to areas of study that I normally would not have pursued. For instance, I am taking Psych 9C this quarter by the suggestion of several friends and I really enjoy that class. Hopefully if I have enough time, I am considering minoring in psychology. Exposure and decisions like these has really helped me form close relationships with my peers as well as get a feel for what classes they recommend.
Although I am still undecided, I am strongly affiliated with the School of Social Sciences. I have an interest in Business Economics and International Studies (though I have yet to take a class). In order to get ahead, I am taking several courses at a community college and transferring units to UCI. A website called assist.org tells you what courses are transferable, so you don't have to go through the process of signatures and academic adviser approvals. I am currently enrolled in Econ and Anthropology in the summer, as well as Precal to refresh my mind about math.
I recently chose my classes for next year, and they consist of: Mandarin, Anthropology, Intro to International Relations, and Psych 9B. Hopefully this schedule will give me more free time! I can't say I'll desperately miss these humcore essays..
Cheers,
Faye
PS — What did the fish say when he ran into the wall?
Dam.
As a freshman living on campus, it's mandatory to purchase a meal plan for the school year. Since I live in Mesa Court, I thought I'd talk about Mesa's dining area, Mesa Commons, and what you could do to eat healthier. First of all, when you walk in, you'll notice that there are different stations that serve different food. You should observe each station first, then choose which foods you really want, and which you are really going to eat. I notice that people get food that they end up NOT eating, and it just goes to waste. If you're not sure you are going to like the food, you could always just ask the servers to give you a little bit on your plate, so you could taste it first. It's better to get a little bit to see if you like it, as opposed to filling your plate and wasting it all when you realize that you don't like it. Makes sense, don't you think?
I was told that a couple of years ago, Commons used to have trays for students to put their food, but students would fill the tray with food and end up not finishing most of it. Therefore, they removed the trays. In a way they are telling us to take only as much as we can actually eat! Eating more than we should be eating is a definite NO NO… and it's also where the freshmen fifteen comes in! Yes, I know… but it's a buffet!! And we are paying big money for it so we should take advantage of it. However, keep in mind that our health is affected by what we eat and how much we eat. Small portions are good, but not to the point where you are starving yourself of course.
It's definitely possible to still eat healthy at Commons (or the other dining locations at UCI). There's always the choice of salads, which I barely learned this year that they could be super delicious, depending on how you make them. Also, you don't have to have dessert EVERYDAY. Or you could have fruit as dessert. Commons lets you take out one item per visit, and it's a good idea to take out fruits because you could always save them for later if you get a little hungry. Fruit snacks are great and much healthier then say….chips or cookies? Yes, I do admit that I happen to have a bag of chips ahoy on my shelf right now. But as long as you eat in moderation right? =) Another thing you could do is avoid the soda! Don't get me wrong, I LOVE soda, but water is always the better choice.
Some cool thing I discovered earlier in the year is that you can check the week's menu online for the dining locations. You just go to the UCI CampusDish website, click on locations, and pick which dining location's menu you want to see. You could chose to see Brandywine's menu, Pippin's menu, and Common's menu… for breakfast, lunch and dinner, and for the whole week! Pretty cool huh? Most of the time it is pretty accurate, but on several occasions I found the menu online to be wrong. Doesn't mean it isn't useful though. I use this all the time.
Another thing you could check on their website is the nutrition info for the food they serve. It is on the homepage to the left. Checking this is a good way to keep track, or just be aware of what you're putting into your body, and what's healthy vs. what's not healthy. Hopefully this info helps!!
Don't be afraid to leave any comments or questions!! Thanks for reading!
-Daisy
As most already know, I'm going to be part of MEMO's mission team this year. This means that I'll be in Vietnam for two weeks in September helping out with the medical and educational missions MEMO runs! I've been accepted as part of the team, but that doesn't mean that my work is done until then!
For the past couple of weeks, MEMO's been working hard to raise as much funds as possible in order to be well-equipped for the mission this September. One of the biggest events we have coming up is our Spring Banquet, the biggest fundraiser of the year. I'm stepping up my participation for this club and event by attending as a performer! Some of the other interns and I intend to play and sing a Vietnamese song. I'm nervous but excited!
Another way MEMO has been preparing for the mission trip is by doing soft-training at meetings. In Vietnam, there will be temporary clinics that do a basic check-up of patients by the doctors. The team itself will help do intake by getting a general idea of the medical history and ailments of the patients. At our last meeting, I learned how to intake a patient, check their heart rate, and use a blood pressure cuff and stethoscope to check blood pressure. MEMO members got to practice on the board members who assigned themselves new identities and mock ailments. I am far from going biomed, but I was able to diagnose (okay, I guess) my patient's ailment correctly judging from the symptoms she told me she had! The picture above is proof of my excellent diagnosing (*ahem, guessing) skills.
I'm beyond excited for all the upcoming events MEMO has scheduled. Up next are more fundraisers, sponsorship runs, banquet, and finally, THE MISSION!
UCI Circle K Meetings are held on Tuesdays.  Normally, the meetings run about an hour long with an agenda and people speaking, as well as the many cheering from members.  About 75 members show up each meeting, but it varies around midterms and near finals.
My favorite part of meetings is the raffle prizes.  These prizes range from cups to tshirts to a bag of chips.  A few weeks ago I got a nice little Coffee Mate coffee cup so now I have an extra cup if people want something to drink.  What I really like about the raffle prizes is the fact that it's somewhat of an incentive and encouragement.  It's an incentive because everyone wants to win a prize.  It's encouragement for members to meet each other as well.
In a club of over 125 students, it's important for people not only to meet each other, but know each other.  When someone wins a raffle prize, he/she must introduce themselves in front of people and the members of Circle K, as they normally are, are very enthusiastic and cheer for you.
Not only do things like the raffle prizes encourage meeting people, but the events that they do as well.  There's nearly something everyday ranging from tutoring at a local school, volunteering at a soup kitchen, painting a house, or even cleaning the beach.  Because there are so many events the numbers for each event ranges from 3 to 10 and it's a good time for people to get to know each other.
Week 8, May 23, 2010
Currently listening: King of Anything by Sara Bareilles
[youtube]http://www.youtube.com/watch?v=qmIu4sV1y8s[/youtube]
As freshman year draws to a close, I can't believe we're about to go onto Week 9, meaning that we only have three more weeks until this year is done.  I finally finished all my midterms this past week as my last Econ midterm was on Thursday at 8 AM. I hope I aced it since I knew how to do all of the problems. Hooray!
Most people have finished midterms already but finals have slowly begun to approach. I know I'm gonna get my take home Philosophy final paper this Thursday which will be due in a week. On top of that, I have a rough draft of my third essay for writing 39c due this Thursday.   This week will definitely be a busy one. But I'm looking forward to the Taiwanese American Organization's Banquet which will be held at Ten Asian Bistro, an Asian fusion restaurant! I can't wait to have fun with friends while nicely dressed in semi-formal clothing.
Going back to the topic of finals, I was never one to stay up really late to cram information into my brain. I can't ever pull all-nighters, which is probably a good thing since sleep is necessary to recharge my body. Some people can drink energy drinks while others can drink coffee to keep themselves awake. The best resource of coffee is the Starbucks at the Student Center right next to the Bookstore and across from the Career Center.  From May 3 until May 15, Starbucks had frappracinos half off during happy hour, which is from 3 until 5 PM.  I had the Light Caramel Frap that gave me a stomachache but I was very hyper for about 5 hours after 4 PM. Most people are acquainted with Starbucks, since it is a well known big coffee branch.   Starbucks on campus opens from 7 AM until 12 AM Mon-Thurs, 7 AM until 8PM Fri  9AM until 5 PM Sat and Sun normally and 24 hours during Finals week.  Hopefully, I won't have to rely on coffee to keep me awake and I study for finals ahead of time instead of cramming!
Good luck on midterms and papers!
Jeannie
Marco? ..PALO!
Today Palo held its hall banquet at the MPR and we were filled with excitement as we entered the beautifully decorated Snoopy-themed room (our hall theme is Snoopy!). I threw on a dress that I purchased at the UCI vendor fair a few weeks back (only $15!) and headed down through the first floor steps towards the Multi-Purpose Room. Everyone looked great — suits, ties, dresses, heels. We seated ourselves at the tables, and on each spot, my RA Ji-Ho placed a picture of the Palo students huddled together during the Mesa Court Olympics during the beginning of the year.
Looking back, it seems like just yesterday that we were there on the Mesa Lawn cheering on our hallmates.  There was also a slideshow that we presented of pictures taken throughout the year of FYEP events and daily life at Palo. I am really going to miss the people that I've met and lived with all year. On a different note, the food was pretty good. Our theme was Hawaiian, so we were served Hawaiian BBQ! We used Palo's leftover funds to pay for the food, so the banquet was essentially free for us to enjoy.
Besides Palo residents, we had several special guests from the Undecided/Undeclared FYEP department: Kim (the senior academic councilor), Evan (the advising councilor to Palo), and Samir (the intern for Palo). These people have been a large part of my FYEP experience and it is really thanks to them (and my awesome RA!) for such a successful freshman year.
Thanks for the memories Palo!
Faye
PS — What's long, yellow and fruity?
An apple in disguise!
I had a great week eight! Thursday was Mesa Court's Alice In Wonderland themed carnival!! There were performances by students, Mesa Common's food outside, cotton candy, one of those inflatable obstacle courses where you can race someone, "dunk an RA", fake tattoos, caricatures, games, and a few other activities.  I had so much fun. Too bad I didn't get to take any pictures! Hopefully those who attended enjoyed it as much as I did, and for those of you who are going to be living in Mesa Court next year, it's something to look forward to when you've been going crazy from studying for all those midterms! It's always good to take some time when you're working hard so you could relax and just have some fun.
Another great event that happened this week was my hall's end of the year banquet! We had it at the MPR, which is on the second floor of the Mesa Court Community Center. It was nice because we all got dressed up and before hand, our RA videotaped our farewells, so we watched them at the banquet. And of course, there was delicious food and dancing in the end. We also had awards the for "Most likely to be successful", "Hallmate of the Year", and "Mr./Ms. BaHAHAHAhia" (the funniest person in the hall). It was fun, but at the same time, it was sad because many people in our hall were pretty close with each other and it sucks that next year, we aren't going to be living together anymore! It's definitely been a fun experience living in Bahia.
Speaking of Bahia, which is one of the wellness halls in Mesa Court (the other being Lago), I recently got a message from one of my Stay-Over Program students telling me that she completed her housing application and picked a wellness hall as her first choice! Yay!! Wellness Halls are suppose to encourage residents to learn more about wellness topics and allows for growth of personal wellness. There's a 1.3 Wellness class offered in fall quarter that we are encouraged to sign up for, and RA's also hold other activities during the year such as yoga night, going hiking, etc. Keep in mind that wellness doesn't just mean being physically fit…it also includes mental health, spiritual wellbeing, and financial balance. I know that I learned a lot from living in a wellness hall, but I'm sure that every hall has other great things to offer.  =) You could check out each hall's theme at Mesa's Housing website. What's your hall's theme? =)
-Daisy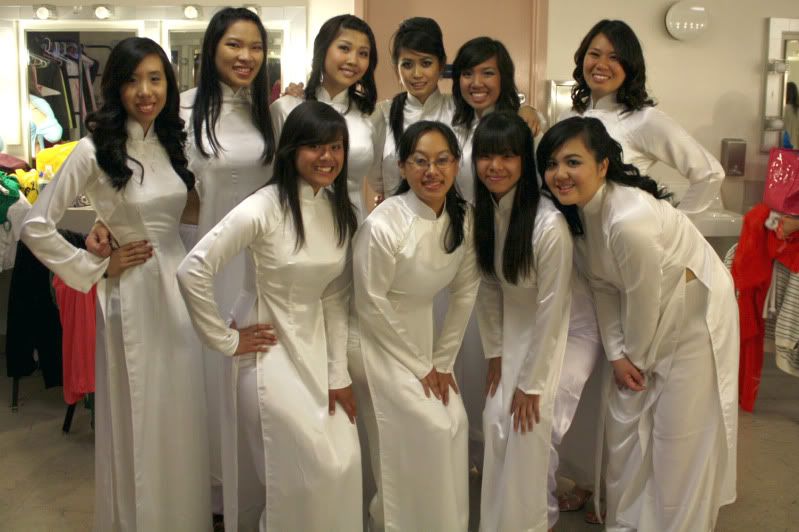 I love choir! I've spent a lot of other blog posts talking about VSA's Culture Night preparation and now I can finally talk about the actual show! I can't even begin to describe how fun this entire process has been. I made a lot of friendships and memories I don't want to lose. I am going to miss meeting up for practices, going out to get fitted, picking up props, and most of all, excuses to hang out with VSA everyday. I spent all day Sunday at Barclay Theater doing dress rehearsals, and it was amazing to see all of our hard work come together. Cast, trance (traditional dance), Level 5 (modern dance), choir, shadow ninjas (fight scenes), props, and the backstage crew all did their part to make the show an amazing night!
And on the same night Mesa Court had its formal dance, Middle Earth held its own Moulin Rouge-themed formal! I didn't have my camera with me, but I really wish I did. It was held at the University Club and it was beautiful. There was a chocolate fountain, a mountain of fruits and appetizers, and even rooms set aside for karaoke and poker. Best of all, there was dancing! It was really great to get on the dance floor with all my friends; it almost felt like prom!
This week has just been AMAZING. It feels as if school gets more exciting as the year comes to an end, and I hate it because I really don't want it to!
Week 7, May 16, 2010
Currently listening to: 2 Different Tears (English) by Wonder Girls
[youtube]http://www.youtube.com/watch?v=0iVPPqF7Xv0&feature=channel[/youtube]
This is going to be a busy week. Econ midterm Thursday and Writing 39C paper due Tuesday. My countdown to the end of the year officially starts this coming week! 4 weeks until summer! I am excited sooo excited! So as midterms continue and finals arrive, I will be forcing myself to go to the library more often to get more work done.  I talked about Langson in a previous entry so now, I'm going to talk about the Science Library.  As of April 26, 2010, the Science Library will be renamed the Francisco  J. Ayala Science Library after the evolutionary biologists scientific contributions to UCI. Prof Ayala is a Professor of Biological Sciences at UCI who has received many prestigious awards such as the National Medal of Science.  The Science Library is open from 8 am until 11 pm Mon-Thurs and 1 until 5 pm Saturdays and Sundays. This library has books about science, medicine, technology, astronomy, biology, chemistry, engineering, mathematics, physics and so much more! There are study center (similar to Gateway Study Center) and a Learning Center with computer labs. I definitely love coming here because it is more quiet with less people than Langson.
As for the design of the Science Library, it's structure is similar to the USS Enterprise.[youtube]http://www.youtube.com/watch?v=bB04MbuHzdM[/youtube]
Betcha didn't know that, ey?
Until next time,
Jeannie