Today's campus resource is actually very new to UCI. Just this year, the school has instituted a ROTC program for students with an interest in the US Armed forces, as well as those in need of scholarships. ROTC stands for the Reserve Officers' Training Corps, a program the United States Armed Forces has set up in colleges around the country. The ROTC program provides a merit based scholarship for college students in exchange for an extended service in the Armed Forces after graduation. The amount given in scholarships and time of service varies.
My first impression upon hearing about the ROTC program was that a student who joined the program was basically giving up all of their free time to do boot camps and training for the program, that the ONLY thing they'd be doing in college was work for ROTC. This, however, was not true at all. Students in ROTC partake in just as many activities as all other students, they can join fraternities and sororities, they can play in sports. The curriculum is designed to be taken along with the courses students are taking to complete their majors, and students who have not committed to service after college are also allowed to take some of the basic courses created by the ROTC. To learn more about more about what specific courses are given each year, go to http://www.goarmy.com/rotc/courses-and-colleges/curriculum.html
Basically, the ROTC program trains you to become an officer while you are also getting a college degree. There are two, three, and four year scholarships that may cover the entire cost of students' college tuition. However, this is not a scholarship that everyone should apply for. This program is for those who understand what they are getting into. They will take the courses and training to become officers and at the end of their four years will actually serve as officers. There are definite pros and cons to this scholarship, but if you are a person who has an interest in serving in the army, an interest in learning about leadership, a person who is willing to work hard, then look into this option. Thanks everyone, have a great week.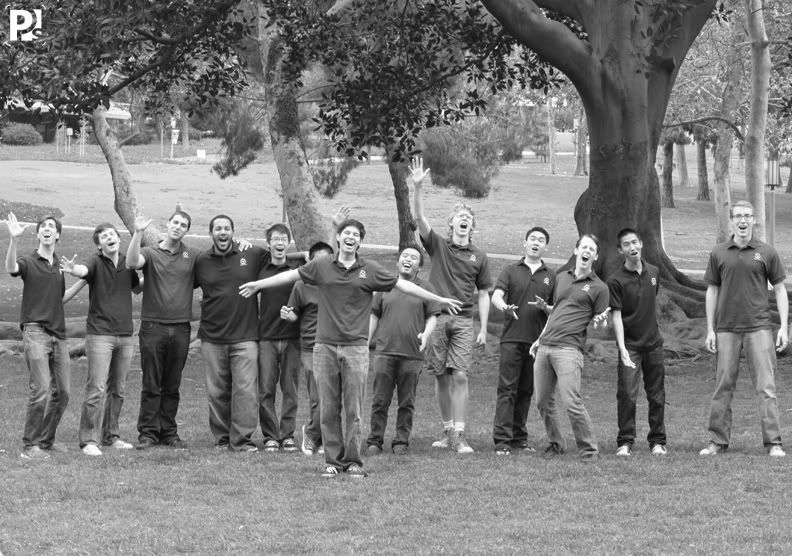 Hello there "Pre-Anteaters"!
I truly hope you guys are enjoying your Memorial Day weekend! I can't say how happy I am just to think I don't need to wake up early tomorrow! 😀
But, back to the topic, I am also super happy to introduce our very own men's a cappella group to you all! And they are…….. (DRUM ROOLLLL)Circle of Fifths!!! 😉 I must say one of the reasons I am so happy to tell you about them is because I was in choir during high school, although not in a cappella, haha. I don't know if I can brag about being so good to be an a cappella, lol, but I think I'm pretty decent. 🙂 But anywayys, Lol, I guess that is how and why I have an appreciation for their music, but I'm sure you will, too, once you hear them!
The name Circle of Fifths came from the five original singers of the group, and apparently it is also "a musical term referring to an imaginary circle that depicts the relation between the twelve different scales used in Western music." I can't say I know too much about that, haha, but for one reason or another, the name still seems to fit perfectly. I don't know what it is about it, but it sounds fulfilling to the group.
This group is definitely one of my all-time favorite groups that exist on campus. These guys are just so good! I love the songs they choose to play; they are pretty popular songs (ranging from choral music, to pop, rock and jazz) but they make them sound so much more fun the way they sing them and act them out! 😀 Another great thing this group has is their charisma and sometimes the pure silliness with which they sing and perform. I must say they have girls going crazy for them just for this, hahaa! They are so entertaining! Whenever they're performing on Ring Road, I have to stop and watch because they are fantastic! I'm just kind of sad sometimes because I can't join them 🙁 lol, BUUUT, we also have an a cappella group for women! So if you are at all interested in singing and making great friends (because that simply cannot be left out of the picture when singing), then I definitely encourage you to join!! If you have never been in choir or any other type of singing before, it is complete fun to do it! I would totally recommend that you all have a go at it (at least), either in college or high school, because it's so exciting to sing in a group and go out and perform! Or, it is for me. 🙂   ..But I'm sure for you, too.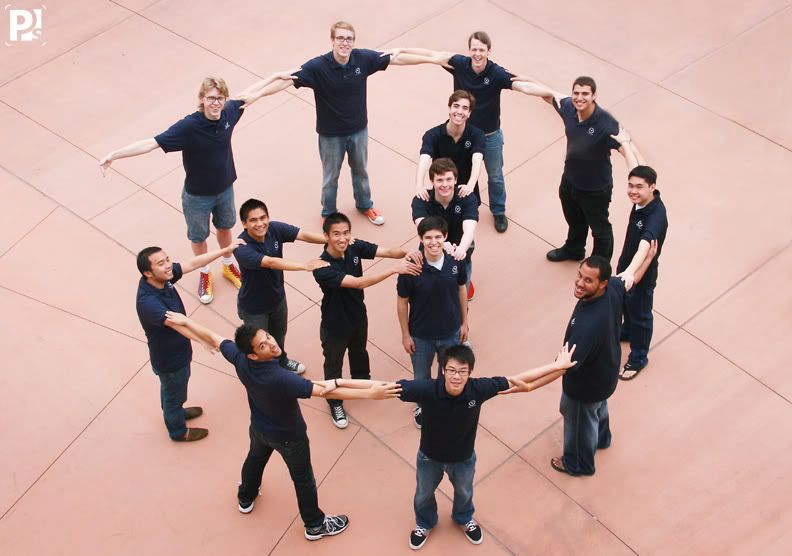 If you would like to visit Circle of Fifth's website, that is http://www.circleuci.com/. There you may find some more contact into if interested! 🙂
(I also invite you to see some of their comical pictures at http://playfulsoul.tumblr.com/. You will see just how serious these guys really are! – Not really! LOL)
And without further ado, please enjoy Circle of Fifths!! 😀 (You will now understand why I praise them so much. Lol)
[youtube]http://www.youtube.com/watch?v=OiM_BqjuKZs&NR=1[/youtube]
I know I've already done a piece about teams, and the application process, but I didn't do one about what it's actually LIKE to be on a team and go to competitions. So, I asked some of my friends from CADC to talk to me about it, and after going through a few questions, I got a pretty comprehensive view of what the experience is like:
There are a total of 38 members on CADC this year, but the actual number varies per year, depending on what the captains are looking for.  I talked to three of them, Jamie, Matteo, and Diane, all of whom were ending their first year on the team. I got some basic info out of them, like practices, which are 9pm-3/4am three times a week.  During Competition weeks, there are hell weeks where the dancers meet everyday 9pm-3am and sometimes later.  However, despite the physical strains that they put upon their bodies for the team, they love going to practice due to the chance to get to know the other team members and bond over breaks or small respites.
They have about 5-6 competitions per year, the most important being All Cal.  At All Cal many UC's gather their dance teams and battle it out for the title of best UC dance team. When I asked all three members what their favorite competition was, it was All Cal.  They said the energy and build-up to the event and at the actual event, was really exciting and definitely topped the rest of the other competitions they had been to.  This year was extremely important too because of the fact that CADC had won 9 years in a row at the event, and this year could have been, and was, their tenth.  And since I was there, let me tell you how AWESOME it was.
All Cal was at the club El Rey in Downtown LA, and me and a friend drove out to support a couple of members on the team.  The night was filled with dancing from both the teams and the clubbers, an hour of dance starting out the night, followed by the dances from all the teams, another few hours of dancing and enjoying ourselves, and finally the results.  CADC was last in line, so we got to see all the competition before we saw our own team perform.  And boy was it close. But CADC pulled through at the end, their high energy and excitement pulling through, even when the music cut.  That's right. THE MUSIC CUT HALFWAY THROUGH. So they were up there, still dancing, to silence, just pounding away the choreo.  It was epic.
At the end of our interview, I asked the members what they thought was the most amazing thing about CADC that they took away from their first year in it.  And they said that "DC shown me that dancing isn't about dancing…it's a common
interest that brings people together and be a family because of it.  The members of DC
wouldn't hang out normally, but since they're on DC, they're closer than anything."  And it's this enduring connection that will bring them in next year to audition again, and the year after that, and the year after that.
Hey guys,
School is almost out (yay!) and I decided that it would be wise to get another reflection of the past year from a FYEP (First Year Excellence Program) student. For this post, I interviewed Tejas Shah, a freshman living in Mesa Court in the dorm called Palo.
Me: Hey Tejas, what sports have you been a part of this year?
Tejas: Football and basketball. I'm real glad I was able to participate in sports because sports gave me a great break from school. In a way, it "neutralizes" me. Also, it helps me stay active and be fit!
Me: How do you balance academics with sports and your social life in general?
Tejas: To do lists. I prioritize what I need to do and go according to that. Being organized is a great plus and it sure comes in handy when I have many things to do.
Me: Have any advice for future UCI freshmen?
Tejas: Make sure you have a plan of what to do every week. At college, you have many opportunities available so having a great plan will help you accomplish a lot.
Me: How was your transition form high school to college this year?
Tejas: It varies from person to person. In high school, there are limitations, but in college you are independent in terms of living and school. I was able to explore many opportunities here and though college life is difficult, it is very fun and enjoyable in terms of meeting new people, getting involved, and starting anew.
Me: How have you gotten involved?
Tejas: I have a held a few jobs on campus at Cyber A Cafe and UCI Extension which have helped me in many ways. I am interested in optometry, so I have joined the club called USeeEyes. I also rushed for a couple of fraternities. Simply said, I definitely recommend getting involved in college because it will give you many skills a classroom cannot teach you.
Until, next time, 'Eaters!
The title of this blog is the current quote for UCI's team of Peer Academic Advisors (as seen above), who are the campus resource of this week. The phrase is a play on the quote "adventure is out there" from the colorful Pixar film, Up. Although the students in the Peer Academic Advising program don't deal with grumpy old men and houses levitated by balloons, they do help undergraduates with whatever adventures (academic, career and even social) they have planned.
Peer Academic Advisors are junior and senior undergraduates who have gone through training designed to equip them with all information necessary to help other students. This ranges from a thorough knowledge of campus resources such as the Disability Center and LARC, the Learning and Academic Resource Center, to a general idea of what each student should be taking in order to complete their major on time. Each major has their own set of Peer Academic Advisors that are available constantly.
You may be wondering what the difference between a Peer Academic Advisor(PAA) and a counselor for your major is, as at a glance it seems as if they have similar duties. The greatest difference is that a PAA is a student just like you who may be more accessible than a counselor. When I say accessible, I mean that a PAA's job is to help you and answer your questions regarding how many units to take, or if a certain class is beneficial, while a counselor has other duties that must be attended to. It may be faster to go to a PAA. Also, a PAA may be more accessible in the sense that they are your peers. Sometimes adults can be intimidating, so sitting down with another student who goes to school with you can be an alternative way to get help without feeling nervous or intimidated.
Peer Academic Advising is just another way for students to get the help and answers they need. Each student is different, some need to speak with school counselors and some need to speak to other students, so both options are available. What matters is that you try one or the other and see which works, because I can guarantee there are going to be times when you don't know if you should take 16 or 20 units, or if Intro to Horticulture is a good class for a Business major to take, and when that time comes you'll have someone to talk to who actually has experience answering those kinds of questions.
Hey my fellow 'Eaters,
I was recently searching for places near Irvine that would be fun to go to with my friends, and an amazingly fun place called Sky High appeared right in front of my eyes on the internet. Get the right group of friends and you my friend are in for a blast. This place is literally a jump world! If you want to feel like a kid again, this is the place to go.  It isn't every day where a large group of college students can play dodgeball on a trampoline. I definitely had a great time and good laughs when I went a couple of weeks ago. But even though you might think jumping around on a trampoline was all fun and games, you are wrong; it is a workout…no joke! But fun nonetheless!
There are 3 different areas, one for just bouncing, one with a foam pit that you can do tricks into, and another one for dodgeball. I personally recommend playing for an hour or so since there is no need for more than that–unless you are on a sugar high. This place is good for all ages and can be fun for every single person. Oh, and don't forget to wear shorts and a shirt! Don't sweat in jeans! (It sucks).
Who wouldn't want to act crazy and jump and do flips and do whatever you want on a jump house?!
I'm glad a new Sky High was built in Costa Mesa, and I'm sure it will have many 'Eaters come in and out every once in a while!
The address for the OC's Sky High:
2970 Airway Ave
Costa Mesa, CA 92707
Until next time, 'Eaters!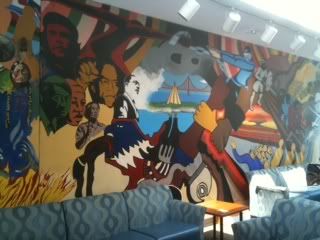 The Cross Cultural Center…home to all of the ethnic and
diverse organizations on campus.  I'm
sure one of the other ZotBloggers have gone over the Cross and its'
organizations, but I'll lightly touch upon them again: There's the LGBT
community, the Black Student Union, The Kababayan community, Asian Pacific
Student Association, American Indian Student Association and MEChA.  Each of these organizations has umbrella
clubs underneath them, each one attending to a different need of the UCI
student. The Cross (as it's fondly called by most UCI students and those
affiliated with it) is the home and headquarters to all of these parent
organizations and the offices that head outreach and planning for these
clubs.  It is also home to two of the most
colorful murals on campus, painted and created by UCI students. When you enter
the Cross, located right next to the Student Center and Aldrich Hall, you'll
see one of the murals, regardless of which entrance you use. One is a colorful
collage of different leaders and events and monuments and symbols important to
each culture based in the Cross, the colorful images overlapping to display the
unity that all of these clubs have in the idea of accepting and promoting
diversity of culture in the community.
The other is located in the Ring Room, a room used for
special events/meetings for different clubs or guest speakers.  The room is usually locked and when I passed
by, I couldn't get a picture of the mural. Sadness. If you're interested in
these murals, you can go enjoy them at the Cross at any time for free, and you
can also go to this website to learn about the third installment: http://www.ccc.uci.edu/art/. This addition
to the Cross is still in the works, so if you want to help plan it or just help
paint it or whatever, contact anyone at the Cross or use this link to find
someone you can talk to J
Personally, I want to volunteer when they get the project moving.
The Cross also has several other forms of art contained in
its' walls, three more pieces of art and one traditional garment.  The art is lined on the walls of a study
room, having been created by students of the different organizations.  The traditional garment is an imitation of a
Emperor's Dragon Robe from the Nineteenth century, given to a Dr. Manuel N
Gomez as an award for helping to make The
Silk Road to the Future event a success. The event was a trans-Pacific
intercultural exchange for University Students which took place 2001-2002. It
is located by the stairs and elevator to the 3rd and 1st
floors, in the back of the Cross.
The murals always catch my eye as I'm walking down Ring
Road, and remind me that UCI is a strong supporter of diversity and pride in
that difference.  You can also help out
with the Cross as a seasonal volunteer or an intern, both of which look GREAT
on a resume.  Here's a link if you need
it: http://www.ccc.uci.edu/people/interns.php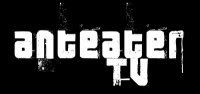 Hello great people!!
This week, I am really excited to tell you all about Anteater Television!!! …I know right! I didn't know we had a television program either! I just found out about it as I was doing a bit of research (I have to say, coming to UCI, you're going to find yourself doing some type of research one way or another! Lol). Anteater Television's goal is to bring the first University Television station to campus and be able to broadcast a local cable TV station that will be accessible to the Irvine Community.  
If you are at all interested in communications or you know you have a creative side that you want to share with everyone else, then I think this club is perfect for you! This club is completely student-run, and being so, I think they are doing an excellent job, from what I've seen. You can try putting your skills to use wherever you see fit and feel comfortable! Whether you're interested in being a broadcast journalist, a director, a script writer, an actor, a film maker, etc, you can do it all with Anteater Television!  Although UCI still does not have its own TV station, Anteater Television has been able to create our very own Zot News Network, also known as The ZNN. Pretty cool, huh? 😀 Being in such a large campus and with the hundreds of clubs and organizations that exist (it literally is hundreds!!), all the sports, ASUCI-led events, and much more, it is difficult to know of and keep track of what goes on every day. That's why one of ZNN's purposes is to bring everything together to one place to let the student body in on the news! And that, I think, is simply great!
In being part of Anteater Television, you will be able to share and develop your ideas with the other members to create shows you would like to see broadcasted. So if you know you are one of those people who are in dire need to be discovered and shine, then join Anteater Television! This may just be your time to be discovered! XD
I definitely recommend that you visit Anteater Television's website at http://www.clubs.uci.edu/anteatertelevision/ to learn more about they do, how to join,  and watch some of their broadcasts! Who knows, it may be you who's there next time! 😀
Hello Prospective Anteaters!!!
Just a few weeks ago, on May 5th, we had the inauguration of our Student Center Bell Tower, which was the Class of 2010 gift to the university. 🙂 We had lots of performers throughout the day form part of the celebration as we enjoyed the bell's first chimes, and one of the clubs performing was Belly Danceaters @ UCI!! One of the main purposes of the club, besides having just plain fun, is to "help nurture self-esteem by encouraging self-expression through the dance, and to help people become comfortable with their own bodies," and I think they do their job very well!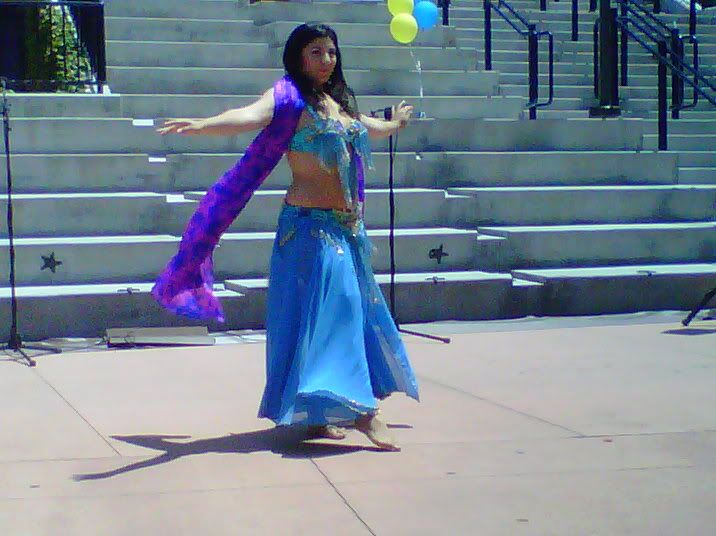 This was the very first time I saw them perform, and I was impressed! I don't know if I would have the guts to stand up and belly dance in front of a crowd, but these girls did, and they were awesome. 🙂 Some girls performed solos or duets, but it looked great when they all got together to perform their routine. Well, actually, I forgot to mention, not all of it was a routine because part of their performance included doing improvisation, and I have to say that I really could not tell which was improvisation and which was choreographed! They left me thinking on that part! XD
I'm sorry to say, though, that I'm not sure when their meetings for this quarter are, but if you are at all interested in joining or just checking it out, let me know and I will definitely find out for you. But I will still come back and post it as soon as I know.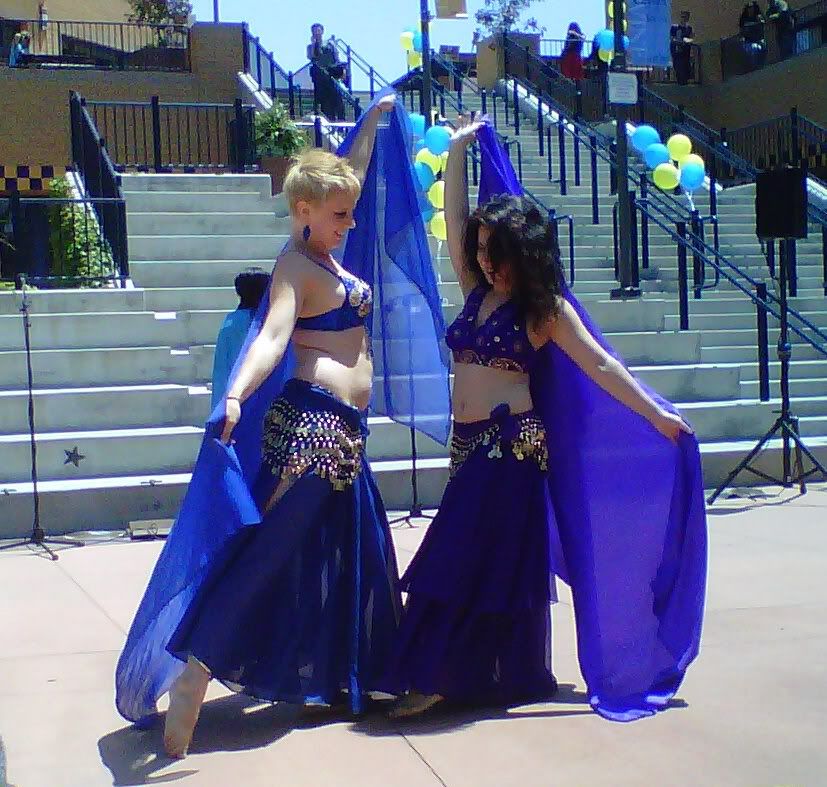 I did find two e-mail addresses where you can contact them, not completely sure which one works, though, but you can check it out! Also, if you want to take a look at their website, you can visit http://www.clubs.uci.edu/bellydance/index.html.
~ Ivonne 🙂
Hello everyone! This week's campus resource will Financial Aid. Now I know that many of the major dates for incoming students have passed, but I'd still like to mention the main parts and organizations that make up the Financial Aid resource here at UCI.  First off, I'd lie to talk about FAFSA, which is the Free Application for Federal Student Aid. This application is the most common form that students fill out when going to college. The FAFSA helps colleges to determine how much Financial Aid each student should be allocated. Every student should fill out the FAFSA initially, as you never know what grants or aid you may be eligible for.
Another source of financial assistance for students is the multitude of scholarships that can be applied for each year. You may think that the only time you'll be applying for scholarships is your senior year of high school, but there are also scholarships for college students that can be accessed through the financial assistance website. (http://www.ofas.uci.edu/content/TypesOfAid.aspx?nav=3&id=scholarships) There is so much scholarship money that goes to waste simply because no one applies for it, so scholarships are definitely one way to earn money for college. The thing about scholarships are that they usually do provide less money than the aid given when turning in the FAFSA to schools, but the best thing to do is to apply to as many scholarships as you are eligible for. Even if you only end up winning one, that one scholarship can help you with your first year of buying books.
The final type of Financial Aid I'd like to talk about is the Work Study program here at UCI. This is a form of aid that I was not familiar with upon entering school, but found out about through an older friend. The Work Study Program is a program in which students receive special permission to obtain jobs where they are rewarded with money that goes specifically to their tuition. The way to gain entrance into the program is based on the results of your FAFSA, so in other words it is based on need. If you qualify, you may be able to take a part time job to work at in order to receive an award of a set amount. For example, a student may work 15 hours a week for a quarter in order to work up $1500 dollars in reward money, which goes to paying for their tuition. To learn more about work study, go to this website. http://www.ofas.uci.edu/content/TypesOfAid.aspx?nav=2&id=workstudy
I know money is a great issue at the moment, and that every dollar counts, so even if you don't think you need any help, apply to a scholarship or an office job, and definitely fill out a FAFSA application to see what you can receive assistance for. It may surprise you, and even if it doesn't at least you know. There are tons of resources for students who need them, it just takes time. This is just a few examples of what the school has to offer. Thanks for reading, until next week!
Hey fellow 'Eaters,
Since we only have a couple of more weeks left until summer (I can't believe I'm lasting), I've been looking for a way to get some insight from current Undeclared/Undecided first year students about how their year has been going so far as well as talking about the sports here at UCI. I thought that conducting an interview would be a great idea, and so I interviewed a fellow FYEP (First Year Excellence Program) resident and my friend, Zhengli Yu. The following is the interview I did on Zheng:
Me: Hey Zheng, so how are you liking dorming so far?
Zheng: I'm really enjoying living here in Palo. I made lots of friends here, and met many different kinds of people with common interests. It's really good to dorm here at UCI because there is an opportunity to learn about different perspectives about life. I also learned about many different kinds of cultures and made some lifelong connections with my hallmates.
Me: How are you liking the sports here? Has it helped you in anyway at all in your transition from high school to college?
Zheng: Sports and competitions are partly why I made the friends I have today. Through sports, I met new people and it helped me establish new lifelong friendships. It also not only helped my transition from high school to college, but it also helped with my studies because I can always release my stress through hourly and weekly exercise at the ARC and the REC.
Me: What did the ARC and REC provide you throughout the year?
Zheng: It definitely provided me with some space and opportunities, especially through intramural sports where I learned to develop character, leadership, and teamwork. I just find that it is a stress free zone where I can forget about my classes for an hour or two and just work out or shoot some hoops. The REC is like a mini playground where I always hang out with friends after a long and tiring day. Anyone can play ping pong, pool, or just relax and watch some TV in the game room.
Me: Anything you want to suggest to prospective and incoming students?
Zheng: Class work and studies has to always come first! Don't ever procrastinate because your first year is the first step in terms of establishing study habits and behavior. One thing I leaned is that college is competitive; one step behind, and it's really hard to catch up again.
Me: If you could improve anything sports related here at UCI, what would you improve?
Zheng: I think we need new basketball courts at Mesa. They just seem out of date. Hopefully in the near future, the housing staff will decide to clean up the courts and make it somewhat similar to Middle Earth's court. I also think that there should not be an 11 pm curfew at the courts, and that the lights should still be able to be on after 11 pm.
Me: A new court would be nice! Alright Zheng, thanks for letting me talk to you for a quick bit. I appreciate it.
Zheng: Anytime, Dennison!
Hope you guys got some insight as to what it feels like to be a current student here at UCI!
Until next time 'Eaters!
Or, multiple fountains. There's quite a few, some of which kind of hide from you unless you're looking for it.
Infinity Fountain–The most famous and easily recognizable fountain.  EVERYONE sees it.  It's a big circle upright in a square pool, where a stream of water gushes out of it's center, hitting the top of the circle in a way so that the water spreads out into the pool, creating an infinity symbol! The symbol is actually not that easily recognizable unless told (guilty!), but it's neat to know that it creates such a cool symbol, representing the wealth and fountain of infinite knowledge which the students at UCI learn and study.  Also, about every year, someone throws soap in it, so the pool gets all bubbly. Silly pranksters, you're wasting government money 😀 Oh, and no pic for this guy cause it wasn't running at all this past week -__-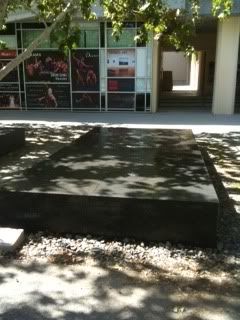 Arts Center Fountain–This is a more subtle fountain, found after you cross the bounce bridge I mentioned earlier.  It's a basic flat table fountain, which has a squiggly line along it's length, from which the water flows out of.  For some reason, the fountain stopped flowing during half of the year, but usually, it flows and creates this nice calm atmosphere, where art students or anybody passing by are encouraged to just sit by and enjoy the reflections in the water.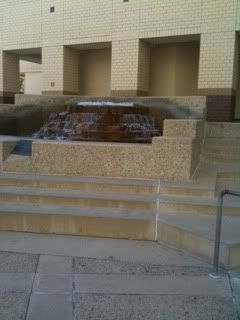 Social Sciences Fountain–This is a level pool fountain, where water starts at the top and falls into separate pools at different levels, eventually ending at the bottom where it disappears to who knows where.  I personally think it's a pretty fountain….but that's it. I don't get to enjoy it 100% because I'm never by Social Sciences.
And that's it :/  Not very many, now are there? There are lots of drinking fountains though!