Welcome to the UU Zot Blog's annual Spirit Pack giveaway!  You, the reader, will have the opportunity to win an Official ASUCI Spirit Pack just for leaving a comment for one or more of our bloggers!  What is an Official ASUCI Spirit Pack, you ask?  Why it's a spiffy UCI travel bag filled with a UCI pen, keychain, Anchor Blue discount card, and the pièce de résistance, a Peter the Anteater bobblehead (pictured above)!  Now aren't you excited?  You need to post your comment(s) before April 30, 2012 to be entered into the contest.  Please read on for the official giveaway rules.
Official Rules 
ELIGIBILITY: No Purchase Necessary to Win.  All prizes are offered on an as-is basis.  The UU Zot Blog offers no warranty and does not take responsibility for lost, defective, or damaged goods.
HOW TO ENTER: Leave one or more comments on one or more of the UU Zot Blogger's posts.  Each individual will be granted only one entry, regardless of the number of comments posted.  To enter:

Click on the title of the post you want to comment on.
Scroll down to "Leave a Reply" under the post text.
Use the form to enter your complete contact information, including your first name, last name and your current e-mail address.  Your e-mail address will not be published and please note that we, the UU Zot Blog, will never share or sell your e-mail address to anyone outside of the UU Zot Blog.
Leave your comment in the field available & click on "Submit Comment".
If you win, the UU Zot Blog supervisor will contact you for your mailing address and other contact information.

JUDGING: Winner will be selected by random drawing from all eligible entries received on or before May 10, 2012 by the UU Zot Blog supervisor, whose decisions are final and binding on matters relating to this giveaway.  Odds of winning depend on the total number of eligible entries received.
PRIZES: Please allow up to 6-8 weeks for prize delivery.
NOTIFICATION: Winner will be notified by e-mail and will be required to complete and return within 14 days of notification their complete mailing address.  Failure to return the needed information within 14 days of receipt will result in forfeiture of the prize and the UU Zot Blog supervisor may award it to an alternate winner chosen by random drawing of eligible entries.  By participating in this giveaway and submitting an entry, entrants agree to be bound by these Official Rules and the decision of the UU Zot Blog supervisor.  By entering the giveaway, winner agrees to waive any and all claims against the UU Zot Blog, its contributors, supervisor, and the Undecided/Undeclared Advising Program for personal injury or loss that may occur from the participation in this giveaway or from the receipt or use of any prize, and grant to the UU Zot Blog supervisor the right to publicize such winner's name and/or likeness without additional compensation or consideration unless prohibited by law.
GENERAL CONDITIONS: If, in the UU Zot Blog supervisor's exclusive judgement, this giveaway becomes compromised in any way, the UU Zot Blog supervisor reserves the right to withdraw the promotion offer, cancel any method of entry, to void any entries submitted fraudulently or select winners from all eligible entries received prior to the act that compromised the giveaway.  By entering, entrants acknowledge compliance with these official rules including all eligibility requirements.  Any attempt to deliberately damage the content or operation of this giveaway is unlawful and subject to legal action by the UU Zot Blog or the Undecided/Undeclared Advising Program.  In the event of dispute, electronic entries will be deemed to have been submitted by the authorized account holder of the e-mail address at the time of the giveaway.  The authorized account holder is the person to whom the applicable internet service provider or other organization (such as business or educational institution) has assigned the e-mail address.
Hey there Anteaters!!! Week 9 has definitely been the busiest week for me this winter quarter. There is so much to do on my schedule in terms of classes and I have been falling behind like no other. Only one more week before finals and I am not ready in any way, shape, or form. My motivation is spring break now and that's all I'm looking forward to. I'm not the only one struggling though; there are many other students who are dealing with problems just like me. This week I'm going to talk to you all about a place where you can get help with all sorts of issues.
Most of my posts this quarter have been about ways to reduce stress and keep healthy. Sometimes doing stress-free activities isn't enough and there needs to be another alternative. Here at UCI we have a fantastic place called the Counseling Center which is located in the student service 1 building, second floor room 203. At the Counseling center they offer many resources including personal therapy, group therapy, psychiatric service, consultation, and more. There are several reasons why someone could go to the Counseling Center for help. Some of them include having family problems, relationship problems, dieting, decision making, trauma, and social inactivity.
The way one can set up an appointment is by calling the Counseling Center number (on their website) and ask to make an "initial appointment". If it is a serious emergency, than dial 911.
3 programs within the Counseling Center include the COACH, LGBT, and Peer Educator Program. These are all good and interesting organizations to get involved with on campus. For more information on each of them log onto their website at:
http://www.counseling.uci.edu/
The Counseling Center is a place that students should be familiar with in case they are having mental, physical, psychological or emotional problems that they are dealing with. They have professionals that are there to assist and it would be in the best interest in setting up an appointment if one is unable to handle one's current situation, whatever it may be. Don't be afraid to talk to any of them because they are all very friendly and only seek to help students here at UCI. I encourage those of you to check out the website when you get the chance. It is good to know what resources this campus has to offer.
I will be studying all week in preparation of finals and I wish everyone the best of luck! As we come to the end of the quarter I hope many of us reached our goals or broke some bad habits. I would like to hear some feedback on any challenges any of you have overcome this quarter. You can share those stories with me in the comment box below.
Have an awesome and studious 10th week of the quarter everyone! Work hard and when it is all over, play even harder!!!!! Spring Break 2012 is coming up! Woo hoo! Cancunnn!!! Just kidding. Well maybe, we'll see.
Peace Eaters.
–          Dennis A.K.A. Dernice Han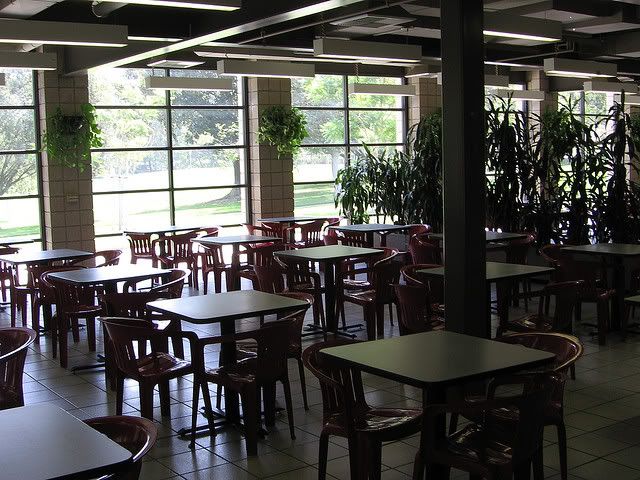 Almost… There… Must… Keep… Chugging… Along… Holy cow, Week 9 is done and gone. I hope all of you have adjusted your clocks for Daylight Savings! Spring break's looking more and more glorious with each passing day, especially with all the fresh leaves and blossoms that adorn the once-bare trees of our campus. Just one more week and a batch of finals left, and we'll be out to taste the sweetness of spring! For now though, I'll have to do my best to make the last two weeks of school more bearable for y'all by giving you another perk I enjoy in UC Irvine!
I feel like I've spoken a lot about the restaurants that are off-campus, or the eateries that are well known within freshmen (like Starbucks and Pippins). Much to my delight though, there are other little niches on campus for good food that are a little more obscure. BC's Cavern, located beyond the BS3 Lecture Hall toward the inner circle of the campus, is one of these charming little cafés that I stop by twice every Tuesday and Thursday in between classes to eat and wait for my next class. Although we have a Quizno's on campus, I was pleased to find that Subway Sandwiches existed on campus, seeing as I am much more of a Subway enthusiast than a Quizno's kind of person. In addition to Subway, BC's Cavern also offers wraps, salads, pastas, and burgers that you can munch on for a hungry-college-kid-affordable price.
The thing I'd say I love most about BC's Cavern, aside from the food and the excellent wifi they have there, is the location. Situated at the steps descending from the Biological Sciences area, the Cavern is squeezed into a convenient niche that allows for quick access to the science buildings, the science library, Humanities Hall, Aldrich Park, and even the engineering area if you cut across the park. Every once in a while, in the middle of chomping away on a footlong sandwich and browsing the internet on my netbook, I get to look out the massive glass walls and to the ever-green park. I allow myself to people-watch through the tinted glass, getting tiny glimpses into their lives as they wander, power-walk, or bike by. On windy days, I take particular enjoyment in letting my eyes feast upon the powerful and nearly-poetic movements of the trees that tower outside the Cavern.
If you guys haven't checked out BC's Cavern yet, I highly suggest that you do so for the satisfactory food and the view! Who knows, you might be able to catch me staring out the windows with a sandwich in hand.
– Angela
Overcoming peer pressure always proves to be a challenge; being in the moment with the intention of rejecting the pressure tends to breed fear. There are all types of pressures in life from people, to possible addiction causing agents, and the desire to have fun. Personally at UC Irvine people may say there is not much to do, but there are a variety of things if you know where to look –seen in another Zot blogger's posts. The peer pressure at UCI in terms of drugs or alcohol is not excessive, but the possibilities of neglecting your studies is.  Involvements, going out to eat, and taking a break all prove to be major time consumers from studying. There are ways that can relieve you of too much of these temptations, and that you can be productive; however, there are also ways to not be persuaded by negative peer pressure as well.
Be involved, but do not put your interests over your necessities.
Study with friends who put work first, even if they are few.
Go out to eat around the same time every day, and let your friends know before so you all can go at a time that works.
Make a time limit for breaks; time management, even if not highly detailed, can be your greatest tool.
No matter how many friends you have, spend more time with those who do not pressure you to ignore your studies.
Make a schedule or to do list and stick to it!
Drugs and alcohol are not a massive factor, but realize there are people around who consider it an occasional reliever. It absolutely is not!
Cigarettes may be suggested to you, but just as a drug they do not help, they harm!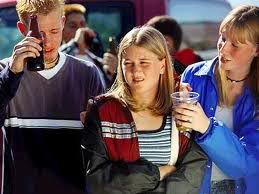 I have experienced a variety of these peer pressures, but am proud to say I have not fallen to the temptations even once. Drinking seems to be the most present in any college, but hopefully your experience compares to mine. I had the honor of celebrating with my club's board members after a successful benefit concert we held. We went out to eat and then got a ride to an apartment of an older student. The board members were all of drinking age other than me, most deciding to stay over the room after celebrating. I was offered a minimal amount –since they were respectful that I am a minor– but I politely refused every type offered. These individuals were respectful of my wishes, but not everyone is as kind, and they may influence you further. The choice is always your own, and do not doubt there will be times people will place the choice around you but you do not need to succumb to pressure.
As for the fun factors, what students need to realize most is that everyone wants to enjoy time with new friends and independence. I see it every day, but everyone stands accountable for themselves. It always depends on the person's decision to do what is necessary for their education, or choose to have more fun than progress. I hope my tips and advice help, best of luck and never be afraid of the pressure!
-Your Zot Blogger Carlos
Hello everyone, and welcome back to the Zot Blog! Wow, are we already at the last week of classes?! I know, it's unbelievable. Anyways, for this week's blog, I'll be discussing one of the most popular hang out spots for UCI students: University Town Center.
It's a fact that you will find yourself in the University Town Center (commonly called UTC) at least once during your time at UCI. Whether it is strolling through the stalls at the Saturday Farmer's Market, eating at one of the various restaurants, or shopping at the unique shops, there is something for everyone in the shopping center.
I could go on all day about the UTC, but it would be quite tedious to read this post (plus, my fingers wouldn't appreciate all the typing). Instead, I'll do my best to cover the highlights.
Arguably the most popular place for UCI students, Cha for Tea is renowned for its boba drinks. However, the food is also nice as well as its other beverages. It is a tradition for UCI students to head over to Cha late at night to buy boba to help them study. If you've never had boba, you should try Cha's to get an idea of it.
Next up is Trader's Joe, the center's primary shopping store. From vegetables to canned goods, this is where many students who dorm get their groceries. If you want more info on TJ, check out Angela's post on it from January.
There are also a bunch of fast food places that include Taco Bell, In N Out (another place Angela wrote about last quarter), and Jack in the Box. Cheap and fast, they are quite suited for college students, but remember to moderate yourselves!
There are a bunch of other places that I didn't mention, so be sure to head over to UTC to fully see what it offers. Since it is right across the street from the campus, every UCI student should take the opportunity to visit it and see what it offers.
Well, that's about it for this week's blog! What is your favorite place in UTC? Feel free to answer or make suggestions in a comment!
Take care, everyone, and best of luck studying for finals. Show them who's boss!
Zot zot zot!
Sabaa
Okay, so I know I kinda pretty much went over this before last quarter. Remember when I gave a list of activities you could do with you hallmates if you couldn't go out anywhere? I suggested a movie night, play video games, talk, etc. Well this article is pretty much the embodiment of all those things combined (minus the video games). My friends and I had a Pizza Night, where we basically pooled all our money together and ordered some stuff from Dominoes.
We ordered two pizzas that would be compatible with all three of us (because on person didn't like sausage, another didn't like pineapples or spinach…it was weird. I was the only one who didn't mind anything. Picky eaters are sooo annoying), along with two sets of wings and some sauces and jalapenos. It was amazinggg. We searched for some coupons as well and ended up getting bread bites for cheap too. 🙂 I thought this was great because it allows us
to find out what our eating habits are. While we ate we turned on a Korean
drama on Netflix (if you haven't seen a Korean drama this is my command: GO WATCH ONE NOW!!).
And we just commented and ate, then we turned to doing our homework after we were done. It turned into an all nighter, and the food lasted us all throughout the night because yes, we did get hungry again later. I found the night to be both fun and productive, and of course I do not suggest staying up all night. You need your sleep. But from my opinion, haha, if you want to have fun and de-stress while getting work in the same night, HAVE A PIZZA NIGHT~. 8D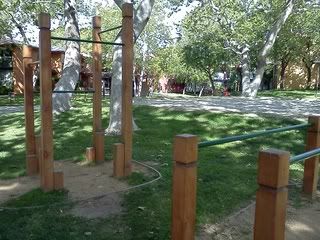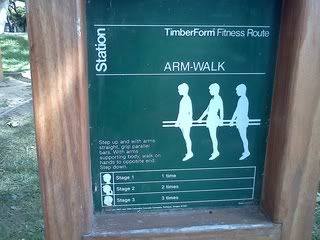 Yo Anteaters!!!!! Hope you all had a fantastic week 8. I haven't been home all quarter, so I'm looking forward to seeing all my friends and family again. With the heavy workload I have every week, it seems almost impossible to go home and relax with family. In addition, I haven't been able to exercise as much as I'd like to. The arc is always too much of a mission and unlike Middle Earth, Mesa Court does not have their own personal gym. This week I'm going to talk to you all about an exercising utility Mesa Court does offer to their residents.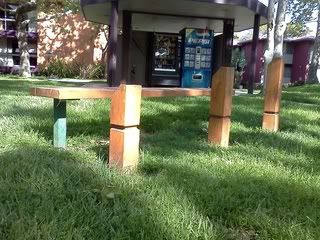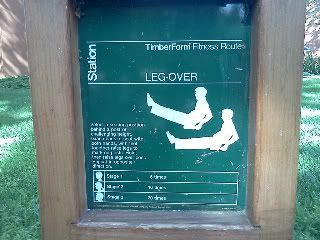 Located conveniently all over Mesa Court are fitness stations that vary in all different kinds of exercises. My favorite ones are the pull up bars with different heights. I probably can't even do more than five but it's okay because I give a good effort. These fitness stations allow one to stay in the Mesa Court perimeter while also allowing one to get a good exercise. If you think the exercises are easy, then you definitely haven't read the instructions on how to properly do them. Every fitness station has an instructional guide next to it on how to use the apparatus. I would suggest reading these instructions first so you don't injure yourself. Rarely, will I see anyone taking advantage of these awesome structures that were built for students to utilize. Hopefully, more people will start being aware of how privileged we are to have these fitness stations.
To stay healthy as college students we want to make sure we exercise on a daily routine. I can't stress that enough. I challenge you to develop a routine that includes the fitness stations in Mesa Court.
Study hard, eat smart, and sleep lots.
–          Dennis A.K.A. Duff Han