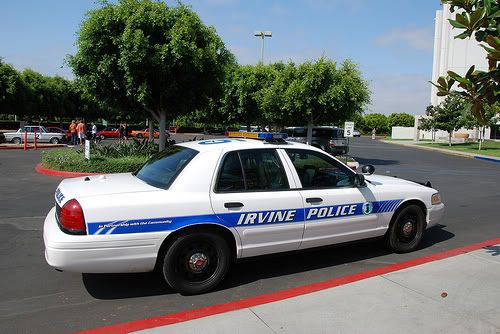 Greetings everyone! I hope every one of you had a relaxing Memorial Weekend! I finally got to go home after a couple weeks of staying at school, and it felt soooo good. Nothing says "home, sweet home" like some of momma's homemade meals and your own soft bed. Of course, for many of us, nothing beats coming back to where we feel safest and most loved.
For me, one of the best feelings of being at UC Irvine is feeling like I can walk anywhere, anytime, and make it to my destination in one piece. I feel like safety is one of the best luxuries that UCI and perhaps, even Irvine itself, has to offer. This is of course, apparent through the very active police department of Irvine as well as the escort service, and more services that Carlos included in his post. On top of that though, it's really a general feeling of security that I get from being here at UCI. Recently, I've been taking a good amount of after-midnight walks back and forth from campus for various reasons. I suppose there are various reasons why one might feel safe wandering about the area late at night — the streets are still pretty well lit, the streets aren't dead-quiet or empty even in the wee hours of the morning, and the general atmosphere in Irvine is simply… Peaceful. It feels even safer on campus and around the housing areas both on and off campus, especially with the blue-light emergency phones situated around every other corner. I've always felt like these emergency phones were a great idea for those scary situations where someone might be being followed. Thankfully, I have never felt the need to use it for myself, nor have I heard of any of my friends who have needed to use them.
I don't know which one came first — the feeling of being safe, or the feeling of being at home. Either way, for me, both feelings exist and that makes being at UC Irvine so much more fulfilling. Of course, that isn't to say that there's absolutely no safety concerns to be worried about — I am in no way condoning reckless behavior! One can never be too safe, and as Carlos said, "it never hurts to have precautions". At the same time though, have fun, Anteaters! Have a delightful and safe Week 9!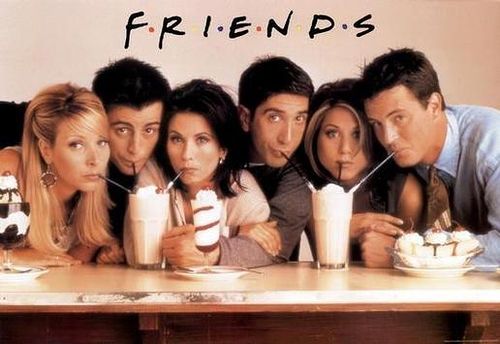 Yo Yo Yo Anteaters! What is good!!!!  Hope you all had a chill and relaxing Memorial Day weekend with your families. This weekend I went to UC Santa Barbara with friends from back home to visit another friend of ours. The drive there was terrible with loads of traffic. Most people went back home for the weekend, so the campus wasn't as lively as usual. I can say I did have fun though, living up the SB lifestyle and walking along the streets of Del Playa. Anyways, this week I want to talk to you all about making friends here at UCI.
Making friends in college is going to be relatively easy depending on how you approach the whole situation. From Week Zero Fall quarter to the end of your freshman year, there is lots of potential to meet new friends and acquaintances. There will be plenty of opportunities to expose yourself and network with other individuals during your freshman year. It is up to you to attend several events and to talk to others. Having said that, it is also essential to know when it is the easiest period to make new friends and to take advantage of that period. That period would be the first two weeks of college. Everyone is open, people are friendly, social activity is in the air. I remember just waiting for the bus to go to the gym and talking to a solid 4 people. It was crazy. Within 5 minutes later, we exchanged numbers. Everything just happened so fast. So yes, the first 2 weeks is critical in terms of how open people are to others because after that period, everything gets harder. People will have formed their groups, cliques, whatever you want to call it and they will be comfortable with where they are at. So wise words to the newbies is to really put yourself out there during those first 2 weeks.
Now when it comes to solidifying friendships, one has to realize that there are only so many friends you can have a close relationship with. Making friends is one thing, keeping friends is a whole other. People you meet, exchange numbers with, say hi to when you see them, or add on Facebook are all acquaintances until you begin to start hanging out with them, getting to know them, and begin to develop trust. I always tell this to people that you have to choose if you want a small group of close friends or an enormous group of acquaintances. It is typical to have less of an amount of really close friends because these are people you have spent the most time with, sacrificed things for, been through the good and bad times with. It's just impossible to do that with everyone. My point is that when you choose your friends, and you choose which groups that you spend time with, choose wisely. Some people/groups may not work out for you and you need to know when to either leave or start over. You don't want to associate with people who aren't working for you. You'll know what I mean when you start to hang out with a group of people long enough and realize that they aren't your friends. The earlier you realize this, the less stress and time you will be wasting with people who you do not care about or vice versa. I'm sorry to have to put it this way but this is life.
Okay so now that you know all of that I'll talk briefly about how to meet people and create good impressions. When you are around people you do not know for the first time, smile and be willing to greet them. Say hi, introduce yourself, have some small talk and converse. There is no other way around this. In order to meet people, you will need to talk to them. I know this is a challenge for some of us but the more you do it, the easier it gets. I used to be afraid and nervous when I was around a new group of people but I told myself that I cannot think like that if I wanted to create a good first impression. So I started to talk and chatter like no other. People appreciate it when you make the effort to get to know them and reach out to them first. And I emphasize making a good impression because as much as you'd like to think that people don't judge, they DO! Believe me, some people don't give others second chances and base everything off of how people look, or the way they talk, act etc. initially.  You don't want to do that and remember to give others second chances because not everyone is their best the first time around. There are so many things that you all will share in common with each other that it's impossible to not know what to talk about when you are meeting people the first couple weeks. And even after you can always strike up a conversation about classes or your major.
In conclusion, making friends and meeting new people will cost you effort and openness and in the end you get what you put in (for the most part). So if you are poor at starting conversations or introducing yourself, I would highly suggest starting now. It is a skill that is crucial in the college environment. If you want to wait until you get here, then that's fine too.  It's just that others that are better at it will have an advantage over you but you will pick it up fast.
Hope you all found this helpful. I know a lot of people stress out over this topic when coming to college because there is so much coming at you in the first couple weeks. Just stay calm and be yourself. You'll all be fine.
Have a good week 9 of the quarter. I need some rest. Peace out Anteaters!
Zok Zok Zert
–          Dennis Han A.K.A. D Hizzle
Guys. It's Week 9.
Freshman year is almost over?
Are  you sad? Are you happy? Looking forward to the summer or dreading those finals?
Everything has to come to a close sometimes though, right? And there is a way to celebrate this chapter of your college life.
Hall Banquets!
What are Hall Banquets?
It's when you, your hallmates, and your RA get to spend one last special time together. Whether it be in Buckleberry or the Tolkein Room in Pippins. Dress code is semi formal to formal, you'll get a special dinner and have the chance to show each other how much you enjoyed your year, that you're going to miss your new friends, etc…or if you really didn't enjoy your freshman year you can still go for the food and the excuse to dress up.
Residence halls aren't the only ones who are doing this event. Clubs and organisations are doing it too, and I'm sure you can remember hearing about banquets for your sport teams while in high school.
My hall banquet is tomorrow night, unfortunately though, I will not be able to attend. : ( I have asked another friend of mine from Gondolin to tell me how her hall banquet was, which they had just a couple of days ago.
Me: "So tell me everything about Gondolin's banquet."
Her: "It was decorated to fit our theme, I guess. Everyone dressed up, the tables were aligned in a U shape in Buckleberry. We ate food first, then we went on to commemorate the year. Some people made some speeches due to open mike."
Me: "And…?"
Her: "We had a slideshow. Our RA made comments towards all of us while giving us a gift and her best memories of the hall. We played the touch game. Then towards the end they were just listening to music and dancing, whatever. We took pictures, both individual and as a hall."
Me: "That's so cute! What was on the slideshow? And aw, each of you guys got presents?"
Her:  "Pictures of the hall at events or otherwise. Yes, we got Gondolin mugs and pens. XD"
Me: "Aw, do you have pictures?"
Her: "No."
Me: "-_-"
So yeah! If you can go to your hall banquet, you should go! I wish I could. : ) If yours already passed, how was it? Was it the same as my friend described? Did you do anything different? Do you have pictures?! Share in the comments!!!
Hello everyone! I hope you are all enjoying the long memorial weekend; I'm back home and enjoying some quality time with the family in between studying. Anyways, for this week's post, I'll be talking about another restaurant in the University Town Center, Gen Grill.
Now, at first glance, the Japanese restaurant doesn't really stand out. After all, it is quite tiny compared to most of the other places nearby. However, my initial impressions of the restaurant changed this past Friday when I ate there for the first time.
It was actually my mom who wanted to eat there when she came to UCI to take me back home for the long weekend. She wanted to eat tasty yet light food before we headed back home, and for some reason, she was in the mood for some sushi. Therefore, it was no surprise that she chose Gen Grill. When we looked at the menu, I was quite surprised to see the variety of dishes the place offered. In addition to sushi, the restaurant offers a wide range of entrees ranging from salads to different meat dishes. My mom and I decided to have a two combo meal with shrimp tempura and salmon teriyaki along with an order of spicy tuna roll; the two combo meal also came with edamame beans, salad, and a bowl of rice.
We both ended up enjoying our lunch especially the salmon teriyaki. The spicy tuna roll was also delicious and not too hot. We especially liked the portions of the food; since we are both petite women, the amount of food served was just enough for us. Now that I have tried some of the food at Gen Grill, I'll definitely be sure to eat there more often; I really want to try as many of their sushi as possible including the UCI roll! In addition, the restaurant has Happy Hour from 5-8 p.m on the weekdays with discounted prices. In addition, they also offer a 5% discount if you pay with cash. Still, considering the quality of the food, the prices are already fair.
So, if you've been to Gen Grill, what is your favorite dish there? What are your overall thoughts on the place? Feel free to express your opinion in a comment.
Enjoy the rest of the long weekend, Anteaters, and best of luck preparing for finals! There are only 2 weeks of classes left for the quarter, so make them count!
Zot zot zot!
Sabaa
Safety on campus can be a major concern for college students, especially if they are independent and unprepared for being on their own. Walking around at night can be a bit frightening on your own, but there are several on campus resources for safety. Being at a university should be safe for students despite any influences or people that may stray from that keeping others safe. For this reason UC Irvine has:
A Police Department Station
An Escort Service
Emergency Call boxes at various locations
Counseling Center
Campus Assaults Resources and Education
Along with the UCI Health Center
These resources can be used to contact someone or simply talk to professionals in their field about any encounters you may have had. The escort service has been used and recommended by several people when walking at night. The escort service information can be found here <http://www.police.uci.edu/services/safety_escorts.html> with escorts to any UCI housing location. Emergency call boxes can be used for any emergency and can be found around housing. The counseling center and CARE are great locations to talk to people if you ever encounter abusive relationships or an incident on campus. I have seen the emergency call boxes around, and they are located and beneficial distances. The resources are useful based on hearing uses by other people. The widely used service is the escort service since it is free and helps people be safe instead of walking home late at night. It can be very useful for the off-campus housing since it is quite far. In all these resources can be used for your safety, but in my experience UC Irvine is a very safe environment surrounded by a safe community. It never hurts to have precautions though, so stay safe anteaters!
-Your Zot Blogger Carlos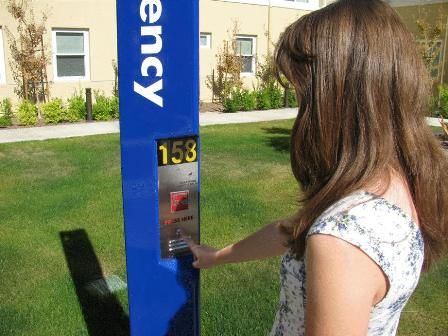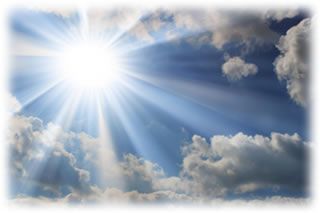 Hey Hey Hey Anteaters!!! Done with week seven!! This week has been amazing. Went to my first ASUCI meeting for Anteaters in Action (community service commission), got scheduled for training at my new job Jamba Juice, and went clubbing with Chinese Association in Hollywood! The best thing about college is there's always something going on! I am content but also saddened by the fact that freshman year is over. Good news is I will be staying here for the summer to take summer school! Anyways, this week I want to talk to you all about emotional well-being.
In order to do well in your classes, be productive, hang out with friends, meet new people, etc., you have to be emotionally healthy. This is not always easy though because there will always be stress and conflict in your life. Dealing with emotional issues effectively is hard at times, but there is always someone putting up with something worse. You have to remind yourself of all the good things in your life. Such examples include, receiving a college education, being fed every day, the friends and family that support you, etc.
Whether the emotional issues are with a girl/guy, your friends, or even your family, best solution is to make sure the problem is resolved. Leaving the problem as is will continue to disturb you mentally every day. Being emotionally healthy can be increased by getting sufficient amounts of rest on a daily basis. Allowing your mind to be at ease for a solid eight hours a day will help tremendously. People I know that always feel down and in the blues are usually the ones that do not get enough rest. Life is irritating and depressing without sleep.
Start with the basics as in keeping yourself physically healthy, don't procrastinate, be productive, etc. If emotional problems arise, then at least you have been keeping up with yourself. The last thing you want to happen is to have the emotional issue bring you down in every aspect. That's no good.
College is a place where relationships between people will come and go. Whether it's a love relationship or just friends, you will have to accept the fact that there will be problems. Your friends will be the ones that you are willing to put up with, and the ones you leave will be the ones you cannot put up with. I'll talk about this topic more next week.
Hope you all are somewhat more informed. Have a great week and I'll see you next time.
–          Dennis Han A.K.A. Ennis Han
One fine morning, I finally motivate myself to leave my room to go and take a shower. I get up, organise my shower caddy, grab my towel, put on my flipflops and head to the door. I open the door and what do I see?
A chocolate eclair in a box, sitting at my feet.
Why was that eclair there you ask? Who was it from?
My friend, my front door neighbour: Joyce.
You might be wondering…why am I writing this and what does it have to do with hall life. It has everything to do with hall life. : ) It's a small cute gesture, and small things like this is what makes up the essence of being part of a hall and making friends throughout the year in a new environment.
It's Spring Quarter guys, week 8. We're almost done with our freshman year of college and after this we're going to be scattered all over again. We won't be living with the same people, not being able to hang out with them as conveniently.
Leaving presents in front of doors? Leaving notes stuck to the knobs?? That's the kind of stuff that is surprising to people, it's nice, and it's a reminder that you have friends and people to go to.
You can tie this back to my theme of "bonding" that I've talking about a lot earlier in the year. There is no one on one. You leave something for the other person, and when they find it later, they will be happy about the fact that you thought about them.
Do this sometimes. A simple note will suffice. It'll make people happy. Make people remember you. Friendships stronger.
It's worth it.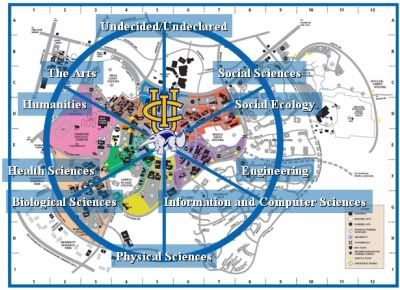 What's up, Anteaters! We… Are… Almost… There! This week went by especially quickly for me because I have been so busy with extracurriculars, a second batch of midterms, and trying some new things! It's going to be week 8, and I expect everybody's going to be kicking it up a notch to get pumped up for finals. Oh, I do shudder at the thought. But alas, summer vacation (or summer school for many of you…) is taunting us as the finish line approaches. Thanks to the unexpected heat wave today though, summertime seemed especially close. But that's enough chitchat of the future! Keep at it, everyone, and good things are sure to come.
A few nights ago, I took the time with a good friend of mine to walk around campus. As we did so, admiring the warmly lit buildings and breathing in the cool night's air, I remembered that our beloved campus was built to represent a wheel of knowledge. Huh. Yeah, I didn't hear about that until a little while ago either. I still remember that satisfying feeling of understanding when I was first told that. It all made sense, the giant circle that is our school, with all its obnoxious hills and slopes, that encompasses nearly all that should be provided at a university. We strolled by the Humanities portion of the wheel and pride surged through my body. Here is where I have spent the past two quarters (almost three now), slaving away at Humanities Core — reading, writing, and learning about literature, society, art, God, music, life — all rolled into one course. A brief, "Augh, I still have French homework when I get back home…" flitted through my mind as we walked away from Humanities Hall. We kept walking, and we passed by BS3 and  McGaugh Hall, where I wondered what sorts of work brilliant scientists-to-be were conducting . We continued, and passed by the twinkling glass walls of the Engineering Hall. Across the way, I spotted the little Engineering Lecture Hall where I had spent fall quarter learning about the working of the Earth. We wound up in the Arts section of the school, where my heart swelled with longing and a slight envy of the students who get to pursue their wildest and most creative dreams. Pride again, bubbled up as I recalled that our very own theatre department is ranked in the top 10 of the nation.
We stopped walking and settled down on a bench in Aldrich Park. It's only my first year, and so much has happened. I've learned so much over the past year, but I still haven't had a chance to get a snippet of every single section of the wheel. I looked around me once again to reflect upon just how lucky and blessed I am to be a part of this well-rounded school. Three more years — three more years to explore every section, every hall, every niche of UCI's wheel of knowledge, and I can't wait for the rest of my college years to begin.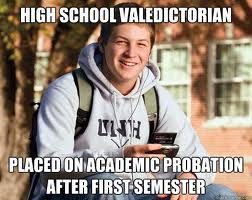 Some incoming students may not know, but may fear Academic Probation or AP.  Coming into college I had no idea AP stood for such a frightening academic standing. To define academic probation in my understanding, academic probation is the standing of a university student with a GPA below 2.0 in an academic quarter. Strange to think AP represented the difficult but rewarding high school courses, yet in college it represents the student in danger of being dropped for their poor grades. Do not worry though, because I can tell you that Academic probation is nothing to worry about as you are cautious not to head in its direction. To avoid academic probation do the following as best as you can:
Look at work needed ahead of time and write it down.
Work on time management by going to a workshop or making to do lists.
Literally try to do work before play.
Do some assignments earlier.
Do not procrastinate to the max (last minute literally).
Do not take advantage of the independence college grants.
These types of factors to take into consideration can really make a difference because college allows more freedom than most would expect. As I have seen many people got into academic probation their first quarter due to the fact that they took advantage of independence and did all the things they wanted. Partying does happen, people do go out places to have fun, and many times distractions take you away from your work. But you can not, and should not allow this to happen because it can affect your GPA for the future, and force you to attend academic counseling for your mistakes. Academic Probation may be scary, but with the right mentality and focus of getting things done while incorporating fun things can be amazing. College is about a balance, and depending on how you balance it you can do great and have some of the best times of your life here at UCI.
Your Zot Blogger Carlos.
Hello everyone, and welcome back to the Zot Blog! Hope you all had a lovely weekend. Mine was pretty eventful, for I got the chance to go to the Lakers game this Saturday! In fact, for this week's blog, I'll be discussing the Staples Center and its surrounding attractions.
Any Lakers, Clippers, Sparks, or Kings fan is familiar with the Staples Center even if he or she has never visited it before. The structure is one of the key locations of the LA area, and it's hard to believe that it's only been around since 1999.  Even though the arena is mainly known for hosting basketball and hockey games, it is also used for concerts as well.
Now, I had never gone to a game at Staples Center before this weekend, so you can only imagine how astounded I was when I entered the  interior. For basketball games, the capacity is over 19,000, and for the game on Saturday, the place was practically packed! Sitting inside the place was both exhilarating and overwhelming.
Before the game though, my family and I roamed around the area. Staples Center is actually part of a recent development called LA Live which offers different entertainment and eating facilities; these include  the Grammy Museum, the Nokia theater, and a variety of clubs and restaurants. The Los Angeles Convention Center is also located next to the Staples Center and is used for multiple venues such as the Electronic Entertainment Expo, E3, in June.
So, I had a great time roaming around LA Live before the game since I had never been there before. And although the Lakers did lose, I still enjoyed the experience of just watching a live basketball game in the infamous Staples Center.
If you've been to LA Live, what do you like about it? Well, that about wraps up my blog post folks. Take care, and have a fantastic week! Oh, and enjoy the rest of the NBA playoffs; although the chances are really slim, I hope the Lakers will pull through!
Zot zot zot!
Sabaa

What's up Anteaters!!!! How's everyone doing!!! Hope you all had a fantastic week 5 of the quarter!!!! If I haven't told you all already, I am officially working at Jamba Juice on the UCI campus. Out of a pool of 30 participants, it was a competitive 3 process interview that eventually chose 10 of us for the new team. I am excited and ready to start making smoothies. Also, another piece of good news is I got a video of myself published on student health 101 website. Student health 101 is an online magazine that features college students who give advice on daily health issues. Earlier this quarter there was a contest where you would win $75 if they decided to choose the 1-2 minute video you made on the topics they had laid out. I talked about career choices and my current major here at UCI and surprisingly I was chosen. If you have time, go and check it out: http://readsh101.com/uci.html.
Anyways this week I'll be talking to you all about getting involved on this campus and joining clubs and organizations. During Welcome Week of Fall quarter, there will be a massive involvement fair showcasing more than 500 clubs, here on this UCI campus in Aldrich Park. This year when I went it was crazy. Dance performances, fraternities, sororities, Lion dancing, you name it, they had it all. One of the best parts about this involvement fair is that it allows you to talk directly to members of the club and to get a feel for which club or organization that you would like to join. From ASUCI student government to Chinese Association, the options are endless. It is important to take advantage of this day and to get familiar with as many organizations as possible. I remember attending countless events, and through this experience, I was able to choose which clubs I thought would be the right fit for me.
Coming to this campus can be quite intimidating, but college is where you try new things. Be open, go to meetings, and meet new people. This is all part of the college experience. Even if you somehow end up missing the involvement fair, you can still find out about all the clubs this campus has to offer online. They have a website: http://www.campusorgs.uci.edu/. If you were to ask me, I would say it is absolutely necessary to join an organization to truly have the college experience. There are so many benefits to being in one. Not only will you make tons of friends, but it will open up the pathway to more connections, projects, and commitments depending on which club you join. One piece of advice that goes along with this topic is also to be consistent with which clubs you end up choosing to join. It is better to develop closer relationships within one club than to be a part of 5 and not be close to anyone. Choose wisely and commit! For me, I have been struggling trying to find a club that fits me really well, but late last quarter I decided that Chinese Association is the right fit for me. I have been an official member of Chinese Association since Fall Quarter and I do my best now to make all the meetings. I plan to run for board (their committee) when the applications are available. Wish me luck!
All in all, just make sure you do something when you get here. Don't just screw around. Be a part of something more important. That is all Ants.
Good vibes to you all!
–          Dennis Han A.KA. Denj Han
Hello everyone! I hope everyone's had a splendid Mothers' Day weekend! Whether you had the time to go back home or simply the chance to dial your home number, I hope you all got to tell your moms that you love and appreciate them from the bottom of your hearts.
Anyway, we are already approaching the end of springtime! The song of birds seem more frequent now, the rabbits have multiplied and are making more appearances around campus, and the trees seem more abundant in squirrels these days. Yes, the campus of University of California Irvine is especially abundant in cute wildlife, making the school just a tad more interesting. The atmosphere of UCI is already quite relaxing and even a little pastoral, but the fact that animals roam freely about, mostly unafraid of the presence of us college students, makes it a little bit more animated.
For me, it's always pleasing to see flashes of brilliant bluebirds and red robins flying through the tall trees in Aldrich Park. Rabbit-watching, as opposed to bird-watching, is also another one of my normal pastimes when I sit and meditate in the park. Squirrels, I'm a little more accustomed to, but they certainly are still welcome and delightful to watch.
I think the best  "wildlife" that I've encountered on campus recently is the duck couple that has been waddling about school. For the longest time, these two ducks have traveled together… I would see them occasionally through the park, but I've also heard they would appear in Mesa Court, in the fountain around Rowland Hall, and around the Student Center. What more, I've also heard that the happy little duck couple gave birth to some ducklings! Unfortunately, I haven't been able to confirm that rumor with my own eyes, but hopefully, if I'm lucky, I'll be able to witness this cuteness. 🙂
Oh. I'd stay away from the raccoons though… And the oversized feral cats. I hear they're pretty nasty.