Vietnamese Focus: From Refugee to Dynamic Community – BBC (Sept. 14, 2015)
BBC | SEPTEMBER 14, 2015 | By Vũ Quý Hạo Nhiên | translated by Phan Anh Huy | link to article in Vietnamese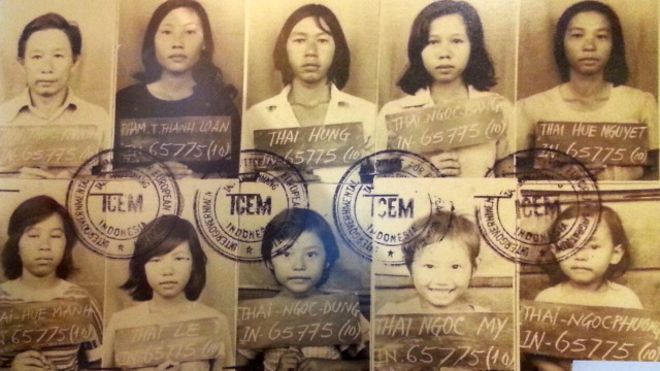 A release form from The Republic of Viet Nam for Lieutenant Nguyen Thanh Lam in 1976. A letter from a dentist in Virginia sponsoring his colleague Quynh Nguyen & family to the US in 1975.
A few Vietnamese newsletters published right in Guam in the beginning of May, 1975. A set of immigration documents which includes lung x-rays inside a handbag that ICM had given to the refugees who were making their way to the USA.
Those objects and more, are displayed at the Old Courthouse in Orange County, California, until February of 2016. The exhibition named "Vietnamese Focus: Generations of Stories" consist of history and art and is organized by the University of California Irvine's Vietnamese American Oral History Project (VAOHP).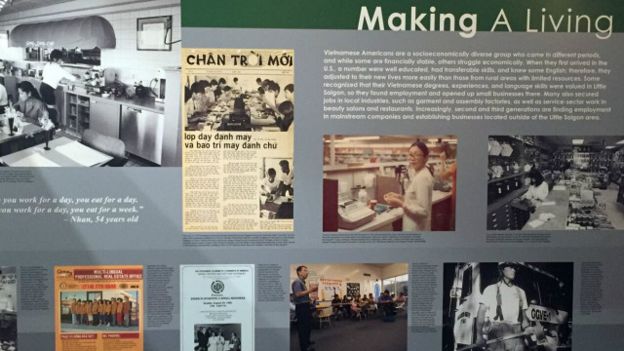 This exhibition includes videos, photographs, documents, and artifacts which presents the life stories of, and showcases a rich diversity of the Vietnamese American community in Orange County, which have been collected from VAOHP and from UCI's Orange County and Southeast Asian Archive Center (OC & SEAA). Almost two-thirds of the objects are on loan from individuals for this particular exhibit.
"The first generation of Vietnamese refugees is quickly passing away, and their stories and the history of their experience will be lost forever unless they are gathered and preserved," said Tram Le, assistant director of VAOHP and co-curator of this exhibition.
There is a 17-minute film, from Khiem Photo Video, recorded in late 1970s, when the Bolsa neighborhood was beginning to develop, when there were just a few shops with Vietnamese names. They sold goods that the Vietnamese needed for themselves or to send back to Vietnam to their loved ones that were left behind: Asian foods, fabric, medicine, and immigration services. These original shops no longer exist, but new ones are replaced, and Phuoc Loc Tho is now well known.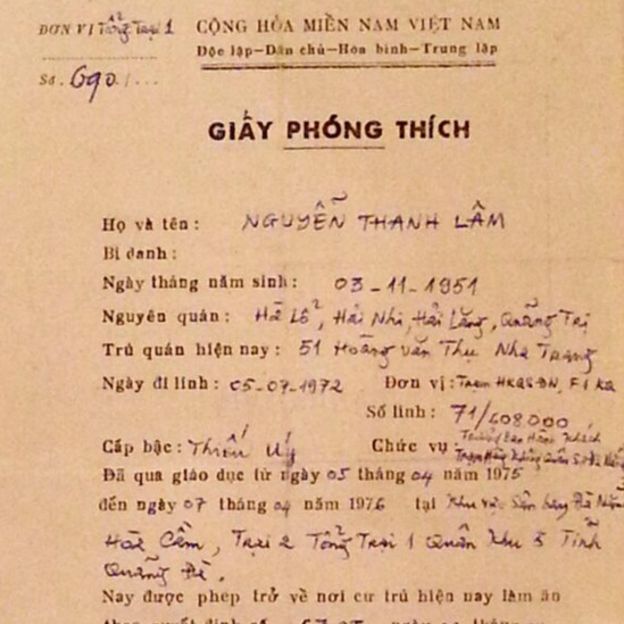 The early development of Little Saigon was not smooth. The exhibition displays a letter from a former mayor of Westminster, Kathy Buchoz, who opposed a request, with more than a hundred signatures, demanding the city retract the operating license of a Vietnamese supermarket on Bolsa Avenue. The letter also demanded that the city stop issuing business licenses to the Southeast Asian refugees in the Vietnamese sector.
Professor Linda Vo, co-curator and professor in Asian American Studies at UCI, explains that the research and collecting of documents for this exhibit had started a long time ago. "Since graduate school, I have conducted research and have written on Vietnamese Americans and did volunteer work with local Vietnamese organizations, and all this foundational knowledge and networks were helpful in gathering resources and materials from the community for the exhibition."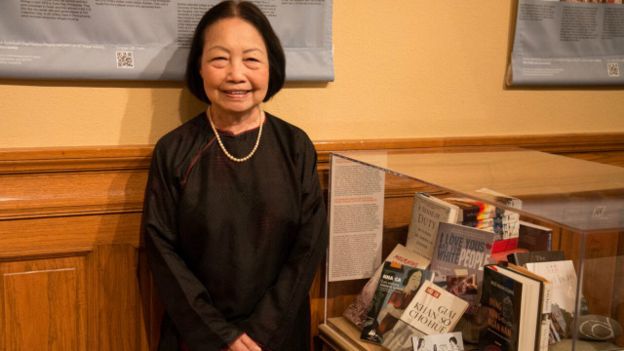 The Southeast Asian Archive was founded in 1987, and the VAOHP program had to fundraise for an entire decade before it was founded in 2011. "VAOHP started interviewing and collecting their oral histories in 2011," said Tram Le. It wasn't until April 2015, that Dr. Linda Trinh Vo, Tram Le, and Dr. Thuy Vo Dang published a book called "Vietnamese in Orange County" (Arcadia Press).
"To really make this history come alive, we needed to create a space where the public could hear the stories, feel the journey, and see the artifacts up close. We knew we wanted to do an exhibition that encompasses history, art, and storytelling."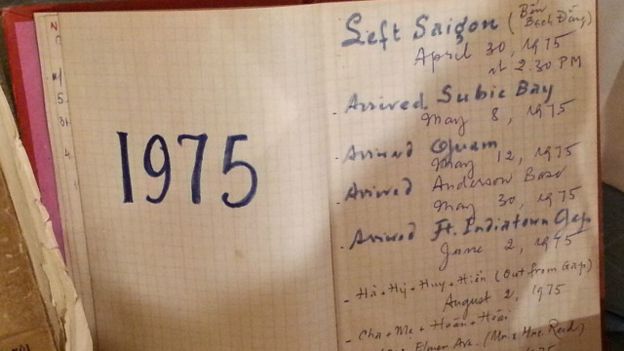 The artistic facet of the exhibition consists of nine works of art by Trinh Mai, artist-in-residence of VAOHP. One of the pieces is named "Quiet," an installation. From the ceiling in the center of the main exhibition space, Trinh Mai hung long white sashes, and on each of those sashes, a portrait of a Vietnamese individual who went missing during their journey to freedom. These sashes represent mourning sashes, traditionally worn at Vietnamese funerals.
About her artwork for this exhibition, Trinh noted, "Only heroes sacrifice themselves for their freedom. These are peoples who realized the value of their life, the lives of the next generation. And they had fought by simply keeping their will to live. These are our neighbors in the community, and in truth, we are living among heroes."
Linda Trinh Vo, Director of VAOHP, described the exhibition as "a modest project to tell the Vietnamese American story from our perspective, with really a very small budget and limited staff."
"We took an empty room with the intent to counter those 'rescue narratives' that capture us as 'passive victims' or as 'model minorities' that only envision us as living the 'American Dream,' stereotypes that are  too narrow and simplistic."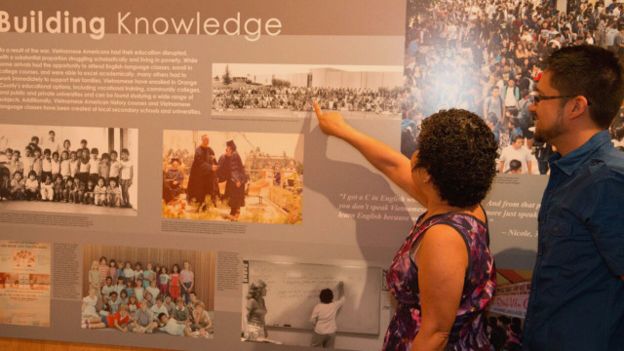 Tram Le and Linda Trinh Vo have a big goal for this exhibition. According to Tram Le, "We want to dispel narrow perceptions of our community because that tends to lead to stereotypes and discrimination."
Linda Trinh Vo added, "We want to tell a complex, nuanced depiction of our histories and stories as human beings who were confronted with extraordinary circumstances and choices."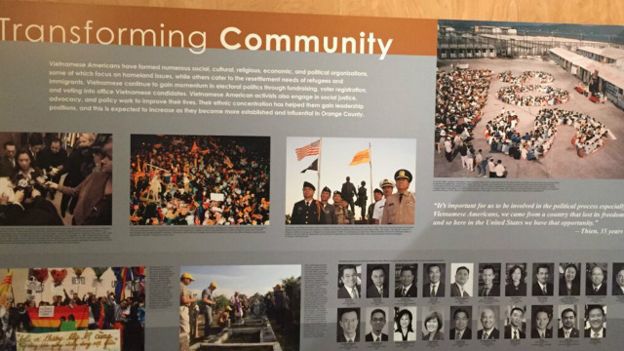 The exhibition will continue until Feb 2016. Linda Trinh Vo and Tram Le will publish an exhibition catalog, condensing the content of the exhibition, and if possible, will make it a traveling exhibition for other communities.
This article reflects the opinions and perspective of the writer, Vu Quy Hao Nhien of Orange County.