Instead of using machine learning for prediction (take resources from poor people to powerful people),  we need to understand and expose the causal relationship of things going on in the society, have a conversation with communities and allow policymakers to connect with families, because policies are products of professionals not communities. Data must be prepared for cultural movements.

– Joi Ito, MIT Media Lab, Connected Learning Summit 2018
Last week, I had a great time at Connected Learning Summit in Boston. This is a community that cares about the same course of actions and have set great examples ahead of me through their research projects and design work. Listening and speaking to this community truly helped me clearing my mind about my comps, so I was able to restructure my outline on my plane home (and totally did not get affected by the jetlag). Summer in Boston is really charming and even the humidity reminds me a lot of my hometown in China. MIT is a charming campus, and full of vibrant energy and ideas.
I also got to meet some really wonderful game designers and researchers besides the MIT folks, especially people from RIT interactive games and media and practitioners who work with disabilities.Just a side note: I really love Justin Reich (who runs the Teacher Practice Spaces – Teaching Systems Lab), not only because he's so well-spoken during presentation as in his writing, but his teaching system lab sets such a great exemplar to bridge the research-practice gap.
Though I wish there's a larger group of practitioners/designers/researchers all together in a Panel, maybe this is something I can help to organize next year either as a panel or as a special interest group, since it's at UCI in October and I should have advanced by then. There's even an idea to offer doc students/junior researchers a mentorship or consortium event, which I think is also a fabulous idea, especially for communities like CLS that's really diverse.
My first poster experience (and first time printing on fabric too) went well, about 15+ people (from Asia, Europe, and US) stopped by at my poster for extended 1:1 conversation and used a small sticky to label themselves on my poster, and they love the interactivity. Designers constituted a majority of the group, and it's not surprising that many of them hold dual roles. Two of them are parents who have children in speech therapy, one program officer for school, which definitely helpedme broaden my circles of categories. During short interaction like this, it seems definitely more effective to have direct drawing/posting interaction than using the Bar Code (which appears to be a better option to have on a handout, as I saw from other presenters). Anyhow, it's a really interesting means of presentation. Though I miss having the flexibility to go around different booth because I have to stay with my poster to present, I got to shape my elevator pitch more than 15 times, and now I'm learning new things that I had not covered from my interaction with other people.
My "aha" moment came after participating in the workshop "The Secret Process for Creating Games that Matter" (by Jesse Schell, author of The Art of Game Design, and Barbara Chamberlin, head of the Learning Games Lab at New Mexico State University), learning about how to walk through the game design process and create a game that encourage healthy behavioral change to reduce plastic waste. This process is very similar to how a clinician perform an assessment to determine impairment and treatment goals, create therapy activities, and then engage the client to participate in activities to improve communication skills. However, designing a game-like activity to change behaviors outside the context of speech therapy is very tricky, especially when considering the complex sociocultural factors associated with a specific behavioral change.
One day later, in an Ignite talk, game designer Doris Carmen Rusch challenged the audience with a more empowering call for action: "Games are puzzles to be solved that the designers hold the answering key, so change the game!"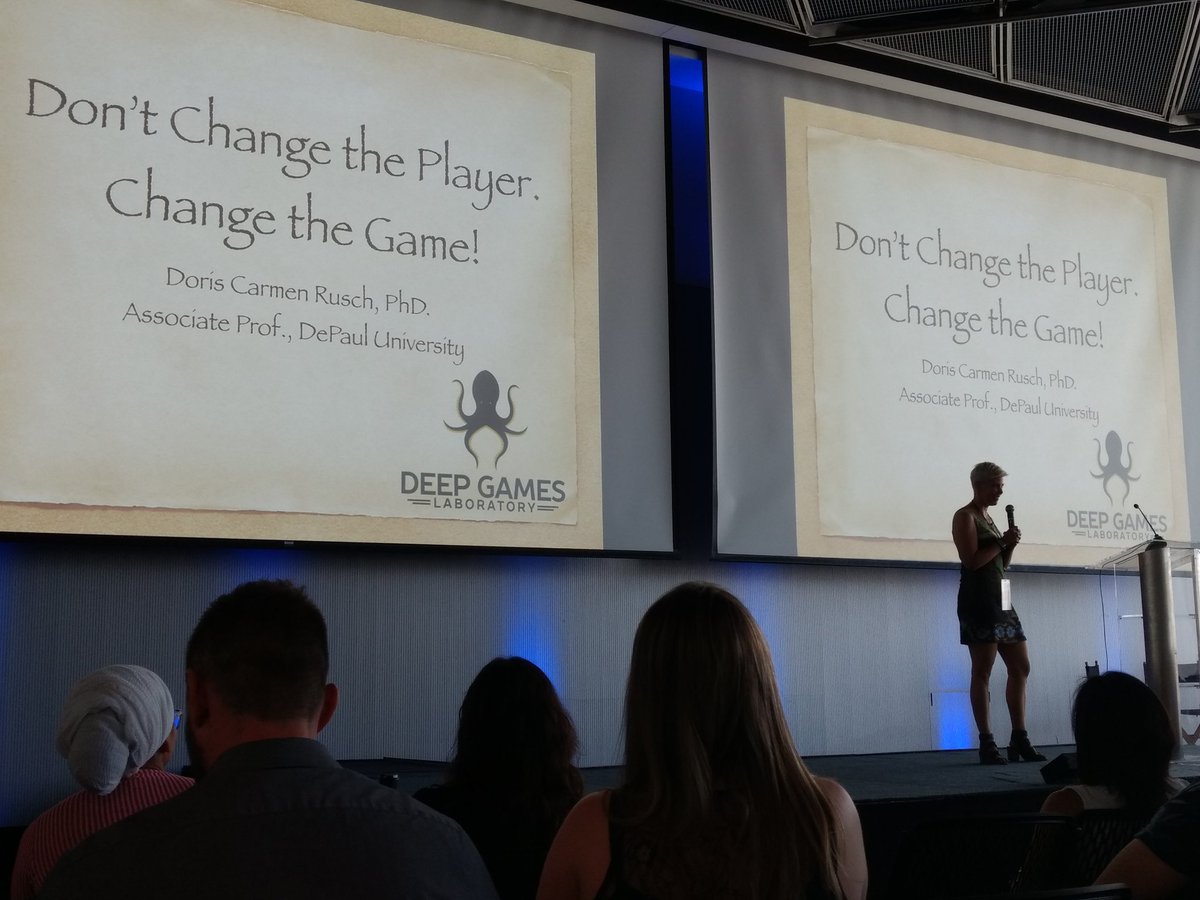 Researchers and practitioners are interrogating game design from both sides of the moon; this is why CLS is an amazing community. I can't wait for it to return to UC Irvine next year!