---
Upcoming and Events
---
SPRING 2018 NEWSLETTER: Jim Danziger notes the Benefits of Membership.
Read the Spring 2018 Newsletter here >
---
Recent Awards
---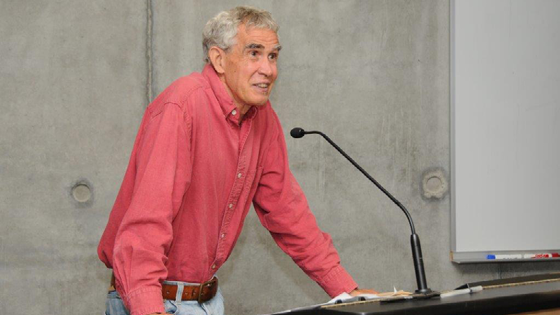 Professor Emeritus Brook Thomas
Chancellor's Professor Emeritus
Brook Thomas
of English has been awarded a Senior Fulbright Teaching and Research Fellowship in American Studies for Spring Semester 2019 at Leiden University, the oldest university in the Netherlands. The award recognizes Thomas's work in law and literature.
Read more here.
---
Executive Committee Meetings
---
These meetings are held at the Newkirk Alumni Center Board Room on the 2nd Wednesday of each month (starting 2018), at 10 a.m. Free parking and refreshments available. If you wish to attend please note these upcoming dates and RSVP to emeriti@uci.edu:
September 7, 2017
October 5, 2017
November 2, 2017
December 7, 2017
January 10, 2018 (new schedule)
February 14, 2018
March 14, 2018
April 11, 2018
May 9, 2018
June 21, 2018
(Annual Meeting – TBA)
Location: 450 Alumni Court, 2nd Floor, Irvine, CA 92697-1225 (click here for map)
Light refreshments are available at each meeting.
---
Officers/Executive Committee Members for 2017-18
---
OFFICERS 2017-2018:
President
James N. Danziger
Treasurer
Stuart Krassner
Program Committee
Jeri I. Frederick
Barbara Hamkalo
Alex Maradudin
William Schonfeld
Retiree Liaison
Jill Halvaks
EX COMM 2017-2018:
Ken Chew
Richard Frank
Barbara Hamkalo
Judy Horn
Ron Jevning
Kenneth Kraemer
Stuart Krassner
Pamela Lawrence
Susan Lessick
Peggy Maradudin
George E. Miller
Margot Norris
William H. Parker
Eric Stanbridge
Jen Yu

PAST CHAIRS:
Louis Gottschalk
Jerome Tobis
Sam McCulloch
Julian Feldman
Roland Schinzinger
Lyman Porter
Kivie Moldave
Ron Miller
Barbara Hamkalo
Ted Quilligan
Cal McLaughlin
William H. Parker
George E. Miller
UCIEA FOUNDERS:
George W. Brown
Henry Fagin
Julian Feldman
Louis Gottschalk
Renee and Judd Hubert
Kivie Moldave
Marion Murphy
C. Orville Rinehardt
Myron Simon
Jerome Tobis
Robert Warner